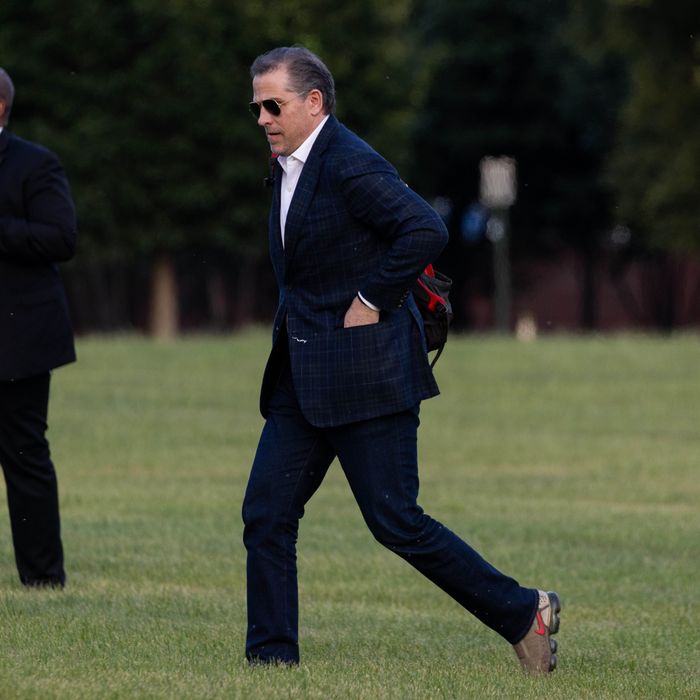 Photo: Julia Nikhinson/Sipa/Bloomberg via Getty Images
After his plea deal dramatically collapsed in court earlier this summer, it looks like Hunter Biden will face the music later in September. In federal court in Delaware on Wednesday, special counsel David Weiss wrote that his office intends "to seek the return of an indictment" against the president's son by September 29.
The prosecution's filing is the latest bad news for the younger Biden, who was ready to sign off on a deal after a five-year investigation into his lobbying work. To avoid prison, he agreed to plead guilty to two misdemeanors for failing to pay taxes and enter a pretrial diversion program to dismiss a felony firearm charge related to lying on a gun-permit application. But the agreement collapsed in court on July 26. Judge Maryellen Noreika asked whether the deal would grant Biden immunity from any future charges related to his foreign lobbying. Weiss answered that it did not grant Biden such immunity, adding that his investigation is "ongoing." Biden's attorneys appeared shocked by this development. They pronounced the plea deal "null and void" and entered a not guilty plea.
If Weiss's team indicts Hunter Biden, it will add to next year's courtroom frenzy, since a jury would likely not be seated until 2024. And there would most probably be two trials — one in Delaware and one either in California or in the District of Columbia, which Weiss's team has argued would be the appropriate venue for the tax charges. Both the former president and the current president's son could potentially be facing a trial during an election year in the same courtroom.