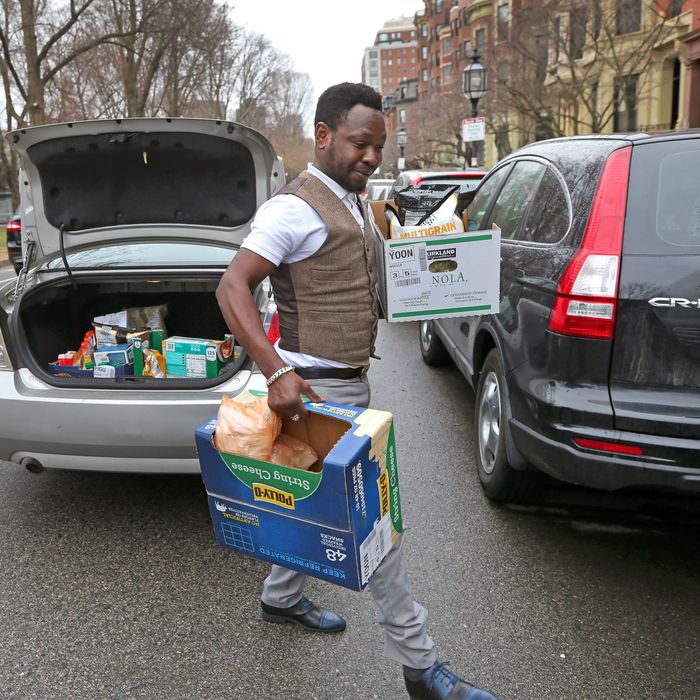 Instacart is delivering its shares to public markets soon – at a huge discount to its 2021 valuation.
Photo: David L. Ryan/The Boston Globe via Getty Images
This week is unofficially the start of going-public season, a veritable debutante ball of multibillion-dollar companies taking their initial public offerings to the investing masses. For Wall Street, it's been nearly two years of waiting. The last time real money was being made from the public markets was the SPAC frenzy of 2021, when bankers dumped a bunch of unprofitable, overvalued household names into the market only to watch them fizzle out and lose their luster. Since then, the economy has essentially been teetering on the brink of recession thanks to surging inflation, rising interest rates, a war in Ukraine, and even a blip of a banking crisis.
But the door to going public might finally be swinging open again. Over the weekend, Treasury Secretary Janet Yellen said she's "feeling very good" about the economy, and the investing class appears to be sharing her sentiment. On Monday, two big companies that have long contemplated IPOs got closer to selling their shares on the public markets, and Wall Street was eager to start making gobs of money again.
This year will bring a lot of big private companies — especially tech companies — to the public stock exchanges, including semiconductor design giant Arm Holdings, Reddit, and financial firms like Chime and Stripe. But among the first out of the gate will be Instacart, which has for years been a Silicon Valley poster child for missing the window on going public. The San Francisco grocery-delivery company has been vowing to IPO since 2019, but has failed to do so because of a mix of bad timing and bad luck. In early 2021 — just before COVID vaccines were widely available, when the San Francisco company was practically a lifeline for many who needed groceries — it reached a $39 billion valuation, putting it behind SpaceX as the second-most valuable private company in the U.S. But instead of seizing the moment to sell its shares to the public at valuation around that level, it just … didn't. Without ever really explaining why. It did confidentially file to go public in May 2022, but by then tech stocks were crashing and there was no appetite among investors for new offerings.
Even though the financial environment has improved, time and waiting have still not been kind to Instacart. Today, it's worth somewhere in the high $8 billion to low $9 billion range, according to its securities filings — a haircut of about 75 percent.
Even its IPO filing sounds a little desperate. "Grocery has one of the lowest levels of digitization of any industry," it says. This is supposed to be a selling point — the idea that they are somehow early in what will surely be the transformation of a roughly $1.5 trillion industry. But of course, the opposite could be true. Groceries could be an example of the so-called "third place," a term coined by sociologist Ray Oldenberg for a spot that's neither home nor work that still allows for people to meet and catch up with each other. (This is probably more true than ever since places like Whole Foods and Wegmans have long been using buffets and coffee shops to bring in more customers.) While supermarkets themselves are only about 100 years old, food markets date back to antiquity. Almost all Americans get groceries at least once a week at physical stores, and, according to the grocery industry, they like it that way.
This would be apparent to anyone on Wall Street. Still, $9 billion is a lot of money, and with 7.7 million or so people still using the app, there's money to be made off the grocery-delivery business. (Increasingly, that means advertising — the company now makes about 30 percent of its money from selling ad space on its app.) These IPO prices reflect what investors are willing to pay for company shares during road shows, when Instacart's bankers — in this case, Goldman Sachs — make the bull case directly to professional investors.
Shares are typically sold again on the first day of public trading on the broader market, where hype can reach a fever pitch for well-known companies — why IPOs often "pop" when they hit the Nasdaq or the New York Stock Exchange. For example, when DoorDash went public, its shares nearly doubled above the IPO price on the first day of trading in late 2020. Today, they are worth less than half that. While it's not clear exactly when Instacart will start trading, or what will happen when it does, company shares seem likely to hit a public exchange in a matter of weeks. The irony here is that, if the stock pops, the people who make money won't be the Instacart employees — it will be the Wall Street middlemen who patiently waited for economy to make investors optimistic again.