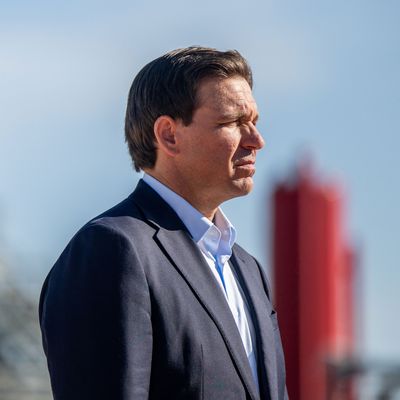 Iowa, and Iowa only, is on Ron DeSantis's mind.
Photo: Brandon Bell/Getty Images
It's not hard to understand why embattled Republican presidential candidate Ron DeSantis is very focused on Iowa right now. He got an early start in the state that begins the formal nominating contest and has by most accounts out-hustled front-runner Donald Trump there, with plenty of counties visited, abundant endorsements, a lot of doors knocked and a lot of ads run. Unless his campaign craters entirely, he's likely to win support from popular Iowa Governor Kim Reynolds (whom Trump has publicly disrespected) and is also in good shape for a nod from conservative Evangelical king-maker Bob Vander Plaats, who has backed the last three winners of contested Republican caucuses. Most recently, Trump gave DeSantis a new opening in Iowa by attacking the six-week abortion ban DeSantis signed in Florida and that Reynolds has championed as well. The 45th president has led in every poll of Iowa, but not by quite the massive margins he's held nationally.
But the Florida governor's Iowa-centric campaign has proceeded at a price: Polls show him beginning to flounder in the other "early states" that will vote after Iowa. A new CNN/University of New Hampshire poll of the Granite State, whose primary is eight days after the January 15 Iowa Caucuses, shows DeSantis slipping into fifth place, behind Trump (at 39 percent), Vivek Ramaswamy (13 percent), Nikki Haley (12 percent), and Chris Christie (11 percent). Yes, DeSantis, at 10 percent, isn't far behind his other non-Trump rivals, but he's been dropping steadily in New Hampshire surveys for months; a mid-July UNH poll gave him 23 percent, and back in January, UNH showed the Floridian leading Trump in the state by a 42 percent to 30 percent margin. The reason for his slide is pretty clear, as the Messenger reported this week: He hasn't visited the attention-hungry state in over a month as he has crisscrossed Iowa:
"Christie, Haley, Ramaswamy are here, taking every question. They're doing all the media. They're showing up. And DeSantis isn't," said Jim Merrill, a veteran Republican consultant who has worked on five presidential campaigns in the state.




"New Hampshire demands a level of intimacy of candidates that some can't give. Right now, that balance is off for DeSantis. It may not be a hand-in-glove fit for him," Merrill said. "Without saying it, DeSantis has shown he's made a choice: Iowa first. And New Hampshire second. People can feel that …"




"Get your ass up here. Yesterday," one influential DeSantis supporter in the state told The Messenger on condition of anonymity to speak freely about his displeasure.
DeSantis has also gotten bad polling news from the first southern state on the primary calendar, South Carolina (which votes on February 24). Two nearly identical September polls — one from the Washington Post/Monmouth College and the other from Fox Business News — show Nikki Haley (with 18 percent in both polls) surging into second place in her home state, while DeSantis battles Tim Scott (another South Carolinian) for third place at about half Haley's level of support. Doing well in the Palmetto State is a matter of basic survival for Haley and Scott. Meanwhile, Trump sails above the candidates battling for scraps of support with 46 percent in both South Carolina polls.
It looks like Trump may get some especially good luck in the fourth "early" state that might otherwise theoretically give his rivals a chance to knock the former president off stride: Nevada. In order to stay compliant with Democratic National Committee rules all but banning caucuses in 2024, the Democratic-controlled Nevada legislature authorized a state-run primary to be held on February 6. But Nevada Republicans, claiming that a primary would be open to fraud (you know, mail ballots and all that), are insisting on a caucus to be held on February 8 that will elect the actual convention delegates. And thanks to the dominant position of Trump allies like GOP chair Michael McDonald, it's widely assumed a caucus would be completely wired for the 45th president. Barring some change in state-party tactics or legal action by other campaigns, it could stay that way; the entire candidate field has largely ignored Nevada so far.
So DeSantis really does need to kick out the jams in Iowa or his once overpowering Death Star of a campaign may end ignominiously and very early. The bigger question may be whether even an Iowa upset would save the Florida governor from the weakness he is exhibiting in other early states.
History is replete with Iowa Republican Caucus winners who did not ultimately win the Republican nomination, including the last three winners of contested caucuses (Mike Huckabee in 2008, Rick Santorum in 2012, and Ted Cruz in 2016). And even some Caucus winners in both parties who eventually did win nationally stumbled in New Hampshire and had to really struggle to recover, including George W. Bush in 2000 and Barack Obama in 2008. The classic example of a candidate who parlayed a win in Iowa into a New Hampshire surge that put him in the lead for good was Democrat John Kerry in 2004. But the front-runner that Kerry toppled in Iowa, Howard Dean, finished a shocking third (that is not going to happen to Donald Trump), and Dean compounded the damage with his famous election-night "scream" that unfairly but unquestionably dominated media coverage of the campaign going into New Hampshire.
So winning Iowa won't necessarily put the Humpty Dumpty of Ron DeSantis's presidential candidacy back together again, and the second-place Iowa finish that's much more likely can only keep him in the race if virtually all his other rivals quickly drop out. In assessing the possibility of a DeSantis miracle run, the New York Times' Nate Cohn pointed to John McCain's 2008 primary comeback win as a possible precedent for the Floridian. DeSantis, of course, isn't a universally admired war hero and media favorite the way McCain was in 2008, and McCain wasn't running against a quasi-incumbent like Trump with a giant lead. Perhaps DeSantis's real source of hope and inspiration is Joe Biden, who did horribly in both Iowa and New Hampshire but still became the 46th president. We live in a very strange era.