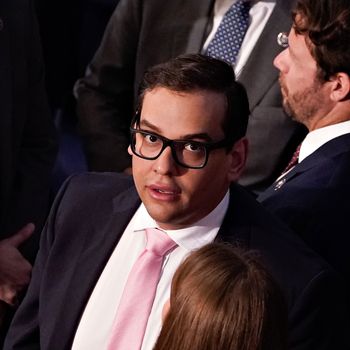 Photo: Al Drago/Bloomberg via Getty Images
The Justice Department is seeking to delay a planned court meeting in Congressman George Santos's ongoing federal fraud case until next month, sparking speculation that the two sides may be discussing a plea deal.
Federal prosecutors sent a letter requesting to delay a status conference for the case slated for Thursday to October 27. In the letter to District Judge Joanna Seybert, they write that Santos has "continued to review the voluminous discoverable material" put forward by the government and that his legal team says he requires additional time to do so. The prosecutors also allude to conversations that are happening between both sides, suggesting there might be other options on the table besides a trial.
"Further, the parties have continued to discuss possible paths forward in this matter," they wrote. "The parties wish to have additional time to continue those discussions."
However, when contacted by a reporter from Talking Points Memo, Santos strongly denied that a plea deal was in the works, calling the theory "wildly inaccurate," and labeling the reporter "a real hack." But then, his credibility isn't exactly sky-high.
Santos seemed to acknowledge the conversations about him on Twitter, where he defined the word speculation as "The forming of a theory or conjecture without firm evidence."
In May, Santos was indicted on 13 counts including wire fraud, money laundering, theft of public funds and making false statements. He was released on a $500,000 bond. The freshman congressman, who has been dogged by accusations of lies and shady finances, has long maintained his innocence and has been defiant in the face of calls for his resignation. Santos still intends to run for reelection in 2024 despite his congressional seat attracting candidates from both sides of the aisle.
If Santos were to accept a plea deal that was contingent upon his resignation, that open seat could add a twist to the already busy 2024-election cycle. State law requires a potential special election for a congressional seat to happen approximately three months after the vacancy occurs.