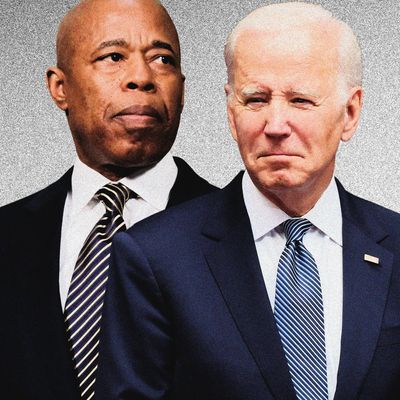 Photo-Illustration: Intelligencer; Photos: Getty Images
President Joe Biden's trip to New York City for the United Nations General Assembly came and went without a meeting with Mayor Eric Adams, who has levied significant criticism toward the federal government over the migrant crisis.
On Tuesday, Adams was asked during a press availability if he would be meeting with Biden while he was in town. He said that he had spoken to Biden "earlier in the year" and noted that the two hadn't had a conversation since.
"We release a public schedule. I'm very public. Everybody knows where I am. You guys know where I am all the time. We release if we're going to be with the president or not," he said.
Since last year, more than 100,000 asylum seekers have arrived in the city, putting a strain on the city's shelter system as the city government has worked to house and care for the new arrivals. Adams has consistently said that his administration needs more assistance from both the state and federal governments as more migrants continue to arrive. Earlier this month, the mayor gave his strongest comments yet on the issue, saying the influx of migrants will "destroy New York City."
The mayor's ire toward the White House has been persistent, with Adams saying during a press conference in April that Biden had "failed the city." In addition to increased funding, Adams has called for expediting work authorizations for asylum seekers.
The migrant issue has put a strain on the relationship between the president and Adams, who once dubbed himself the "Biden of Brooklyn." The mayor was once set to be part of a 2024 advisory board for the Biden campaign, but was later dropped from the final list following his asylum-seeker criticisms, per Axios. So far, Biden hasn't commented on the changing dynamic between the two leaders. Politico reports that Adams was invited to a reception at the Museum of Modern Art, as well as a campaign fundraiser that Biden was slated to attend.
During a series of morning interviews Wednesday, Adams was asked about the lack of a meeting with Biden. The mayor told PIX11 that he is in "constant communication" with White House staff about the city's needs, but suggested that his "authentic style of communicating" might rub some people the wrong way.
"I walk around with that New York communication style, and, you know, I don't search through a thesaurus to find a politically correct way of saying 'You are hurting me, you're hurting my city,' if that's what someone is doing," he said. "And some people may get offended to that, but I have to defend the city that I defended as a police officer and now as the mayor of the city."
Biden did take the time to meet with Governor Kathy Hochul, who has also been vocal on the need for federal aid. On Tuesday, Hochul said in a tweet that she had a "very productive conversation with President Biden tonight regarding some of our specific requests for help with the migrant crisis."