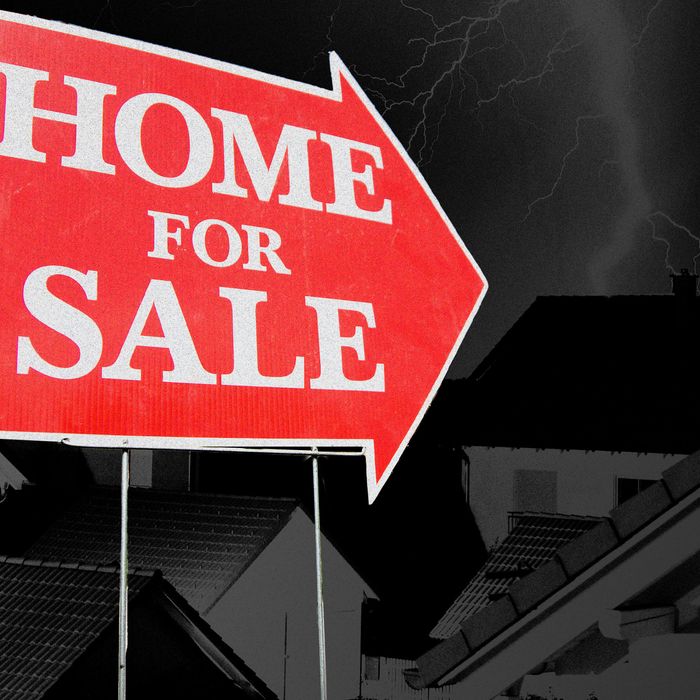 Photo-Illustration: Intelligencer; Photos: Getty
Buying a home is an adventure in crazy-making: Open houses, the Zillow alerts, the habitual checking of one's savings account to see if maybe, just this once, the balance has gone up on its own. (It hasn't). Most times, prospective buyers are just walking around getting crushed by rejection again and again by the vast universe of richer people with hundreds of thousands of dollars more in their bank accounts. If you do it right, you end up with no cash and decades of debt.
Now comes the news that you probably already missed your chance at getting a good deal on a new home. The Wall Street Journal reported on Friday that home prices rose in July, putting an end to a five-month streak of falling prices that is "turning out to be shorter and shallower than many housing economists expected after mortgage rates soared last year." With interest rates for 30-year mortgages hovering around the highest they've been this century, it is, essentially, a market that's cutting out more and more people each day — and it doesn't look like that's going to change anytime soon.
The reason, according to the Journal, is that there are just fewer places to buy. The market has 18 percent fewer homes for sale than it did last year — making it roughly the costliest time ever to buy a home, says Redfin. According to Freddie Mac, the U.S. is short 3.8 million homes to meet demand. On one level, that deficit comes down to the sluggish pace that new homes are being built. This is most evident in California, where venture capitalists and tech CEOs have flexed their powers to cease the creation of new homes. But that's not the only reason. Construction companies have been struggling to find workers who can actually build new homes. Most people just don't want to put their home on the market right now anyway. According to Goldman Sachs, 99 percent of all current homeowners have a mortgage with an interest rate lower than 6 percent. If someone's going to sell their home, why would they move into a place that's less affordable?
Maybe this is something you already feel deep in your rent-paying soul. About 18 percent of millennials say they'll never own a home, according to a new study by Redfin. Gen Z is a bit more optimistic, with only 12 percent saying so, that survey found. And unlike trends in, say, clothes shopping or avocado eating, generational differences appear to be extremely significant when it comes to the housing market. "Blame the boomers," one analyst at Barclays wrote in a note this week. It turns out that the post–World War II generation, which tends to have the most money, is the force behind most of the current demand for homes.
Of course, this is unsustainable, in no small part because of the limits of the human body. People die, and they leave homes and money to their children. But that can take decades. In the shorter term, the biggest force in creating this debacle has been the Federal Reserve, which has hiked up interest rates to the highest levels since 2001 — precisely to kill this kind of demand. Ideally, higher interest rates would have had a broader effect, bringing prices down as higher interest costs chipped away at buyers' budgets and sellers lost their bargaining power to ask for more. But this hasn't happened. While mortgage applications have fallen to the lowest point since the end of Bill Clinton's first term, the pressure to sell for lower prices just isn't high enough for most people. This sets up a scenario where housing may only get less affordable once the Fed starts to cut rates, since falling mortgage costs could bring in more buyers, who then drive up the price of the homes. If that happens, people might look back at this time and wonder why they didn't buy when they had the chance.