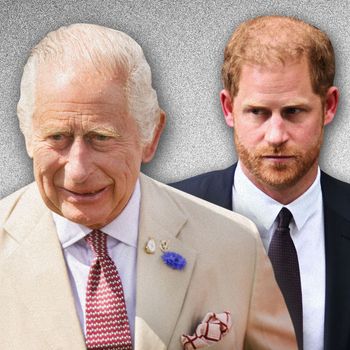 Photo-Illustration: Intelligencer. Photos: Getty Images
It appears King Charles does not want to see Prince Harry right now. There is no shortage of reasons for why that might be the case: Harry wrote a tell-all memoir, moved to the United States, and is still giving interviews about how "no one" in his family offered him "support" when he was a traumatized youth. But rather than admitting that things are a bit testy among Britain's royals right now, the king's public-relations team has decided to leak low-energy excuses every time Harry is back in the U.K.
When Prince Harry unexpectedly popped up in London in March for a hearing in one of his many lawsuits against the press, palace insiders claimed King Charles was too "busy" for a visit — even though his schedule was obviously wide open since he'd canceled a foreign trip at the last minute. Now Harry is returning to Britain on Thursday for the WellChild Awards, a charity that he has been patron of for 15 years. It might seem like a good time for a royal reconciliation, as Friday happens to be the anniversary of Queen Elizabeth's death. But while King Charles has been on holiday in Scotland for weeks, he's suddenly all booked up. A palace insider told the Daily Mail that the king simply has "no time in the diary" to see his son.
The suggestion that the monarch doesn't have the power to clear some time in his date book is a tad ridiculous. But perhaps King Charles actually is swamped at the moment. The Times of London reported that Charles has been "surprised" at how much work his new job entails:
A "complete workaholic", according to his wife, Charles often returns to his desk after dinner — yet even he has been surprised by the increased workload of a sovereign. A source close to him said: "I think the red boxes and [extra] duties have come as an unexpected burden on his time. The Queen is absolutely integral. Without her you'd be looking at a very different person, in terms of his happiness, which is vital to the success of the whole mission."




"He's got the Queen by his side who can make him laugh like nobody else, who can reassure him things are going well, who can humanise him, particularly at a time of immense stress and strain when he lost his mother and was suddenly sovereign, red boxes overflowing. To have the companion in whom you have complete faith and trust makes that burden a bit lighter."
So there are two possibilities here. Option 1: Charles is furious at his younger son and can't be bothered to come up with a plausible reason for continuing to shun him. Option 2: Charles is actually extremely busy figuring out how to do a job he's been working at for a full year after a lifetime of preparation. Neither explanation is particularly flattering to the king. But the fact that he has recently found time to reconnect with his disgraced brother, Prince Andrew, suggests which one it is.