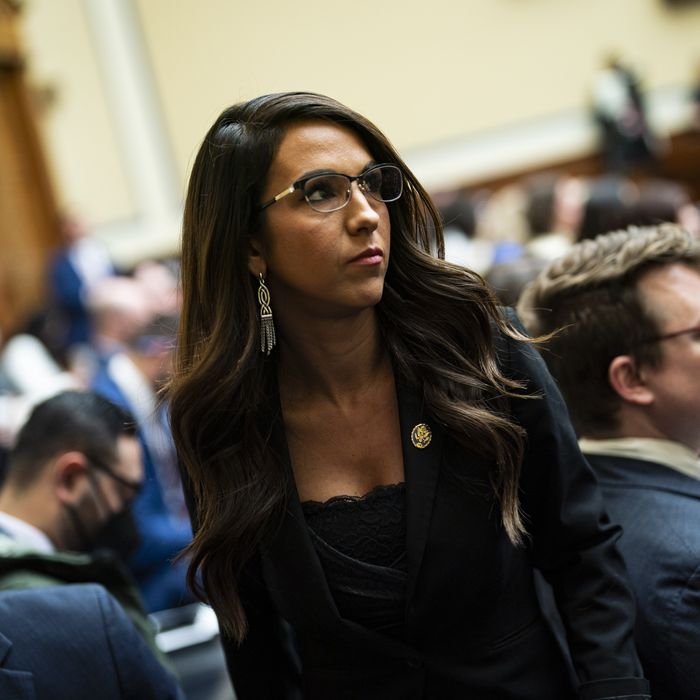 Photo: Al Drago/Bloomberg via Getty Images
Representative Lauren Boebert, like so many of us, is a person of contrasting impulses. A Politico profile on Wednesday documents her attempt to rebrand her image as an attention hog who gets in ugly scraps with her far-right allies on the House floor. To shore up support after barely winning reelection in her solidly red Colorado district last year, Boebert is working to squash that reputation by behaving like a normal congresswoman — one who is even willing to work with Democratic leaders in the state despite pushing for impeachment in Washington, D.C. "She's really done a good job of moderating," a local GOP official said of the representative known for her former support of QAnon and for allegedly causing a mass-diarrhea event at her restaurant.
But it also looks like Boebert is having a hard time abandoning her clamorous ways. Hours before the reputation-polishing story came out, the Denver Post reported that Boebert was kicked out of a performance of the Beetlejuice musical on Sunday for being disruptive and ignoring requests to quiet down. According to an incident report by Denver Arts & Venues, the operator of the Buell Theatre in downtown Denver, Boebert was vaping, singing, and recording the musical, resulting in four separate complaints from other patrons. (The Post reported that the women behind Boebert was pregnant; when she asked Boebert to stop vaping, the representative said "no." The woman claims that Boebert then called her a "sad and miserable person.") Boebert and the person she was with were told by theater staff to be quiet. Nevertheless, she persisted, and the pair was escorted out by ushers during an intermission.
"They told me they would not leave," one of the ushers said in the report. "I told them that they need to leave the theater and if they do not, they will be trespassing. The patrons said they would not leave. I told them I would (be) going to get Denver Police. They said go get them."
"Do you know who I am?" Boebert asked the usher, according to the report. "I will be contacting the mayor," she added. The theater called the police, who remained in the lobby until Boebert and the man she was with left the building. Denver Arts & Venues published security footage of the incident on Tuesday:
And video published on Thursday showed Boebert clearly vaping:
Boebert didn't seem too upset: After being kicked out of the theater, she's seen being twirled on the street by her date. The pro-police congresswoman — who, before joining Congress, was arrested four times for alleged harassment, disorderly conduct, and failing to appear in court — has tried to take the whole thing in stride. ""It's true, I did thoroughly enjoy the AMAZING Beetlejuice at the Buell Theatre and I plead guilty to laughing and singing too loud!" she tweeted. A representative also confirmed the incident with the Denver Post, though he denied the allegation that she was vaping, pointing out that the Beetlejuice musical features "heavy fog machines."
Then on Friday, after the video proof of her theater vaping circulated online, Boebert ultimately apologized for her "unacceptable" behavior, citing the challenge of "going through a public and difficult divorce." She also insisted, "I genuinely did not recall vaping that evening when I discussed the night's events with my campaign team while confirming my enthusiasm for the musical."
This post has been updated.