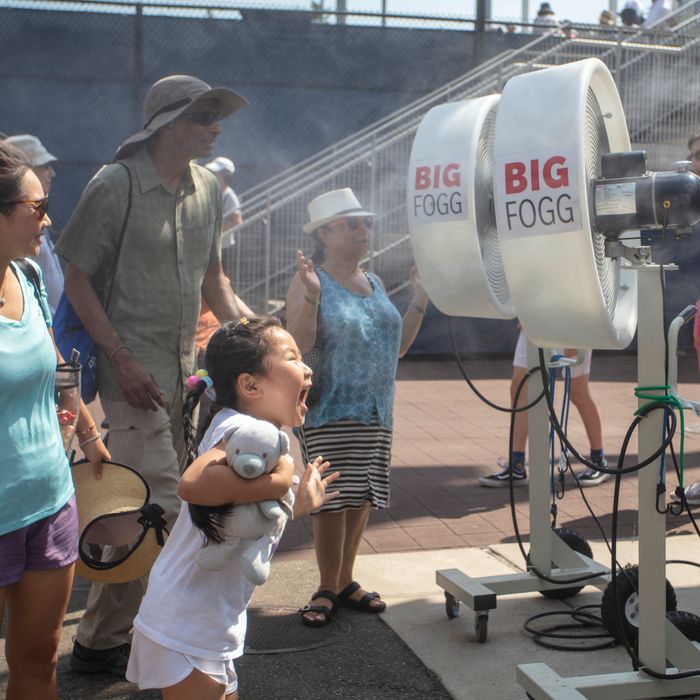 Trying to cool off this week.
Photo: Tim Clayton/Corbis via Getty Images
As fate would have it, a September heatwave that rolled into New York on Monday, and which disrupted an otherwise pretty temperate summer, coincided with the second week of the U.S. Open. (Oh yeah, and the first week of school.) The mid-90s temperatures and soul-destroying humidity have been murder on players, and the Round of 16 and quarterfinals often felt more like Darwinian battles of endurance than athletic events. While there were some improbably high-quality contests in these conditions, the majority have been uninspired affairs, with one or both players struggling to maintain their physical composure. During the quarterfinal between Daniil Medvedev and Andrey Rublev on Wednesday, both Russians appeared at various moments on the verge of collapse. Medvedev, who used an inhaler-like device to moderate his breathing during changeovers, issued a warning that didn't seem too far-fetched:
Nobody particularly enjoys tennis as death match: not the miserable players, not the fans baking in the stands, not television viewers. It's fair to wonder why the USTA, which runs the Open, couldn't have just closed the grounds' two roofs, on Ashe and on Louis Armstrong Stadium, and be done with it. But there isn't a clean solution to this problem, which is one the tournament has dealt with before. (Roger Federer has never looked more human than he did during his Round of 16 loss to John Millman in 2018, matted with undignified sweat.)
There are issues of fairness: If the tournament closes the roof at 92 degrees for a quarterfinals match, but not at 91 for one the next day, there would be an uproar. If extreme heat strikes the tournament early, as it did in '18, organizers must consider whether to put on hold dozens of matches taking place on the outer, roofless courts while sealing Ashe and Armstrong. Top, showcourt-ready players already enjoy significant advantages over the hoi polloi; for instance, they can play on rainy days while their lower-ranked brethren deal with schedule chaos. Should that privilege extend to extreme-heat days too? And while it's easy to scoff at the USTA's continuing insistence that the Open is meant to be an outdoor tournament, it's true that physical mettle is a hugely important part of tennis. Where's the line between reasonable obstacle and unfair impediment? None of these questions are simple.
Then there are the practical limits. Even closing the roof (as the Open did for the men's semifinals on Friday, because of rain) only does so much: As the Times notes, Arthur Ashe Stadium does not actually have air conditioning, just an air circulation system that is meant to reflect the temperature outside. One way or another, heat will impose its will on tennis in New York. And, as we were so usefully reminded by the guy who super-glued himself to the stadium floor on Thursday, it's not getting any colder out there. Per an AP report study this week, the average temperature at major tennis tournaments has risen by five degrees since 1988.
The Open does have an extreme-heat policy, which was triggered this week, and which involves measures that include a 10-minute break between the third and fourth set of men's matches. A few days ago, a new measure made its debut: Ashe's roof was closed partway so that the players were enveloped in shade. But it's time to think about taking a more drastic step: moving the tournament back a week. The average high temperature in New York City on August 28, when the Open started this year, is 81.5; the average high when it winds up on September 10 is 78.4. By September 17, that drops to
75.9. Those three degrees may seem small, but they signify a major reduction in heat-wave odds. From a weather perspective, the downside to a later tournament is that players and fans might experience a couple of chilly nights during the Open's latter half. But tennis on a low-60s evening is perfectly pleasant; tennis on an 86-and-humid night, the kind we witnessed this week, is something different.
A chance like this would obviously be a feat of bureaucratic engineering. The Open employs thousands of people and its place on both the tennis calendar and the New York cultural calendar — with its two halves nicely bisected by Labor Day Weekend — is sacrosanct, at least for now. Then there are the all-important television rights. The list of moving parts goes on, which is one reason why such a move would take years of planning.
And it's true that adjusting the calendar would be far from a cure-all. Obviously, if the Open had been pushed back this year, the first week of the tournament would have been the unbearable one, which in many ways would have been worse. Unless play had been halted for long periods, there likely would have been a wave of player retirements during early-round matches on the shadeless outer courts, as happened in 2018.
But this is a numbers game. We know how much New York City is warming; we know early-September weeks like the one we just experienced are considerably more likely to happen now than 10, 20, or 30 years ago. We know that watching two top tennis players try to avoid being the first to faint is not the way forward. Tennis and other outdoor sports are increasingly contending with a changing climate; for the USTA, the time to at least start thinking about a reasonable accommodation for this worsening problem is now.