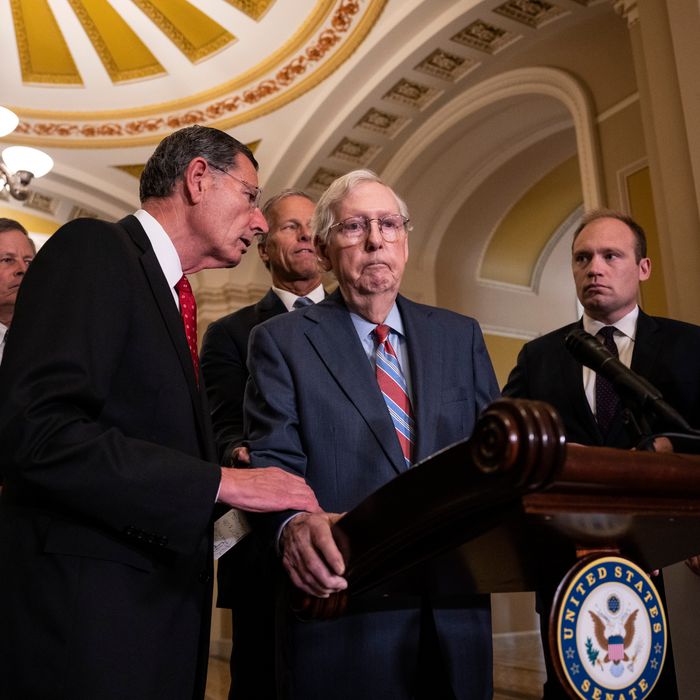 Photo: Drew Angerer/Getty Images
When Donald Trump was found to be in "excellent health" and (just barely) below the obesity threshold back in 2018, Republican elected officials were not interested in questioning then-White House physician Ronny Jackson's findings. Mitch McConnell probably hoped the same would be true on Tuesday when he released a letter from Brian Monahan, the Capitol Hill attending physician, regarding two times he inexplicably froze while addressing reporters this summer. But some Republican senators are breaking ranks and openly questioning whether the Senate majority leader is being fully transparent about his health.
McConnell, 81, suddenly stopped speaking during a D.C. press conference on July 26 and then he froze again while talking with reporters in Kentucky on August 30. A day after the second incident, Monahan released a statement clearing McConnell to work. The doctor suggested that McConnell might have trailed off due to dehydration or lingering symptoms from the concussion he suffered during a fall earlier this year. He said:
I have consulted with Leader McConnell and conferred with his neurology team. After evaluating yesterday's incident, I have informed Leader McConnell that he is medically clear to continue with his schedule as planned. Occasional lightheadedness is not uncommon in concussion recovery and can also be expected as a result of dehydration.
This failed to fully calm concerns about McConnell's ability to carry out his duties, so his office released a second letter from Monahan on Tuesday, hours before the Senate returned from a month-long recess. It read:
My examination of you following your August 30, 2023 brief episode included several medical evaluations: brain MRI imaging, EEG study and consultations with several neurologists for a comprehensive neurology assessment. There is no evidence that you have a seizure disorder or that you experienced a stroke, TIA or movement disorder such as Parkinson's disease. There are no changes recommended in treatment protocols as you continue recovery from your March 2023 fall.
Members of McConnell's leadership — who are viewed as his likely successors — also issued assurances about his health. Senator John Thune said he'd had "a couple of conversations" with McConnell this week and he "sounded great," per The Hill.
Senator John Cornyn told reporters he was happy after reading Monahan's second letter. "It appears that it's harder to recover from a concussion when you're 81 years old than maybe he thought," he added. "But he feels like he's up to the task, and I think that's the case."
But Senator Rand Paul, McConnell's colleague from Kentucky, said he still wasn't convinced by Monahan's assessment.
"Everybody's seen the clips," he told reporters on Tuesday. "It's not a valid medical diagnosis for people to say that's dehydration."
Paul, who practiced as an eye doctor, said he thinks it's better for senators to be "forthcoming about what's going on with their health problems" and noted that EEGs often "miss things" in patients experiencing regular seizures. He declined to directly answer a question on whether he's concerned about McConnell's ability to handle his workload. "I can't really say anything on that," he responded. "All I can say is, it doesn't look like dehydration."
Senator Josh Hawley, who opposed McConnell in his last bid for reelection as Senate GOP leader, was willing to go on the record with his concerns about McConnell's ability to do the job. "If you're concerned about the president, then you gotta be concerned about other people in leadership. And I just — it's a two-way street. It's not one or the other," Hawley said.
And Senator Tommy Tuberville, who's clashed with McConnell over a hold on military promotions, suggested that one more public freezing incident could end McConnell's leadership. "The last freeze-up, it puts a question in everybody's mind whether he can do it or not," Tuberville said. "At the end of the day, he's going to have to make that decision. But if he freezes up again, he obviously knows that everybody else is going to have to get involved in this."
The former football coach added, "We need a good quarterback."
Still, most Senate Republicans are sticking by McConnell — for now, at least. During the Senate GOP's closed-door policy lunch on Wednesday, McConnell said he's only frozen up twice, and senators reportedly didn't ask follow-up questions about the leader's health.
Senator Mitt Romney seemed to sum up how the majority of the GOP conference sees the issue. "We may expect that Mitch McConnell will check out for 20 seconds a day. But the other 86,380 seconds in the day, he does a pretty darn good job," Romney said. "I'm firmly behind his remaining as our leader."
In other words, a glitchy Mitch is still better than the alternative.