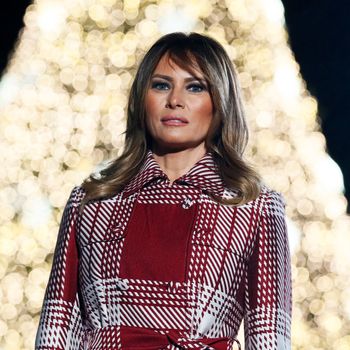 Photo: Paul Morigi/Getty Images
Melania Trump's time as First Lady is best remembered for three things: her "I Really Don't Care, Do U" jacket, her confusing "Be Best" initiative, and her controversial opinions about Christmas. Each year, Melania chose weird and spooky White House Christmas decorations — from blood-red pine trees to ominous white twigs — and was widely ridiculed. This culminated in the 2020 leak of a phone call between Melania and her former friend Stephanie Winston Wolkoff in which the First Lady complained, "Who gives a fuck about Christmas stuff?"
Many people would steer clear of any further association with the holidays after being burned like this, but not Melania. As Donald Trump recently bragged, his wife has "got a lot of self-confidence" and "she doesn't care" what anyone thinks of her. This former First Lady/reality-TV host's wife isn't here to make friends!
Thus Melania is doubling down on her awkward White House persona, making her post-presidency life all about publicly avoiding her husband and hawking holiday ornaments. This week, Melania announced on Twitter and Truth Social that she's releasing another batch of holiday ornaments/NFTs for Christmas 2023.
Melania got into the "non-fungible token" game well before her husband, and most of her sporadic social-media posts are about promoting USA Memorabilia's wares. Last year, she put out a collection of six Christmas NFTs with matching real-life ornaments featuring her signature on the back. Now she's at it again.
"I am pleased to continue USA Memorabilia's tradition of celebrating the season with A Red, White and Blue Christmas," she said in a statement this week. "This year, I found myself looking to my love for our great nation for inspiration. May everyone experience an abundance of peace & love during the holiday season."
There are five designs: a holiday train, a star, a frame with an American flag, a map of North America, and the words "Love, Peace, Faith." Each ornament/NFT is $35, except the star, which will run you an additional $10.
This batch is inoffensive yet impersonal, which I guess makes sense for Melania. As Donald Trump recently said of his wife, her "mystery" is "part of the beauty." But if I'm going to shell out $35 for Melania-approved décor I want it to really make a statement, like last year's glorious "Be Best" ornament.
If Melania is going to make this an annual tradition, maybe there's still hope for an official jacket ornament. I need a bauble that lets my holiday guests know I'm really into gold and Making America Great Again, but I secretly don't give a fuck about Christmas.