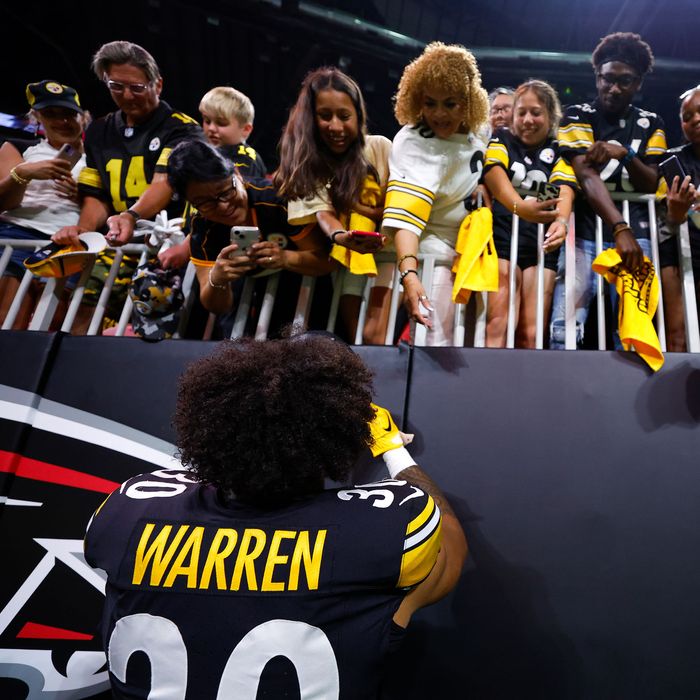 Photo: Todd Kirkland/Getty Images
If you want to know why the NFL, which begins its season this Thursday, is the most powerful and profitable sports league in the world — and why, despite relentless media predictions over the last decade, it is poised to remain so for many years to come — look no further than Damar Hamlin.
Of all the perils the NFL has faced during commissioner Roger Goodell's reign atop the league, Hamlin's collapse during a Bills-Bengals game in January was perhaps the most potentially destructive. A primetime Monday Night Football matchup between two of the best teams in the league, touted as the most important regular-season game of the year, came to a cold stop when Hamlin fell to the turf in cardiac arrest following a routine special teams tackle. Watching the play now, even knowing that Hamlin survived and is in fact still playing football, is so harrowing that it can make you question how a sport this brutal, this occasionally inhuman, could possibly be the most profitable entertainment entity in the country. It felt even worse in the moment, and people reacted accordingly, with a full week's worth of anguish. Aghast op-eds about football's violence appeared; some NFL media personalities took a week off from discussing the sport. It felt wrong to even think about next week's game and the playoff picture. (Fantasy football leagues, whose championship weeks hinged on the Bills-Bengals outcome, were thrown into chaos by the game's cancellation, but fantasy experts were loath to even mention the upheaval, lest they be accused of putting enjoyment of the sport above Hamlin's health.) The NFL has proven itself a master of public relations, but how do you spin a player having a heart attack on the field with the whole world watching?
It turns out you turn the tragedy into a feel-good story. The week after Hamlin's collapse, every NFL player's helmet had his number, 3, on it, and updates on his recovery dominated every broadcast (including an inspirational speech from his hospital bed). Before you knew it, Hamlin was attending Bills games in a luxury box and giving thumbs up to everybody watching at home. Hamlin's near death on the field was a terrifying moment, but that's all it was: a moment. Through careful media orchestration by Goodell and the league, the story of that moment transformed from "a player almost died because of how violent football is" to "resilient comeback story we can all rally around." Eventually, Hamlin would sit with President Biden at the White House. And in a perfect encapsulation of this turnaround narrative, Goodell himself sat and watched the Super Bowl with Hamlin. See? He's fine. Nothing to worry about.
What Goodell understands is a fundamental truth that even the most cynical media garment-render can no longer deny: Americans simply want to watch football, and nothing is going to make them stop. No scandal will even slow them down. Chronic brain injuries for players? Systemic lack of opportunities for Black head coaches? Former presidents calling the game "boring as hell" and attempting to drag it into the never-ending culture war? A cadre of team owners who legitimately might be some of the worst people on the planet? Nothing has made a dent in the sport. In 2022, 82 of the 100 top-watched TV shows were football games. 82!
There is zero sign this momentum will abate in 2023. If anything, it will gain power. The NFL Draft last May had a 12 percent TV-ratings increase over last year; this month's Hall of Fame Game, the annual first exhibition game (a game that is pointless, full of sixth-stringers you'll never see again, and generally miserable to watch) drew better ratings than the NBA playoffs. This summer even lacked the usual scandal that has marked previous offseasons, from Colin Kaepernick's protest (which began seven years ago this week) to Deflategate to Deshaun Watson. For the first time in memory, almost every NFL season preview piece is focusing on the actual game on the field, which is all Goodell has ever wanted in the first place. The NFL is en route to reach his much-mocked-at-the-time 2010 prediction of $25 billion in revenue by 2027.
Theoretically, this could be a transitional year for the NFL. For the first time since Bill Clinton was president (!!!), Tom Brady, the league's most famous player, will not be wearing an NFL uniform. Running backs, who once represented the sport's most prestigious position, are in open revolt against the league's talent evaluators. The NFL is still struggling with how to resolve issues concerning its full-on embrace of the gambling world. But that's minor stuff. That's not going to stop anything.
Just nine months removed from making some of us question, again, why we are watching this sport, Hamlin has made the Bills Week 1 roster (and is appearing on celebrity renovation shows). Aaron Rodgers, no longer openly questioning vaccines or election results, is the star quarterback for one of the league's most beleaguered but beloved teams. And Goodell is about to sign a contract extension that could bring him more than $70 million in salary a season. The NFL is stronger and more powerful than ever. Would all this be different if Hamlin had died on the field, as he very well could have? I'll confess: I'm not sure it would. People don't want to feel bad watching football. So they don't. And they won't.