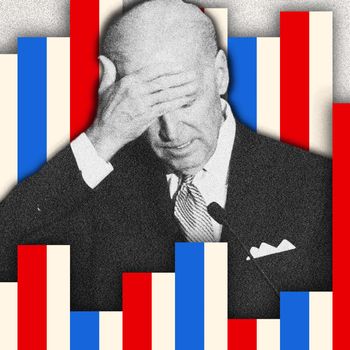 Photo-Illustration: Intelligencer; Photo: Getty
The end of summer has not been kind to President Joe Biden. Fourteen months out from the next election, a series of new surveys suggests that Americans — or at least the ones who answer cold calls — are not thrilled by the prospect of a second Biden term.
A poll from CNN and SSRS released Thursday pegged Biden's job-approval rating at 39 percent — with 58 percent of Americans disapproving of his presidency thus far. Forty-six percent of registered voters said that any Republican nominee would be better than Biden next year. Among surveyed voters, the individual matchups between Biden and Republican candidates suggested an even race between all the GOP hopefuls — except for Nikki Haley, who held a 49 percent to 43 percent lead over the president. (Haley, of course, would first have to get out of a primary where she's polling in the single digits.)
It's never wise to put too much stock in one poll, but a second survey this week from The Wall Street Journal shows that Biden has a 42 percent approval rate, with a 57 percent disapproval rating. In both polls, voters were particularly concerned about the 80-year-old politician's age: 73 percent of voters polled by the Journal believe Biden is too old to run for a second term, while 76 percent of those surveyed by CNN said that Biden's ability to complete a second term would be a problem at his age. Despite the improving economic outlook, voters in both polls weren't thrilled by Biden's performance there either. The CNN poll states that 58 percent of Americans believe that Biden has made the economic situation worse, while the WSJ poll says that 58 percent of Americans believe the economy has gotten worse over the last two years.
As for head-to-head polling with the real competition, Biden is tied with Donald Trump at 46 percent in the WSJ poll. According to CNN, Trump has a slight lead among registered voters, with 47 percent to Biden's 46 percent.
More tough news came via a New York Times–Siena College poll that showed that Biden's support among non-white voters has slipped since the 2020 election. According to the survey, Biden leads Trump 53 percent to 28 percent among registered non-white voters, which is down from his 70 percent in 2020. Of particular concern among this coalition that helped put him in office was the decline in support among Hispanic registered voters, with whom he enjoys just a 12-point lead at the moment — exacerbating Democratic concerns about losing ground among this key demographic.
All in all, it's not a great picture for old Joe. Polling averages right now give him a 56 percent disapproval rating compared to 40 percent who approve — the lowest ratio since August 2022, during a post-Dobbs summer of discontent for Democrats. On the other hand, Biden is quite familiar with underwater approval ratings, having been net negative in polling averages since the fall of Kabul. And if voters don't like Biden, wait until they hear about the other guy: While the Journal poll suggests 49 percent of Americans view Biden very unfavorably, that number is 52 percent for Trump.