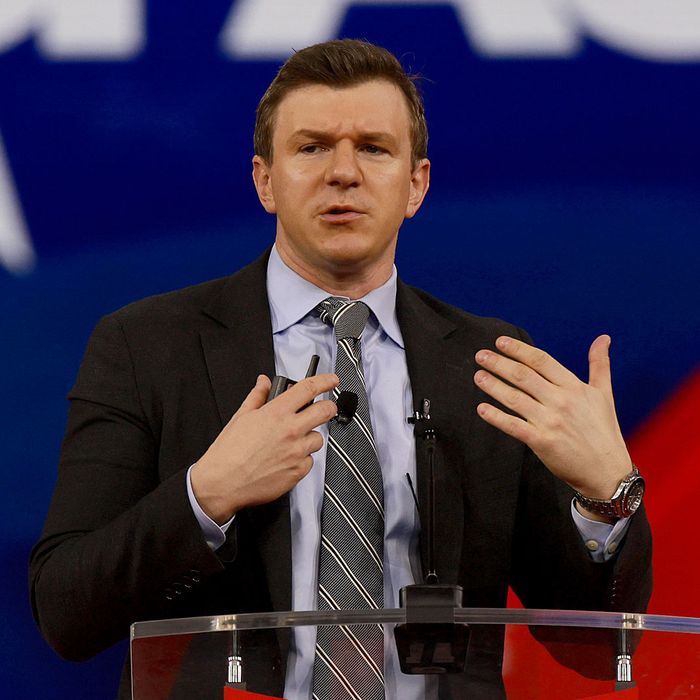 Photo: Joe Raedle/Getty Images
Considering that the cruising speed of a commercial airliner is more than triple that of most helicopters, savvy travelers looking to get from New York City to Acadia National Park in Maine would probably be best off flying from Queens or New Jersey to Bangor for around $200, then taking an hour-long drive.
Not James O'Keefe. According to an independent audit from his former employer Project Veritas, known for its misleadingly edited sting operations, the millennial ratfucker took a $12,000 helicopter from New York to Maine, using funds donated to the nonprofit. When bad weather forced the helicopter to land, he then paid $1,400 for a town-car service for a three-hour drive to his destination.
The audit from Project Veritas obtained by the Washington Post shows many more questionable purchases by O'Keefe, who was ousted in February from the organization he founded for what it described as "financial malfeasance." Using money donated to Project Veritas, O'Keefe spent $208,980 on black-car travel in just two years. He bought $2,500 worth of DJ equipment. (Former employees claimed he was frustrated that his staff couldn't get him booked at Coachella, David Solomon–style, to spin.) Aides claim that he would urge them to set up donor meetings in California so he could spend time with a reality show contestant with whom he was in a relationship.
He somehow spent $600 on bottled water in one stay at a hotel in San Antonio.
The audit provides some new detail on O'Keefe's behavior during Hurricane Ida, which destroyed the Project Veritas office in Mamaroneck. With his staff was fighting to save what they could from the floodwaters — with an elderly employee sucked underwater at one point — O'Keefe jumped ship. "Don't worry, everything will be okay," O'Keefe told his employees, according to one staffer cited in the audit. "But help me get out of here." He couldn't help the recovery effort because he had to get to Virginia to play the lead in the musical Oklahoma!
Previous reports have detailed O'Keefe's alleged spending habits, like a $14,000 chartered flight to get his boat fixed or $60,000 for what Project Veritas described as "dance events."
All of this alleged extravagance appears to be catching up with O'Keefe. Aside from losing his job, he is reportedly facing a criminal investigation in Westchester County. His profligacy appears to be hurting Project Veritas, too: The group was forced to lay off 25 of its 40 staffers in August. And in a recording of an August board meeting obtained by the Post, board chairman Joe Barton said that he was worried that, if the audit was made pubic, it could prompt the Internal Revenue Service to launch an investigation.