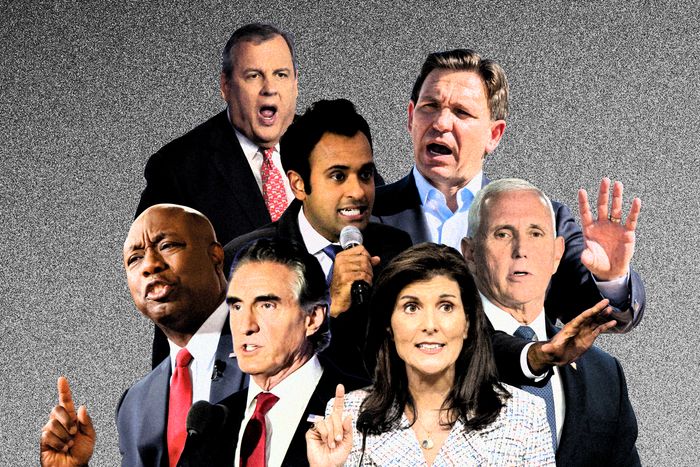 Photo-Illustration: Intelligencer; Photos Getty Images/Dmitriy Viktorov
The second GOP debate between the top 2024 Republican presidential candidates who aren't named Donald Trump was a bit of a mess. There weren't as many contenders as at the first debate last month: Ron DeSantis, Vivek Ramaswamy, Nikki Haley, Mike Pence, Tim Scott, Chris Christie, and Doug Burgum all met the RNC's stricter threshold for entry this time (Asa Hutchinson did not) and many of them tried to get the most speaking time — often simultaneously. The two-hour showdown was moderated by Fox Business and Univision at the Ronald Reagan Presidential Library in Simi Valley, California. Trump, the current front-runner, once again kept his distance and delivered some counterprogramming at a nonunion rally in Michigan.
Below is a reverse-chronological collection of some of the most memorable moments, as well as real-time analysis from Intelligencer's team of writers and editors.
Last question of the night is too mean-spirited for this friendly bunch
Doug Burgum was surely relieved, while Chris Christie seized the opportunity to get in one final dig at Trump:
This is a developing story.