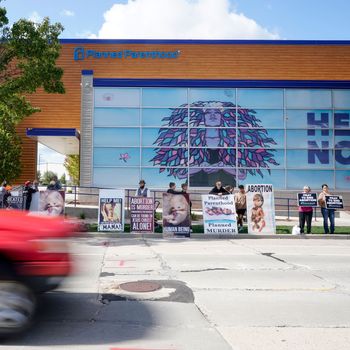 Planned Parenthood has officially resumed providing abortions in Wisconsin following a recent court decision that clarified a 19th-century law.
On Thursday, Tanya Atkinson, the CEO of Planned Parenthood Wisconsin, announced that the organization would once again offer the service at locations in Milwaukee and Madison. And on Monday, patients were able to book appointments for procedures at Planned Parenthood clinics in the state for the first time since the Supreme Court overturned Roe v. Wade in 2022.
After that decision, an 1849 law that had been superseded by Roe became relevant once again. The statute declares that "Any person, other than the mother, who intentionally destroys the life of an unborn child is guilty of a Class H felony."
Soon after the Supreme Court's ruling, Wisconsin state attorney general Josh Kaul filed a lawsuit that sought to overturn the 174-year-old law, citing its age and regulations that had been passed in Wisconsin over the last few decades, which were more in line with the precedent established by Roe.
In July, Dane County Judge Diane Schlipper ruled that the law pertained more to infanticide than to abortions performed prior to viability. In her ruling, she wrote "There is no such thing as an '1849 Abortion Ban' in Wisconsin," per the Wisconsin State Journal.
The judge's ruling was enough to prompt Planned Parenthood to begin providing abortions once again.
"A decision by the Dane County Circuit Court in July made it clear that the 1849 law is not enforceable for voluntary abortions," Atkinson said.
Despite Schlipper's decision, the issue has not yet been resolved. The matter will likely end up before Wisconsin's supreme court, which has gone through significant changes recently. In August, the court flipped to a liberal majority for the first time in over a decade after Janet Protasiewicz, the body's new chief judge, was sworn in. However, the Republican legislature, which has been at odds with Democratic governor Tony Evers on many issues including abortion, has threatened to impeach Protasiewicz before she has gotten the chance to weigh in on any case.