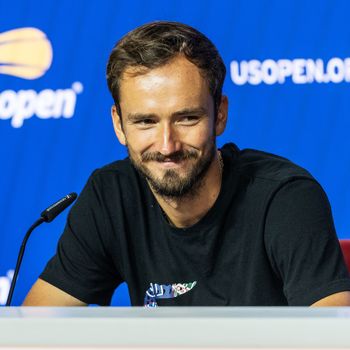 An unsatisfied customer.
Photo: Lev Radin/Pacific Press/LightRocket via Getty Images
Thanks to a licensing-fee dispute with Disney, Spectrum cable customers have been unable to watch ABC, ESPN, and other Disney-owned channels since last Thursday. Until the two sides reach an agreement, the company's roughly 14.7 million subscribers won't have access to live sports like college football and the U.S. Open, which runs through Sunday.
Charter Communications (Spectrum is its cable brand name) protests that Disney is demanding too much money to carry its programming, Disney, meanwhile, has urged forlorn customers to switch to Hulu + Live TV, where they can watch the newly unavailable channels without interruption — for a price, of course.
But that's not an option for some people, including a certain dyspeptic tennis star just trying to scope out his next opponent after a long day in Queens. World number three Daniil Medvedev, who plays for a spot in the Open semifinals on Wednesday, admitted during a press conference after his fourth-round match that he has resorted to petty crime to get his TV fix.
"I guess in a lot of hotels, they have Spectrum, so I cannot watch it on TV anymore. But — I don't know if it's legal or illegal, but I have to find a way …so I go on internet, and probably this — you call it — pirate websites, or something — I watch tennis there."
It's a shame that one of the world's best tennis players has to resort to such undignified methods. But perhaps Medvedev should look at it this way: Complaining about Spectrum's Kafkaesque customer service is an authentic New York City experience.