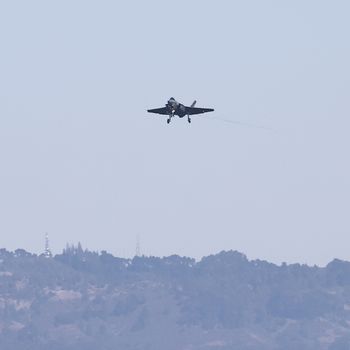 Photo: Tayfun Coskun/Anadolu Agency via Getty Images
Critics of the F-35 have long complained that the astronomically expensive fighter plane has some pretty striking flaws, like its well-documented problems with flying in the rain. But at least its stealth capabilities appear to be solid. So solid, in fact, that the Marine Corps cannot find an F-35 that was lost over South Carolina after its pilot ejected on Sunday.
The jet is supposed to have a transponder inside to help in situations like this, but a spokesman for Joint Base Charleston, an Air Force base involved with the search, told the Washington Post that it was not working "for some reason that we haven't yet determined." To aid in the search, the base put out a request on social media requesting that anyone with information on its whereabouts "please call" to help find their trillion-dollar stealth fighter. In response, South Carolina Representative Nancy Mace asked an important question on Twitter:
So far, the Marine Corps hasn't provided much information on that front. After taking off on Sunday morning from Marine Corps Air Station Beaufort — about 30 miles north of Hilton Head island — the pilot ejected on Sunday afternoon. After parachuting to the ground, he is now in stable condition, though the Marine Corps has not yet stated why he ejected in the first place. Based on the F-35's whereabouts when its pilot ejected, the search is focusing on Lake Moultrie, a 14-mile-wide lake that is up to 75-feet deep. While the search radius assumes that the plane went down, a spokesman told NBC News that the plane was in autopilot mode when its actual pilot bailed, so there is a possibility that it's still flying around all by its lonesome.