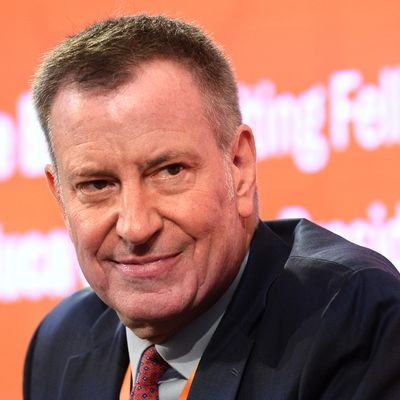 Photo: Roberto Serra - Iguana Press/Getty Images
It's like it's got a "Page Six" just for really lanky guys now. On Tuesday night, the New York Post published a picture of the former mayor it loves to hate, Bill de Blasio, making out with his date at the Empire Rooftop bar near Columbus Circle. According to the Post — which, for some reason, put four reporters on the story — the 62-year-old who separated from his wife in July got cozy with an "age-appropriate" woman.
According to a server at the restaurant, they were really going after it, missing the sunset from the skyline room. The server also said that the pair are there "at least three times a week." Apparently, the bar provides him with a bit of anonymity — or at least it did until the Post blew up his spot. "No one here — none of my co-workers — know who Bill de Blasio is," the server said.
If the last three months are any indication, the New York media is going to have an even better time than de Blasio when it comes to his dating life. First came the unusual New York Times announcement that he and his wife of 29 years, Chirlane McCray, were separating — a bulletin that felt like an announcement to the world that one of the least successful politicians of the 2020 presidential race was back on the market, even if he and his wife are technically still living together in Park Slope. Then in August, the Post put out some gossip about de Blasio going out on the town with a former aide, though he claimed he was only offering her some "career advice." (By the way, what in God's name has he done to his hair?)
The ultimate question: Does the tabloid coverage of the former mayor's dating life ultimately improve or impede his chances at finding love? If the paps are out, one might imagine more discrete romantic prospects steering clear of getting their picture in the Post with one of the city's most goofball-dad-looking men. On the other hand, when has close attention ever stopped a person with proximity to power and fame from getting laid?