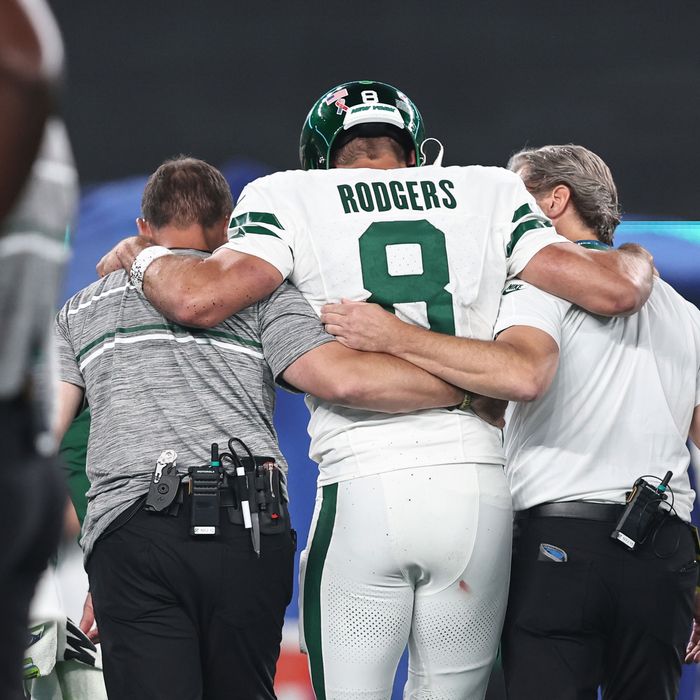 Photo: Michael Owens/Getty Images
On Monday morning, ESPN and Charter Communications settled a two-week stalemate over carriage fees, which some had postulated could change cable television, and sports along with it, for years to come. One clear factor forced the two sides to the table: the imminent premiere of Monday Night Football last night. There was too much money to make off that one football game for either side to risk missing out. And that particular game was especially valuable for one primary reason: It was Aaron Rodgers's grand debut for the New York Jets.
He ended up lasting four plays. They definitely dotted every "I" and crossed every "T" on that ESPN/Charter contract, right?
When Rodgers went down after throwing a single pass last night, it was a crushing blow to him, the NFL, and of course the Jets, a franchise whose history generally consists of one crushing blow after another. On Tuesday morning, an MRI confirmed that Rodgers had torn his Achilles tendon. That means the end of his season, and possibly the end of his career. Four plays in.
Perhaps the wildest aspect of the whole evening: Somehow, insanely, the Jets ended up coming back to win in overtime. It had to be their most exciting victory in years. All told, though: I suspect they'd still rather have Rodgers.
Suffice it to say: This is not how things were supposed to go. The drumbeat of hype leading up to Rodgers's first game with the Jets had been so incessant and inescapable that all of Sunday's opening weekend games felt a bit like an undercard to Monday night. Rodgers orchestrated much of the hype himself. He's been building up a new version of his persona since forcing a trade to the Jets from the Packers back in April; the ensuing publicity tour felt like an exercise in image management after a two-year heel turn in which he was better known for being a COVID-19 denialist, conspiracy nut (remember, he once claimed that UFO sightings were a way to distract us from Jeffrey Epstein), and guy-who-won't-stop-talking-about-how-he-takes-mushrooms-in-a-yurt. Suddenly, he was showing up at Knicks playoff games, cleaning up his image with the New York press, signing on for HBO's Hard Knocks, and talking about how he "visualizes" the Jets winning a Super Bowl. And again: The whole thing lasted four plays.
Could this really be the end for Rodgers? Achilles tears require serious surgery and are notoriously slow to heal. Kobe Bryant and Kevin Durant are the most high-profile athletes to have suffered such injuries and while they did return to play, often at a very high level, they were never quite the same afterward. And they were much, much younger than Rodgers, who will turn 40 in December.
And Rodgers was already past peak before this. He is unquestionably one of the best quarterbacks in NFL history, having won four MVPs and a Super Bowl. He'll be in the Hall of Fame someday. But it must be said: For the last two years, Aaron Rodgers has been a lot better at creating media attention than he has been at football. Think about how much we've talked about Aaron Rodgers in the last half-decade. He has been at the dead center of every NFL conversation. Is he fighting with the Packers? Does he want a trade? Is he going to retire and host Jeopardy!? Who's he dating? Wait, did he lie about not taking a vaccine? He said what to Joe Rogan? Is Aaron Rodgers an election denier now? This has obscured a fundamental fact about Rodgers: He was an average, at best, quarterback last year, his final season for Green Bay, and his team finished with a losing record and missed the playoffs last year. That the Packers got a first-round pick for him was considered a considerable surprise — and a sign of the Jets' desperation.
So what happens now? The Jets' unlikely Monday-night victory aside, second-string quarterback Zach Wilson showed Monday night why the team was so eager to move on from him in the first place. Which is a shame because their defense is among the best in the NFL, and with a capable offense they could have been going places. Instead, more mediocrity looms.
Rodgers's future may be more interesting. Because as much as Rodgers loves to have people talking about him — he clearly relishes it, craves it, even — that will only happen if he plays. Because when you are no longer on the field, nobody cares about your yurts.
Ask Tom Brady. Over the weekend, Brady, in the first opening NFL weekend in which he wasn't on an active roster since the World Trade Center was still standing (and would continue to do so for two more years), addressed his beloved Masshole fanbase at halftime of New England's first game, declaring himself a "Patriot for life." Owner Robert Kraft announced that Brady would be inducted into the Patriots Hall of Fame next year (forgoing the traditional four-year post-retirement waiting period), and Brady took the opportunity to bask in all the love. It's nice when the little guy gets his day in the sun.
What was amusing about the whole ceremony was how little anyone outside of Boston seemed to care. (Including in Tampa Bay, where Brady won a Super Bowl after leaving New England.) It felt local, it felt perfunctory, it felt … small — a minor story compared to everything else that happened on the NFL's opening weekend. Even though Brady has been the signature star of the NFL for 23 years, even though we've had roughly 1,000 collective arguments about him over two decades of American culture, the minute he took those pads off, he stopped mattering. He immediately became part of the past. Brady will surely push to retain his celebrity status over the ensuing years (he begins working for Fox Sports as its lead analyst starting next season) but none of that changes the fundamental fact that he's just a retired athlete now — just another guy with a microphone now. Just a schmuck like the rest of us.
This is the essential conundrum that faces Rodgers. No matter how big a deal he thinks he is, his importance comes down to his performance on the field. His career is in serious jeopardy. If Rodgers wants to keep our attention, to be more than just another retired athlete, he has to win. Or at the very least, he has to play. After four plays with his new team, we may have seen the end of Aaron Rodgers Monday night, on and off the field.