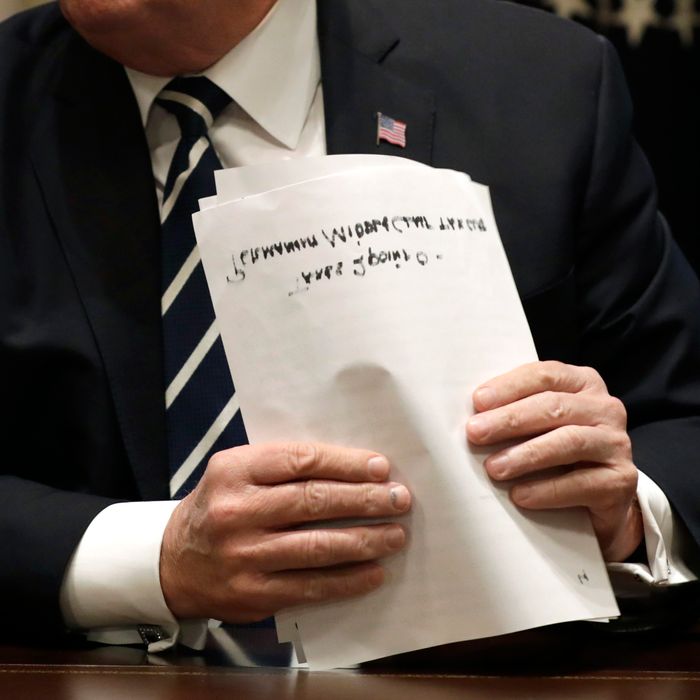 Photo: Yuri Gripas/Bloomberg via Getty Images
Donald Trump is notoriously weird about paper. As president, he liked to stack it up as a prop or sometimes flush it down the toilet. When he exited the White House, paper got him in trouble; the classified documents he took with him and then allegedly mishandled led to federal charges against Trump and some of his employees. Now there has been a new development in the saga of the former president's paper high jinks.
ABC News reports that Trump's former longtime assistant, Molly Michael, told federal investigators that when he was president, Trump would often hand her to-do lists scrawled on classified documents:
[Michael] told investigators that — more than once — she received requests or taskings from Trump that were written on the back of notecards, and she later recognized those notecards as sensitive White House materials — with visible classification markings — used to brief Trump while he was still in office about phone calls with foreign leaders or other international-related matters.
The note cards were at Mar-a-Lago when federal agents raided it last year, but they were not recovered, according to the report. The day after the raid, Michael found them and arranged their transfer to the FBI. ABC News notes that Michael is believed to be the person referred to as "Trump Employee 2" in the government's classified-documents indictment against Trump. Prosecutors say she was one of the people who handled boxes that were moved from the White House to Mar-a-Lago.
Michael also reportedly told federal investigators that she suspected Trump was going to get caught lying about the boxes, and that after the former president learned the FBI wanted to interview her, he told her, "You don't know anything about the boxes."