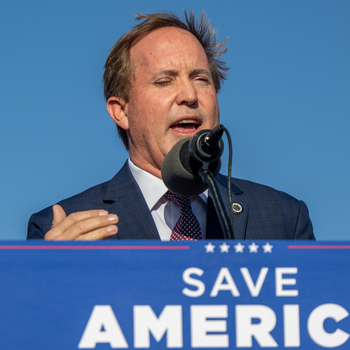 Ken Paxton, impeached but then acquitted just like you-know-who.
Photo: Brandon Bell/Getty Images
One of the key things about being a narcissist is that you tend to think everything revolves around you. So of course Donald Trump interpreted the September 16 acquittal of his buddy Texas attorney general Ken Paxton on impeachment charges as the product of his support for the man, and took credit, posting on his social-media site that his "intervention through TRUTH SOCIAL saved Texas Attorney General Ken Paxton from going down at the hands of Democrats and some Republicans."
There are a lot of other ways to interpret Paxton's acquittal on 16 impeachment charges on Saturday. He has long been a controversial and polarizing figure associated closely with other controversial and galvanizing figures, including real-estate developer Nate Paul, with whom the AG was alleged to have been illegally in cahoots, generating many of the impeachment charges. Investigations led 121 of 144 members of the Texas House (including 60 fellow Republicans) to conclude in May that Paxton should be impeached for "improperly aiding a wealthy political donor [Paul], conducting a sham investigation against whistleblowers in his office whom he fired, and covering up his wrongdoing in a separate federal securities fraud case against him, among other offenses."
The impeachment was part of a pattern of intra-Republican ideological warfare in the Texas legislature, where the upper chamber is a bastion of hard-core right-wingers while conservative "Establishment" types control the House, as the Texas Tribune explains:
Paxton's impeachment trial was the latest — and among the most consequential — battle in an ongoing civil war between the Texas GOP's establishment members and a well-funded right wing that has for years claimed the party is insufficiently conservative.




Though the two factions generally agree on policy issues — and the Texas Legislature routinely leads the nation in passing socially conservative bills — the party's far right has often accused members, specifically those in the Texas House, of partnering with Democrats to undermine conservative priorities.




Paxton has played a key role in that fight, and has used his office to back the issues favored by the state's most conservative flank. In turn, he has received millions of dollars from ultraconservative donors such as oil tycoons Tim Dunn and Farris Wilks, who have buoyed his campaigns as his legal woes mounted, approval ratings dropped and other, more establishment donors invested elsewhere.
Paxton's impeachment and acquittal wasn't the first battle in this civil war, and it won't be the last, the Tribune notes:
Hours after his acquittal in the Texas Senate, Attorney General Ken Paxton's far-right supporters … vowed a scorched-earth campaign against House Speaker Dade Phelan, casting him as the ringleader responsible for the impeachment process and calling for him to resign immediately.




"You and your band of RINOs are now on notice," Defend Texas Liberty PAC leader Jonathan Stickland tweeted at Phelan on Saturday, as voting continued in the Texas Senate. "You will be held accountable for this entire sham. We will never stop. Retire now."
The Wall Street Journal offered an even more succinct take on why Paxton won acquittal:
What really happened Saturday is that Lt. Gov. Dan Patrick, who runs the state Senate, chose to rescue Mr. Paxton in a rebuke to his rival, House Speaker Dade Phelan. All politics is very local here.
Perhaps Trump did some private lobbying for Paxton, but his public interventions were limited to one statement of support when the AG was impeached and another as the trial was ending. Neither predictable comment shook Austin. But presumably, Texas Republicans are accustomed to letting this crowing rooster take credit for the sun rising.