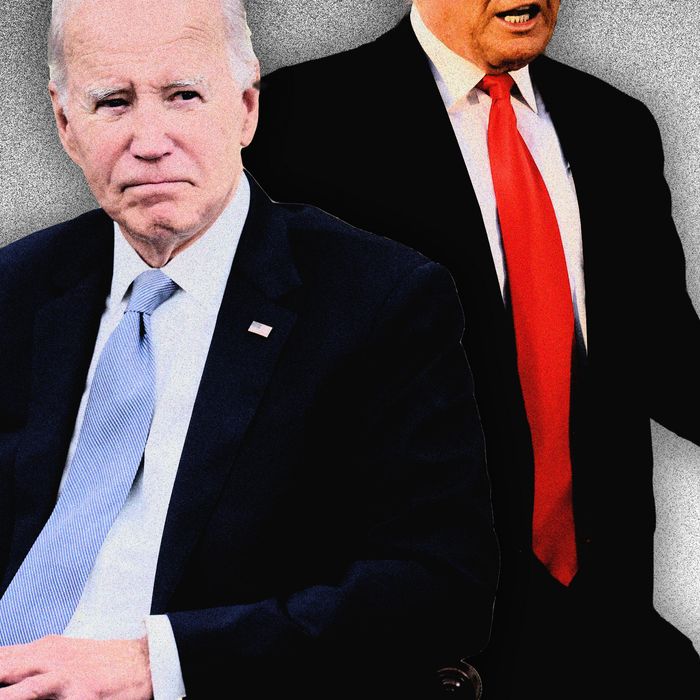 Photo-Illustration: Intelligencer; Photos: Getty
One of the major questions in the 2024 presidential race is whether 80-year-old Joe Biden is too old to serve a second term. It may seem reasonable to ask the same question about Biden's likeliest opponent, Donald Trump, as he is just three years younger and has a reputation for incoherence. But when two major newspapers discussed this topic in recent days, Trump was incensed, and he attempted defend his mental abilities in a series of long and confusing Truth Social posts.
Over the weekend, Trump lashed out at The Wall Street Journal over a week-old poll conducted by the newspaper. The survey was actually more negative on Biden than Trump. It found that voters are far more concerned about the current president's age and mental abilities (though they see Trump as more dishonest and unlikeable):
Although the candidates are only three years apart, 73% of voters said they feel Biden is too old to seek a second term, compared with 47% of voters who said the same of the 77-year-old Trump. Two-thirds of Democrats said Biden was too old to run again. 




By an 11-point margin, more voters see Trump rather than Biden as having a record of accomplishments as president — some 40% said Biden has such a record, while 51% said so of Trump. By an eight-point margin, more voters said Trump has a vision for the future. And by 10 points, more described Trump as mentally up to the presidency. Some 46% said that is true of Trump, compared with 36% who said so of Biden.




Biden is viewed more favorably than Trump on some personal characteristics. Some 48% of voters said Biden is likable, compared with 31% for Trump. Some 45% viewed Biden as honest, while 38% said so of Trump.
But Trump was upset that the survey even asked about his age and "mentality." He reminded everyone that he "ACED" a "mental acuity test" (which was actually a simple dementia screening) and challenged those he deemed responsible for this grave insult to do the same:
Then Trump upped the ante in "Page 2" of his post, daring his nemeses to a "tough" physical challenge that he will certainly win — not just because he will "name the place and the test" but because he "just won the Senior Club Championship at a big golf club." (He was referring to his own Bedminster, New Jersey, golf club, and his claim that he won the event has been widely disputed):
Trump returned to the topic on Wednesday morning, blasting "The Failing New York Times" for dishonestly trying to make him look addled by failing to explain that a rambling answer in his recent interview with Tucker Carlson was clearly an intentional jab at Biden:
Though Trump didn't include and links or details, it appears he's referring to a two-day-old Frank Bruni opinion piece titled "Trump Is Really Old, Too." Bruni cited Trump's recent tangent about the Panama Canal being "one of the nine wonders" to argue that since "derangement is essentially his brand" we'd have a hard time determining if Trump is slipping due to his age:
Pretty much any interview he gives is a babble bonanza, and his recent lovefest with Tucker Carlson was no exception. He went on wacky tangents, including one about the wages of building the Panama Canal: "We lost 35,000 people to the mosquito. Malaria. We lost 35,000 people. We lost 35,000 people because of the mosquito. Vicious. They had to build under nets. It was one of the true great wonders of the world."




"One of the nine wonders," he added, then corrected himself. "No, no, it was one of the seven." Seven, nine — he seemed unable to decide, unwilling to commit. "You could make nine wonders," he ventured. I guess that's some limit. Once you hit 10, they're just curiosities. Wonder-ettes.
In the Carlson interview (which had nowhere near 265 million viewers) Trump did mention, "As he said, one of the nine wonders of the world. No, no, it was one of the seven":
Initial write-ups of the interview say it's unclear who "he" is, so it seems many people missed that Trump was joking about how "Crooked Joe had just called 'something' the Ninth Wonder of the World." More googling reveals that "something" is the Grand Canyon, which Biden referred to as one of the nine wonders of the world in early August, correcting himself moments later:
I'd say that Trump's point in these Truth Social posts is significantly undercut by the fact that most people need footnotes to follow what he's talking about. But I've never been asked to identify zoo animals to prove I don't have dementia, so what do I know?