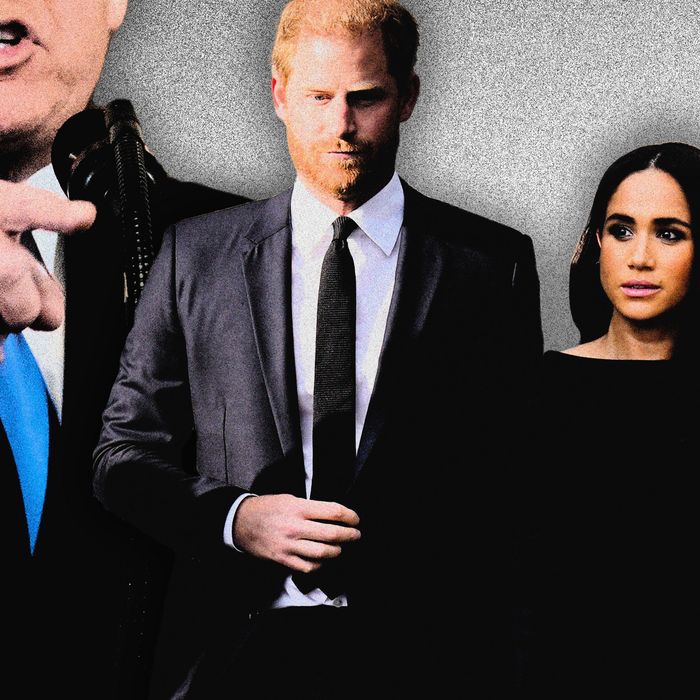 Photo-Illustration: Intelligencer; Photos: Getty Images
For the past few years, a recurring theme in tabloid coverage of Britain's royal family has been that they're all terrified Prince Harry and Meghan Markle will cause a scene at a major event. These concerns were widely reported leading up to Prince Philip's funeral, Queen Elizabeth's funeral, King Charles's coronation, and now the first anniversary of the queen's death on Friday, September 8.
Last month the Daily Beast reported that Prince William and Kate Middleton were "nervous" because Harry would be in the U.K. for the WellChild awards on the eve of the anniversary, and he's promoting a new Netflix series, Heart of Invictus.
"Harry is going to want people to watch the show," a friend of the couple's told the Beast. "Of course that makes them nervous because William has seen how ruthless Harry has been about betraying his family to promote his projects so far. They just won't want the dignity of the day to be overshadowed by another outburst."
While it's easy to see why Prince Harry's ongoing airing of his issues with the family would leave the royals rattled, he's never had an "outburst" at one of these events; he and Meghan usually show up, say nothing, and sometimes get blocked by a candle on the BBC feed. He followed this pattern during his current trip. On Thursday night Harry made brief, noncontroversial remarks about his grandmother at the charity event, and on Friday morning he privately paid his respects during a visit to St. George's Chapel at Windsor Castle, where the queen is buried.
But Harry did wind up in some embarrassing Queen Elizabeth–related headlines this week when Donald Trump decided to defend the late monarch's honor by criticizing her grandson and his wife.
In an interview with The Hugh Hewitt Show posted Wednesday, Trump claimed the pair treated Queen Elizabeth with "great disrespect," and as her dear friend he didn't care for it one bit. To be fair to Trump, it was Hewitt who brought up the couple, rather awkwardly, asking if he'd do an interview with the Sussexes. "They don't like you much. Would you do that for the ratings?" Hewitt asked.
Initially, Trump pretended that he was shocked to learn that Meghan and Harry don't like him:
Well, I don't know that they don't like me. I said that I don't think they are very appropriate what they're saying, what they're doing, and I didn't like the way she dealt with the Queen. I became very friendly with the Queen. She was an incredible woman. At 95, she was so sharp. She was 100%. When you watch Biden, you say this is a different planet. But they treated her with great disrespect, and I didn't like it. And I didn't like the idea that they were getting U.S. security when they came over here. No, I think it's not a good situation going on with the two of them, but I didn't know that they don't like me. Somebody mentioned it might be possible. They wouldn't be the only ones.
Trump's beef with Markle actually predates her relationship with Harry. When the Suits star said she wouldn't be voting MAGA in the lead-up to the 2016 election Trump labeled her "nasty." Then he denied making the comment, though it was on tape. Trump continued to occasionally lash out at the couple, but Harry never publicly responded (though in a 2020 prank call with a Greta Thunberg impersonator, he said he said the U.S. president had "blood on his hands" regarding climate change policy). Nevertheless, Harry was still open to talking with Trump; interviewing the insurrectionist president along with other controversial figures like Vladimir Putin was reportedly one of his rejected podcast ideas.
In his conversation with Hewitt, Trump seemed excited to throw down with Markle, though he's been avoiding debates with his actual political opponents:
HH: But I mean, that would get ratings, wouldn't it?

DT: Oh, if you want to set it up, let's set it up. Let's go do something. I'll, I'd love to debate her. I would love it. I disagree so much with what …

HH: All right, now let's get serious.

DT: I disagree so much with what they're doing.
So the royals can start fretting about the possibility that Harry will mortify them all over again with a podcast focused on commiserating with wannabe dictators about their childhood trauma.