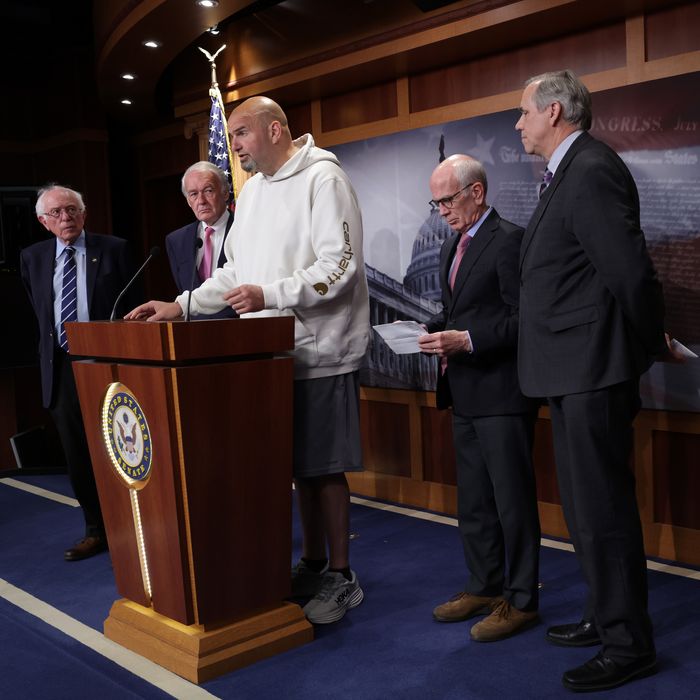 The new policy has not been named "The Fetterman Rule" — but it certainly accommodates his fashion comfort zone.
Photo: Alex Wong/Getty Images
The dress code in the U.S. Senate is getting a lot more progressive — as in no dress code at all, at least for the senators themselves. Axios reports that Senate majority leader Chuck Schumer "quietly has directed the Senate's Sergeant at Arms to no longer enforce the chamber's informal dress code for its members." The new rules were sent out Friday and go into effect Monday, NBC News reports.
Under the old rule — which there is apparently no official record of — senators were required to wear business attire inside the Senate chamber. If more casually dressed, they were only allowed to take a single step on the floor to cast a vote via thumbs-up or thumbs-down, while keeping a foot in the cloakroom. That's what Pennsylvania Democrat John Fetterman, who has frequently gone to work at the U.S. Capitol wearing his trademark athletic shorts and hoodies since returning to the Senate following treatment for depression, has been doing — along with senators fresh from the gym or airport. NBC News also notes that "because the standard is not a formal or written policy, senators at times have been seen on the Senate floor wearing gym clothes, golf attire, denim vests, shoes without socks and colorful wigs, among other unconventional attire."
Under the new apparently more concrete policy, senators will be able set their own clothing norms for the chamber. Fox News congressional reporter Chad Pergram tweeted Sunday that Fox had confirmed the rule change and that "senators can now [wear] what ever they want."
It seems unlikely that scores of senators will start voting in cut-off jeans and concert tees, or embrace cosplay, or that the Senate chamber will suddenly become as fashion forward as the Met Gala — but maybe relaxing the standards will allow every member of the world's greatest deliberative body to show a little more personality in how they cover their own.
As Axios notes, the traditionally even-stuffier U.S. House has already attempted some of its own dress-code modernization over the past several years, including changes in 2017 following criticism and protests over what women were still forced to wear in the lower chamber.
In the Senate, staffers will still need to adhere to the old dress code. "Hopefully this round [of reforms] will also protect the floor privileges of senators and staffers who don't want to wear socks," one longtime former Senate staffer told Axios. Dare to dream, Crocs-loving Senate aides.
This post has been updated.