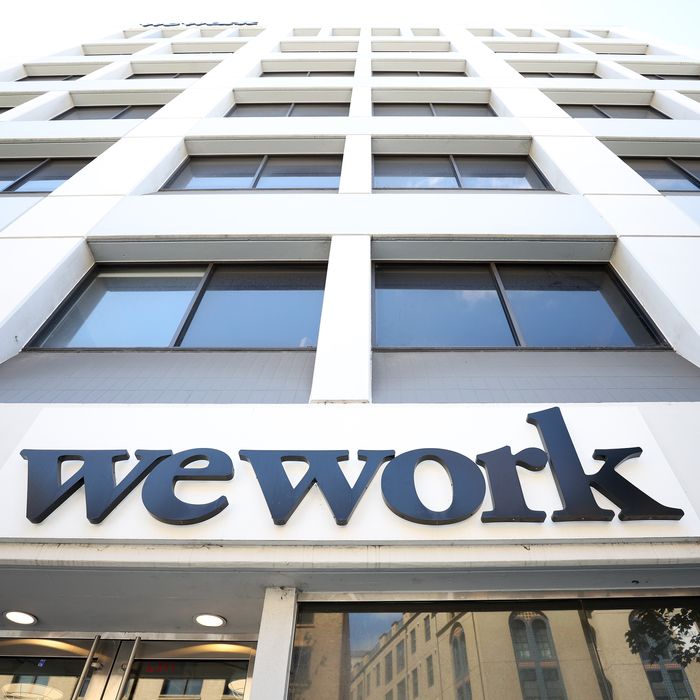 Photo: Justin Sullivan/Getty Images
WeWork is having an atrocious second life. Ever since the Silicon Valley office-space-as-a-buzzword company shed its founder, the sometimes-barefoot-but-always-lofty Adam Neumann, it has been reduced to what its doubters have always said it was: a mere commercial landlord with a gimmick. To be fair, that gimmick was a good one. In 2019, WeWork was valued at $47 billion, a peak that seemed bonkers even during those heady times when venture-capital investment flowed freely and often uncritically. That valuation was driven by how all-encompassing the Neumann vision of the future was. WeWork wasn't just a real-estate company, its mission was to "elevate the world's consciousness." Its business model was driven by subsidiary businesses — WeLive (home rentals), WeGrow (day care), Rise by We (spas) — that would surveil and capitalize on every aspect of people's lives. But since then, the commercial real-estate market has been cast into a morass as more people keep working from home, and VCs have moved on to funding chatbots that might kill humanity. On Wednesday, the company's newest CEO, David Tolley, released a decidedly down-to-earth statement laying out a global effort to negotiate down nearly all its leases, as well as cut "unfit and underperforming locations." It was a survival plan, a plea for patience, and far from the high-flying bullshit that made Neumann a billionaire. Wall Street absolutely hated it.
If there is one thing that does not inspire greed among the investing class, it's a statement announcing that you're not going to die. There, in the bottom paragraph of Tolley's plea, is just that: "Let me finish by making one thing clear: WeWork is here to stay."
In fairness, the continued existence of the post-Neumann company has been a very real question lately. Just last month, WeWork acknowledged "substantial doubt exists about the company's ability to continue as a going concern." This followed the exit of its previous CEO in May. The company has been shuttering so many locations that it stopped publicly announcing them. Step back and you can see just how little faith there is in its survival. WeWork has lost 99.6 percent of its value from that 2019 peak, lately being worth a mere $189 million.
Still, WeWork is a huge company. It had 777 locations around the world at the end of the last quarter. My colleague Kim Velsey reported that it has 6.9 million square feet of office space in Manhattan alone — more than two World Trade Centers' worth of office space. In theory, that kind of size implies a lot of bloat, as well as some negotiating power. Wouldn't commercial landlords want to cut a big, established player a break just to keep some amount of cash coming in? Possibly. But according to WeWork's own filings, it may not have all that much room to negotiate. "Since 2019 the Company has also successfully amended over 590 leases," it said, which counts terminations and reductions in rent and space as part of the changes. How many more of its landlords are going to go back to the negotiating table after that?
Of course, WeWork's problems are part of a broader looming crisis. About $1.5 trillion in commercial real estate is up for refinancing by 2025, and office space is on track to lose 40 percent of its value. But the hangover from the too-good-to-be-true Neumann era does still seem to weigh on the company and beliefs about its future prospects. By comparison, IWG, the parent company of competitor flex-space brand Regus, has seen its stock actually rise this year as WeWork has fallen 94 percent. Back-of-the-envelope math says that Tolley would have to negotiate away about $500 million a year in operating costs just to get closer to profitability — a daunting task. The reality is that this kind of an announcement is basically an empty gesture, similar to the financial engineering it announced last month in order to keep the New York Stock Exchange from de-listing its stock. All this smacks of a company running out of options, not one that's flexing its muscle.