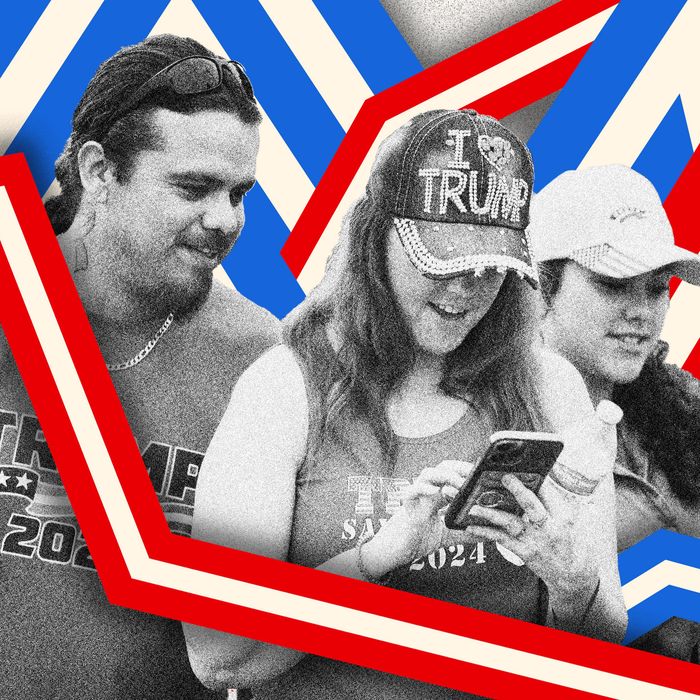 That which does not kill Trump's candidacy only makes it stronger.
Photo-Illustration: Intelligencer; Photo: Sean Rayford/Getty Images
In the initial phase of the 2024 Republican presidential primary, Donald Trump has overcome a remarkable number of pitfalls while solidifying his status as the runaway front-runner in the race. We were told his focus on preposterous lies about the 2020 election would disqualify him as Republicans looked ahead. Instead, Republicans have largely come to agree with Trump's point of view, treating him as though he's an incumbent president running for reelection instead of a serially discredited fraudster. It seemed for a while that Ron DeSantis might be able to steal Trump's thunder by exhibiting more self-discipline and ideological rigor that the former president. Yet DeSantis has spent much of 2023 steadily losing ground to Trump. Indeed, the collapse in the governor's support made it possible to imagine that a third candidate would arise to smite both the early leaders in a party hungry for new leadership. That hasn't happened, either. Most astonishingly, Trump's incredibly high level of exposure to criminal liability has not damaged his position; it may have even strengthened him.
So today, four months before the voting phase of the contest begins, Trump's level of support in the national RealClearPolitics polling averages has reached an all-time high of 56.6 percent. DeSantis is at an all-time low of 12.7 percent in the same averages, and nobody else is above the mid-single digits (Trump's trusty wingman Vivek Ramaswamy is third at 7.2 percent).
The increasingly compelling question, then, is how, exactly, do Trump's rivals think they're going to bring him down? All the ways in which he was supposed to have self-destructed by now have turned out to be illusions. And nobody other than the increasingly feeble DeSantis has ever been in a position to serve as anything other than a minor nuisance to the 45th president.
Presumably, any threat to Trump's third consecutive nomination has to begin with some sort of surprise in Iowa, where all the candidates other than Chris Christie are making a disproportionate effort. The reason is obvious: It's a state that has traditionally rewarded candidate shoe leather and careful appeasement of interest and constituency groups — particularly conservative Evangelicals and agribusiness interests — which means the results there aren't always a reflection of national polls. After finally abandoning his self-portrayal as a political Death Star who will crush his opponents in every contest, DeSantis has shifted to an "Iowa-or-bust" strategy. He has outhustled Trump in the first-in-the-nation caucus state, supplementing a big ad budget with the time-devouring "full Grassley" commitment to campaign in all 99 counties, and pandering to religious conservatives with a fierce intensity.
Though DeSantis has scored a lot of Iowa endorsements, it's unclear if this strategy is working overall. There haven't been a lot of credible public polls of Iowa, but the RCP polling averages show Trump leading DeSantis in the state by 30 points (46 percent to 16 percent), with Tim Scott, Nikki Haley, and Ramaswamy in the mid-to-high single digits. Perhaps more significantly, the Trump campaign claims to have harvested 27,500 caucus pledge cards, compared to the 13,000 Team DeSantis claims.
And the former president does not appear to be sitting on his lead there; he's now planning a significant number of live appearances in Iowa, including the monster rallies that are his signature, according to Politico:
Building on his seven visits to Iowa so far this year, Trump is embarking on a "Team Trump Caucus Commitment" organizing event in Iowa with campaign volunteers at the Jackson County Fairgrounds in Maquoketa, and remarks at the Grand River Conference Center in Dubuque this Wednesday. Trump plans to make three more stops in Iowa during the first half of October, and again in the final days of the month, his team said.
DeSantis, Scott, and Mike Pence have been trying to outflank Trump on the right on abortion policy in front of Iowa audiences, and they will undoubtedly seize on his new comments in an NBC News interview calling the six-week abortion ban DeSantis signed "a terrible thing and a terrible mistake" (Iowa's popular Republican governor Kim Reynolds has signed a similar bill). But Trump's bond with "very conservative" and Evangelical voters has transcended heterodox policy positions in the past, and harping on this one could cost his rivals more moderate voters as well.
Barring an unlikely Trump loss in Iowa, the best-case scenario for his rivals is probably a decisive second-place finish that significantly culls the field and sets up a more direct challenge to Trump in subsequent contests in New Hampshire, Nevada, and South Carolina. But Trump has near-majority support in those states, too, and it's unclear if any Iowa survivor will be able to consolidate non-Trump voters in time to keep the former president from a blitzkrieg that clinches the nomination by Super Tuesday. (The "divided opposition won it for Trump" mythology about 2016 isn't very accurate; he actually gained strength as the field shrank.)
Trump's rivals may be hoping that Republican voters will suddenly reverse their current inclinations and abandon him as criminal trials begin. That's possible, but the very earliest tentative Trump trial date (for the federal case alleging felony election interference) is March 4, 2024, just one day before 14 states hold Super Tuesday contests. Even if that trial date doesn't slip, its initial proceedings will be focused on jury selection rather than any high-impact testimony. Trump could be the putative nominee by March 5.
There is a Rube Goldberg scenario whereby the criminal prosecutions of Trump and/or his perennially reckless conduct and rhetoric so thoroughly repel swing voters that GOP primary voters suddenly decide he's not a viable general-election candidate and look elsewhere. But at this point, GOP primary voters actually believe Trump is their most electable candidate, and the polls don't contradict that assumption, either.
All in all, the candidates hoping to supplant Trump need to quickly come up with new and direct criticisms of the front-runner that primary voters can buy, or find ways to make themselves incandescently appealing. The time for hoping Trump will defeat himself has passed.