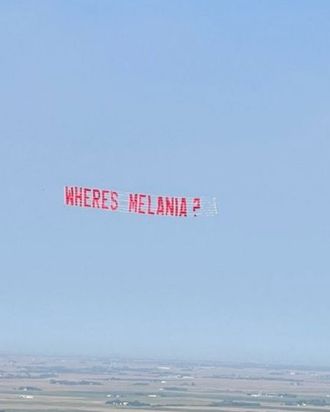 Photo: The Skywriters, LLC
Ahead of the Iowa–Iowa State college-football game on Saturday, someone went to the trouble of hiring a plane to fly a banner over the event mocking Donald Trump, who was in attendance. But of all the things they could mock him for — from getting indicted four times to refusing to accept his 2020 election loss to having small hands — they inexplicably went with "Where's Melania?"
It's a weird question because we have a pretty good idea of what the former first lady is up to: She's living her life and avoiding her husband's drama. Melania skipped all of Trump's arraignments and post-arrest rallies, and hasn't shown up to any of his campaign events. But she was never big on playing the dutiful political wife, and she isn't "missing" as suggested by this flyer distributed at the game, which features the phone number for Mar-a-Lago:
In the last year, Melania has been spotted every few weeks in New York and Palm Beach, Florida, occasionally appearing with her husband or their son. And thanks to regular dispatches from anonymous "sources close to Melania," we know she's just not worked up about her husband's considerable legal troubles.
"Melania is busy with her son and family and she pays only so much attention to these issues which captivate the media," a source told People last month. "Of course these criminal charges are embarrassing to Melania and to Donald, but life goes on and each reacts to stress in different ways."
So who's behind this rather low-energy Trump attack? We don't know, but Trump supporters were quick to point the finger at Ron DeSantis, and there is some circumstantial evidence to support that theory.
Trump and DeSantis were both at the game in Ames, Iowa, along with a few fellow 2024 GOP presidential candidates who drew far less attention (Vivek Ramaswamy, Doug Burgum, Asa Hutchinson). When the two candidates attended the Iowa State Fair last month, Trump supporters taunted DeSantis in a similar fashion: They had a plane circle the fairgrounds with a "Be likable, Ron!" banner, and distributed flyers declaring the governor an "utter catastrophe" for farmers.
Costumed pranksters outside the stadium also highlighted one of DeSantis's main gripes with Trump, as the New York Times noted:
Two people wearing inflatable costumes resembling Mr. Trump and Anthony Fauci, who managed the Covid response during the Trump administration and has been a target of Mr. DeSantis's, took photos with game attendees.
Online, DeSantis supporters delighted in video of Trump getting booed and flipped off at the game:
But Trump was also greeted by a large crowd that broke out in a "USA!" chant as he entered the stadium, and DeSantis drew some negative reactions too:
So what's the upshot of these childish antics? Both candidates got a mixed response at the Iowa game, and Trump is still leading the rest of the GOP field in Iowa by by more than 27 points, according to the RealClearPolitics polling averages. If Trump's GOP rivals want to change that, they'll have to come up with something far more savage than "looks like Melania still doesn't like campaigning with you!"