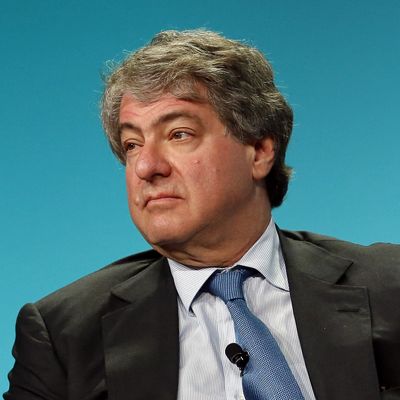 Why, Leon?
Photo: Patrick T. Fallon/Bloomberg via Getty Images
Leon Black, the billionaire co-founder of private-equity giant Apollo Global Management and close personal associate of Jeffrey Epstein, has never been charged with or convicted of a crime. He has, however, been accused of things that are potentially criminal. Since 2021, the year that he stepped down from Apollo, three women have accused him of rape stemming from his relationship with Epstein. (One of those suits was dismissed with prejudice in May after it came out that, among other things, flight logs showed that her trafficking accusations were impossible. Black denies the allegations from the two other women, and has raised serious questions about their validity.) What we know about what actually happened is far murkier. Black has said that Epstein gave him tax and estate-planning advice, for which he was paid $158 million from 2012 to 2018, according to an audit — far above what those services are typically worth. Black traveled with Epstein a few times, including once taking his family to the dead child trafficker's private island. In August, the U.S. Virgin Islands — which is suing JPMorgan Chase over its role in facilitating Epstein's trafficking operations — settled with Black for $62.5 million in cash, raising the possibility that whatever actually happened between the two men would never be publicly aired.
There is, however, at least one other prominent investigation by the Senate Committee on Finance, which has been looking into their financial relationship. In July, the committee sent Black a 16-page letter asking pointed questions about what Epstein did. "Despite not being a certified public accountant or licensed tax attorney, Epstein was paid amounts that far exceeded what you paid other professional advisors, including some of the most high-priced legal counsel in the nation," wrote the committee's chair, Senator Ron Wyden. The details are bizarre: Not only did Epstein give relatively standard advice on tax avoidance, but he apparently took credit for the ideas of other people who actually worked for Black. Much of his advice had to be vetted by Black's own tax and legal teams — people who actually did this stuff for a living — and a portion of it was rejected for being wrong.
The committee had demanded that Black provide more information by September 1. On Thursday, New York Times reporter Matthew Goldstein tweeted out an update, saying that no such information had come through.
Strange, isn't it? It's clear that Epstein was being compensated so much for something. While Black has, in the past, downplayed how close he was to Epstein, subsequent lawsuits and reporting show that they were deeply involved with each other, spending time on yachts and vacationing together. (He now says he regrets the relationship.) Epstein even pulled some strings at JPMorgan to help Black buy Edvard Munch's The Scream for a record $119.9 million.
Wyden claims in his July letter to Black that his committee is interested in investigating tax-avoidance schemes from the ultrarich. While that's undeniably true, it also smacks of being not quite the whole story. The committee is, in fact, in possession of the details of the tax-avoidance scheme, which apparently saved Black billions of dollars, thanks to the audit by Apollo. But what they really want to know is why Epstein was worth so much to him. (According to the audit report, Black apparently believed he could deduct Epstein's pay from his taxes, though later realized he couldn't. It's unclear why Black believed that, if anyone else had told him that was true, and if he was deducting the rest of his legal and tax services.)
Black, for his part, doesn't really have much to say about all this. "Mr. Black has cooperated extensively with the committee, providing detailed information about the matters under review," his spokesman, Whit Clay, told me. "The transactions referenced in the committee's letter were lawful in all respects, were conceived of, vetted, and implemented by reputable law firms and tax and other advisers, and Mr. Black has fully paid all taxes owed to the government." After this story first ran, a spokesman for the committee confirmed to me that, while Black's attorney's provided some information, they didn't find it to be satisfactory. "The response also appears to dodge serious questions regarding tax schemes involving billions of dollars in trusts, but committee staff are continuing to review the material," according to the statement.
There has to be some explanation for these overpayments — whether it can be a reasonable explanation is up to the committee — but Black's resistance to explaining why he paid Epstein so much isn't going to make the question go away. There are a lot of people who apparently have pointed things to say about the former private-equity CEO — Black once sued Josh Harris, another Apollo co-founder, for allegedly orchestrating a smear campaign against him. (He lost that suit, and it was thrown out for being baseless.) Epstein clearly had a lot of power over a lot of people — he even allegedly blackmailed Bill Gates. If we're ever going to find out, it might be by following the money.
Update: A spokesman for the Senate Committee on Finance provided an official statement after this story first ran, and was updated to include it.