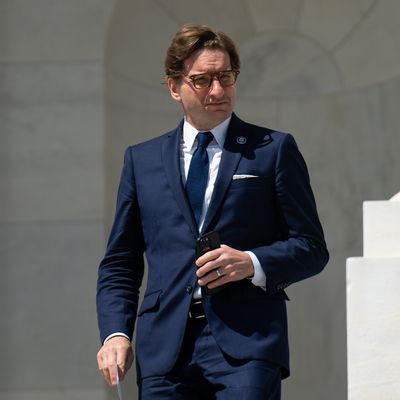 Dean Phillips is no Gene McCarthy
Photo: Bill Clark/CQ-Roll Call, Inc via Getty Images
Minnesota congressman Dean Phillips has undertaken the fraught task of challenging the renomination of a sitting president of his own party with something less than a rebellious battle cry. "I do so not in opposition to our current president, who has my appreciation and gratitude" he said in prepared remarks for his campaign launch in New Hampshire. That comment reflects the reality that Phillips has a virtually unblemished record of supporting Joe Biden in the House and comes from the same centrist wing of the Democratic Party. He also very clearly shares the belief of Biden and his supporters that stopping a Donald Trump comeback is job No. 1 and even an existential challenge for Democrats.
So why is he running for president? The two themes underlying his rationale for his candidacy are that he fears Biden is unelectable and that it's time for a "new generation of leaders." That adds up to a single implicit argument: "Biden's too old."
That argument is bound to become explicit sooner rather than later. In a long and sympathetic profile of Phillips in The Atlantic timed to appear on the day of his announcement, Tim Alberta explains that the congressman believes there is a conspiracy of silence among Democrats about Biden's unfitness to run for, much less complete, a second term:
In a year's worth of conversations with other party leaders, Phillips told me, "everybody, without exception," shares his fear about Joe Biden's fragility — political and otherwise — as he seeks a second term. This might be hyperbole, but not by much: In my own recent conversations with party officials, it was hard to find anyone who wasn't jittery about Biden. Phillips's problem is that they refuse to say so on the record.
So Phillips is going to say it for them to the cheers of the very MAGA folks he claims to be singularly motivated to defeat. His candidacy, magnified by conservative media, will guarantee that so long as it lasts, Biden's age and alleged feebleness will never be out of the public eye for a moment, and it will be given greater credibility by his partisan and ideological identification with the incumbent. Phillips's secondary message — that Democrats are a bunch of cowards who know Biden is a doddering relic but don't have the guts to do anything about it — will also find an avid audience full of amplifying bullhorns.
Phillips appears aware of all these risks, yet he doesn't really offer much in the way of evidence that he can produce any outcome that makes the damage he's doing to the future 2024 nominee worthwhile. His hired Svengali, rogue Republican consultant Steve Schmidt, told Alberta the idea is a New Hampshire shocker that will make Phillips viable and/or force Biden into retirement:
The strategy, Schmidt explained … was to win New Hampshire outright. The president had made a massive tactical error, Schmidt said, by siding with the Democratic National Committee over New Hampshire in a procedural squabble that will leave the first-in-the-nation primary winner with zero delegates. … Phillips was preparing to spend the next three months blanketing the state, drawing an unflattering juxtaposition with the absentee president and maybe, just maybe, earning enough votes to defeat him. If that happens, Schmidt said, the media narrative will be what matters—not the delegate math. Americans would wake up to the news of two winners in the nation's first primary elections: Trump on the Republican side, and Dean Phillips—wait, who?—yes, Dean Phillips on the Democratic side.
This "strategy," if you want to call it that, means overcoming the counternarrative, which the White House and its allies will relentlessly promote: that the New Hampshire primary just doesn't matter, being a rogue event Republicans have staged at the expense of states like South Carolina, whose Black Democratic voters are finally in the spotlight they deserve. As a candidate devoted to uncomfortable truth-telling, Phillips will be poorly positioned to make a win (which is very, very unlikely in the first place) with such a massive asterisk the springboard to either the nomination or a technical knockout of the incumbent. Yes, memories will be stoked of the 1968 New Hampshire primary, in which President Lyndon Johnson's reelection bid was fatally wounded by a Minnesota politician named Gene McCarthy. But the analogy won't bear any weight. Biden is no LBJ; Phillips is no McCarthy; and 2024 isn't 1968.
Even giving Phillips the ultimate benefit of the doubt, if he succeeds in pushing Biden to retire, the "new generation of leaders" he claims to represent will be at one another's throats almost instantly (assuming any of them could still qualify for primaries). Vice-President Kamala Harris would almost certainly run for president in Biden's absence and if Phillips, or the sort of "centrist governor" he earlier implored to run, tried to deny her the nomination, there would be intraparty bloodletting for real, all benefiting the GOP. It is precisely the desire to avoid such a disaster, not cowardice, that has helped keep Democrats in Biden's camp.
When you read about Phillips, you get the sense that he has spent months poring over the polls (which is ironic, since his own campaign self-righteously won't conduct polling or focus groups) and just can't shake the evidence that Biden is a goner. But most of that evidence is questionable, particularly this far away from November 2024. No, Democrats don't give Biden great job-approval numbers (many of them also panned Bill Clinton and Barack Obama before their reelections). It doesn't mean they won't vote for him in an apocalyptic struggle with Trump. Yes, Biden is old, but his reelection campaign will at least try to make his age and long experience a positive as well as a negative factor. In the most direct measurement of the president's viability against Trump, general-election trial heats, he's basically tied with Trump in the polling averages, and that's with the economy appearing to improve and Trump facing many months of criminal prosecutions.
It all adds up to the dispiriting spectacle of a politician deciding his party's leader is doomed and then trying to make sure the prophecy turns out to be true. Without a clear and distinctive policy agenda or at least a vision of the country's future that sharply diverges from Biden's, Dean Phillips is just betting on a presidential stumble or health crisis. Should that happen, he's among the last politicians to whom resentful Democrats will turn.