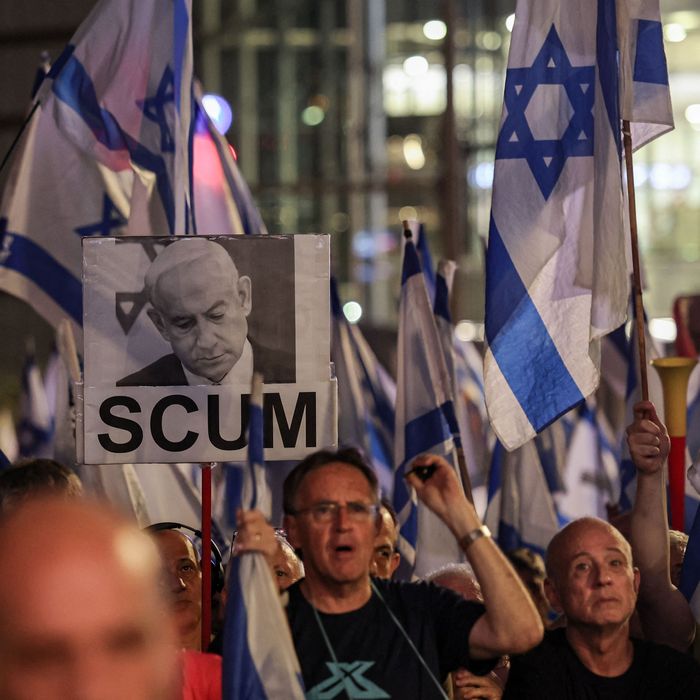 A demonstrator holds a sign against Israel's leader two weeks ago. Benjamin Netanyahu was already deeply unpopular before presiding over the greatest security debacle in the nation's history.
Photo: AHMAD GHARABLI/AFP via Getty Images
This article was featured in One Great Story, New York's reading recommendation newsletter. Sign up here to get it nightly.
The screech of an air-raid siren punctured the silence at the Tel Aviv–area grave site of Yinon Shay, a 21-year-old soldier killed while fighting Hamas during its bloody invasion. After pausing to allow the interruption, his brother Ophir was unsparing:
"The bunch of imbeciles leading the country we live in, the country where my beloved little brother was killed protecting the homeland that forgot us — not because it was inevitable but because this disgraceful government is involved in everything it should not be involved in. My beloved brother was murdered by hate-filled terrorists, but those who disgracefully opened the door for them are the Israeli government, from the minister of national security and his messianic friends — clowns who busy themselves creating violent, idiotic slogans — to the prime minister, who is doing everything in his power to disintegrate the State of Israel."
Shay was referring to Prime Minister Benjamin Netanyahu and his far-right government's minister of national security, Itamar Ben-Gvir, a racist provocateur elevated to high office with several other extremists to cobble together a government after the last election. That government is facing a growing chorus of criticism from all corners of Israeli society since Hamas's surprise attack with the military caught off guard and taking hours to reach towns where terrorists massacred over 1,200 people.
"You," Shay continued, "betrayed the soldiers of the Israel Defense Forces. You betrayed the residents of the Gaza border. You betrayed the State of Israel. You betrayed my beloved brother. I expect all of you to take responsibility and resign immediately at the war's end."
Another siren interrupted before he finished.
"I will not forget, and I will not forgive. I promise that I will pursue you till the ends of time."
About a foot behind him stood Economy Minister Nir Barkat — who hopes one day to replace Netanyahu as head of the Likud Party — unmoving, inscrutable as a sphynx. Later that day, he visited Tel Aviv's Tel HaShomer hospital, where he encountered Shirel Hogeg, attending to a wounded relative. Three of Hogeg's relatives are missing or dead.
"You better learn to take some criticism," he yelled at Barkat, shaking a finger into his face. "Because you dismantled this country! You as a businessman know what happens when you dismantle the corporate structure of a company! You've destroyed this country's institutional structure!"
Since Netanyahu returned to power ten months ago, Barkat, one of Israel's first tech billionaires and the wealthiest man in politics, has been a loyal soldier of Netanyahu's "judicial reform," which would practically neuter the country's courts. Israel was in fragile shape before the war erupted, beset by unrelenting massive protests against Netanyahu's attempted coup against the rule of law.
"You broke this country apart. Now," Hogeg thundered, "I want to hear you take responsibility. I want to see how you rend your shirt and beg forgiveness from 2,000 people. Ten percent of all of Israel's wartime losses were slaughtered on your watch."
Barkat: "I'll talk to you after the war."
Hogeg: "Why after the war?!"
Barkat: "Because right now I am occupied with the important thing: to come and look you in the eye."
Hogeg: "And maybe ask for forgiveness?"
Barkat: "Certainly to ask for forgiveness."
Hogeg: "Where is the prime minister of Israel? Everyone should stand in line like you do to get your pictures taken and ask the Israeli people for forgiveness, get down on your knees, rend your shirt."
Barkat: "I have no doubt that we will all have to ask for forgiveness, everyone without exception —"
"And resign," another man in the hospital corridor growled.
The prime minister's approval rating hovered at about 27 percent before the bloodshed. Apparently aware that he does not have the public legitimacy to lead Israel into war, Netanyahu late on Wednesday night established an emergency war cabinet with Benny Gantz, a former IDF chief of staff who leads a center-right opposition party.
Aside from a video clip posted to social media, Netanyahu waited 70 hours before addressing the nation. Two days later, a host on Channel 12 insistently asked Yossi Shelley, director general of Netanyahu's office, "Where are all the ministers?" Shelley deflected, first seeming to blame the victims of one of the biggest massacres, concertgoers at a desert music festival, for the government's failure to respond to the public clamor.
"The party made a not insubstantial contribution to the chaos," Shelley said. Then he compared identifying and tallying the dead and the hostages to "standing in line at the supermarket. It doesn't matter how many shop assistants there are — sometimes it's impossible to deal with everyone."
Perhaps the most infuriated group in Israel is the families of hundreds of people believed to be held captive by Hamas in the Gaza Strip. The government said it will not take hostages into consideration for how it prosecutes the war against Hamas absent specific information about exactly where the captives are held. Families of American and French dual-citizen hostages have such little confidence in Israel's government that they have begged Joe Biden and Emmanuel Macron to rescue their loved ones. On Tuesday, three families held press conferences warning Netanyahu. "If we don't get the attention we need," said Uri David, whose daughters, Ta'ir and Odaya, are missing, "this country will tremble."
Netanyahu's cabinet also decided to exempt ministers from their obligation to attend military funerals during wartime. Yossi Fuchs, the American-born cabinet secretary, issued a laconic statement explaining that, "unfortunately, there are hundreds of funerals. We have adjusted the protocol for sending ministers to represent the government at security forces' funerals, prioritizing wartime needs." The decision was slammed even by Israel Hayom, the tabloid started by the late casino mogul Sheldon Adelson to burnish Netanyahu's reputation.
Many Netanyahu allies believe he is a dead man walking, politically. Amit Segal, a journalist considered very close to the prime minister, said on a radio panel that "it is hard to see how he can survive this."
Alon Pinkas, a former Israeli consul general in New York and adviser to several prime ministers — and no fan of Netanyahu's — predicted the protests will return and "morph into toppling him for this war."
"Bibi is absent," said Hebrew University political-science professor Gideon Rahat, using Netanyahu's nickname. "What has Bibi even done? Listen to his words — he says, 'I ordered such and such.' That's the entire story; they sit there and issue orders. Netanyahu is completely disconnected. He has no idea where he is living. He has no idea of the magnitude of this moment."
"This is what happens when you have a populist government attacking the state," Rahat continued, "attacking its institutions. How can a country function when you attack all the professionals? What you are seeing in Israel — what every voter on earth should see — is the result."
Netanyahu's history of escaping what seemed like political death before has earned him the sobriquet "the magician." Still, the hits keep coming. Closer to home for Netanyahu, Education Minister Yoav Kisch said in a Thursday interview that "we are responsible for the situation. We focused on stupidities."
Opposition leader Yair Lapid, who has refused to join the emergency war cabinet as long as Netanyahu keeps his extremist ministers, accused the government of an "unforgivable failure" and said "he who brought about this failure cannot fix it." On September 20, Lapid, who is privy to top-secret intelligence briefings, warned in a video message that he had reason to believe that Israel was vulnerable to a multifront attack as a result of "the government's lack of coordination with security agencies." The prime minister's office issued its fourth denial about having dismissed any such prior warning. Netanyahu was updated only "when the fighting broke out and not before."
As the war entered its sixth day on Thursday, Transportation Minister Miri Regev checked on the wounded at the same Tel Aviv hospital her colleague had visited. Regev had recently returned from Mexico, where she was on vacation when Hamas attacked — leading to accusations that her absence contributed to the hourslong delay of reservists to the front lines as Hamas rampaged freely. Family members of the wounded gathered around her car as she left. One, who appeared to be on the verge of collapse, threw a cup of coffee at her car as it pulled away, yelling, "You bitch! You whore!"