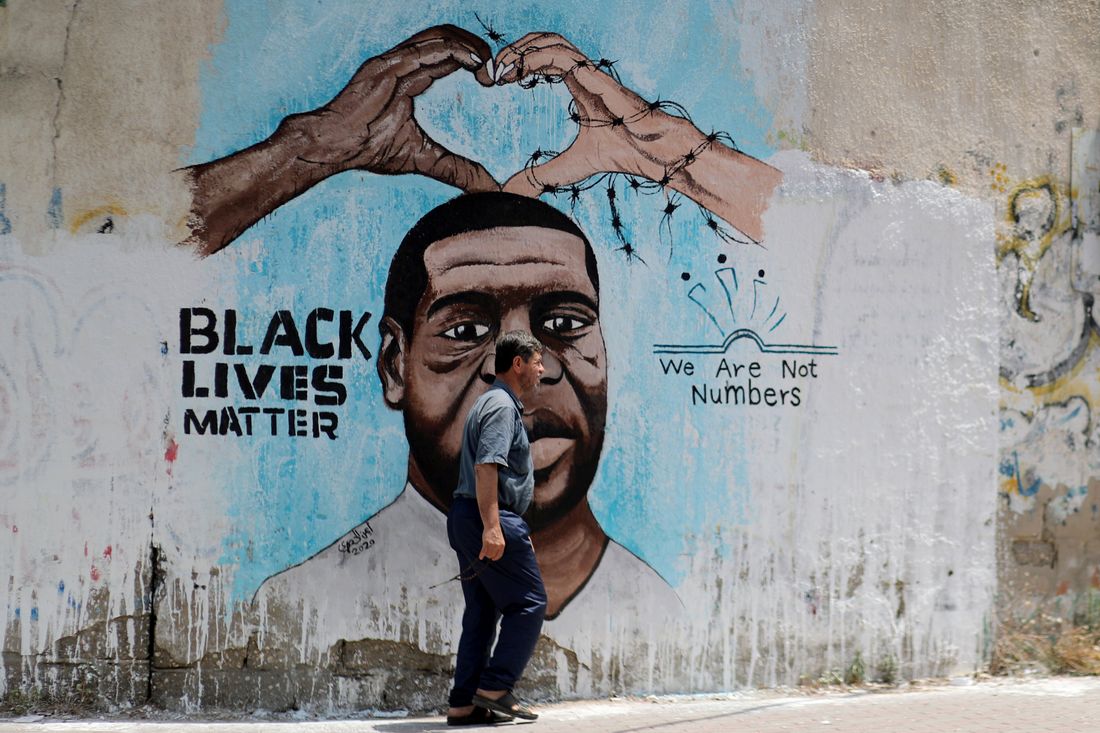 Photo: Mohammed Salem/REUTERS
This article was featured in One Great Story, New York's reading recommendation newsletter. Sign up here to get it nightly.
In 1955, Mamie Till-Mobley changed American politics by using grief as a catalyst for human rights. "I believe that the whole United States is mourning with me," she said about her son, Emmett, whose mutilated corpse she displayed publicly to prevent future lynchings. Mobley is the spiritual godmother of the Black Lives Matter movement, whose animating principle was that mourning in public could lead to egalitarian transformation. By making Black grief a spectacle that could not be ignored, she hoped that society might feel moved to start treating Black people as full human beings.
This approach might have underestimated the public's tolerance for Black pain, but it got results. Major legislative achievements, such as the Civil Rights Act of 1964 and the Fair Housing Act of 1968, would not exist without the public grief over the deaths of Emmett Till and Martin Luther King Jr. Modern efforts to curb police abuse have been propelled by images of Black bodies bleeding out on the street. Progress through pathos has become a defining expression of the Black freedom struggle's noblest aspiration: a politics of indiscriminate regard for human life.
That legacy was tested on October 7, after Hamas militants massacred at least 1,400 people in Israel and abducted more than 200 others back to the Gaza Strip. A handful of leftists initially celebrated or refused to denounce the attack, including the Los Angeles chapter of BLM, which posted the following on Instagram: "When a people have been subject to decades of apartheid and unimaginable violence, their resistance must not be condemned." This callous proclamation wasn't just a symbol of Black America's divided mind. It was also reflective of an urgent, ongoing reassessment across the left of how we transmute pain into politics.
In the immediate aftermath of the attack, Israel responded with more rockets and vows to flatten Gaza, and the American political Establishment was united in support. The American public was considerably more ambivalent, and some Jews in the U.S. and Israel have decried what they see as a crass exploitation of trauma. "Jewish Grief Must Not Be Used as a Weapon of War," read a headline in The Nation. It is especially disingenuous to do so, they say, when the lives of Palestinians remain essentially worthless to a global community that has closed ranks around the Israeli government, as Gabriel Winant noted in Dissent: "The genuine humane sentiment that it is possible to grieve equally for those on both sides is, tragically, not true. One side has an enormous grief machine, the best in the world, up and running, feeding on bodies and tears and turning them into bombs. The other is starved for grief." In response, Joshua Leifer, also in Dissent, accused Winant and his ilk of obliterating "the left's moral credibility" by failing to acknowledge the sanctity of innocent life. Across newspapers and social media and college campuses, we have argued, painfully, not only over who deserves to be grieved but how best that grief should be honored.
The lesson of the Black freedom struggle might appear to vindicate Leifer and those advocating for a more universal politics of grief. But the other half of the equation, the Black legacy of channeling our grief toward a more just world, is often missing from the American discourse and wholly missing from American policy when it comes to the Gaza Strip and the West Bank. It would be unconscionable, in forgetting one of the great humanitarian innovations of 20th-century America, to use the politics of grief in Israel to justify more violence and retribution, rather than as a spur toward a lasting peace.
The Los Angeles chapter of BLM is not a proxy for Black people, or even the Black left, which has balanced grief for slain Israelis with pro-Palestine sentiment in most cases. But its stance is the culmination of a particular history. Solidarity between Gaza and the Black ghetto became a theme of the Black Lives Matter protests in 2014, when dissidents clashed with cops in the majority-Black suburb of Ferguson, Missouri. Palestinian sympathizers shared tips on Twitter about how to fight the effects of tear gas. "It feels so weird," one post read, "using my experience from Palestine and Israeli oppression to give advice to Ferguson."
What seemed like a natural alliance reversed a civil-rights-era partnership. Black leaders and the Black press of the 1950s and early '60s overwhelmingly identified with Israel. Most saw its Jewish majority as fellow survivors of near extermination, a notion that had roots in Black abolitionists invoking the biblical story of enslaved Jews fleeing Egypt for the Promised Land. The era is remembered as a high watermark in Black-Jewish relations, embodied by the likes of Rabbi Abraham Joshua Heschel marching alongside King and John Lewis in Selma.
The dispossession of Arabs didn't much concern Black activists until the mid-'60s, when Malcolm X visited Gaza refugee camps and the 1967 Arab-Israeli War pitted the Black Power movement against what came to be seen as a colonial occupation. Solidarity with Palestine became a pillar of the broader Third World politics of the Black Panthers and the Student Nonviolent Coordinating Committee. A key figure of that age, Angela Davis, remains one of today's most vocal proponents of Black-Palestinian solidarity, while Michelle Alexander, her fellow critic of the U.S. prison state, in 2019 called on New York Times op-ed readers to "break the silence on Palestine" that enables Israeli violence.
To the extent that Black-Jewish solidarity is still a political force, it's being invoked by apologists for the occupation. "We stand side by side with Israel every day — but we do so with extra resolve today," said Mayor Adams.
Standing with Israel is not the same as standing with Jewish people, many of whom also revile the Israeli government's abuses against Palestine, or even with many Israelis, who oppose their government's reactionary turn under Benjamin Netanyahu. Even in this hour of anguish for the bereaved, such support upholds an arrangement that endangers far more lives than it protects. Everyday Israelis are imperiled by their government's barbarism in the Gaza Strip and the West Bank, which fosters the kind of desperation that Hamas exploits.
And what the Israeli response has meant to the Palestinians is clear. The Israeli military has already killed more than 3,500 people in Gaza and cut off the strip's water and electricity. A ground invasion looms. The Israeli Defense Force called on the estimated 1.1 million residents of northern Gaza to evacuate south if they didn't want to die. The U.N. derided the order as "impossible," since these people remain trapped with no aid.
Or you can just listen to Israeli officials. "Gaza will eventually turn into a city of tents," an Israeli defense official said. "There will be no buildings." Israeli defense minister Yoav Gallant said the IDF was "fighting human animals," making it evident that little distinction is being made between civilians and armed combatants in a territory that's mostly composed of children.
Hamas is not Palestine, and mischaracterizing its atrocities as righteous fightback blurs the lines that divide civilians from combatants and Israeli children from the Israeli government. Where grief is abused so routinely by those in power, the response that's most consistent with the highest ideals of the Black freedom struggle, with the Black legacy that loves justice and sides with oppressed people, is to wrest its meaning from the exploiters and channel it toward a humane end to the occupation and to apartheid. This is, in fact, what some Israeli victims have done. Winant cites Noy Katsman, whose brother Hayim was killed in the attack. "It never brings us peace and it never brings us better lives," they said of Israel killing Palestinians. "It just brings more and more terror and more and more people killed, like my brother."