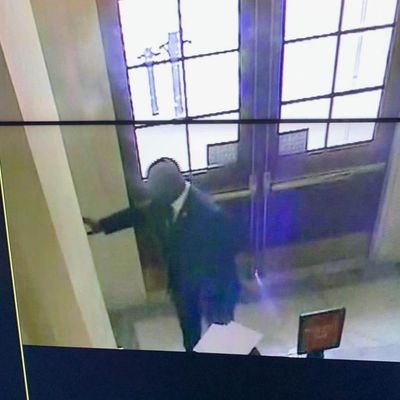 A purported image, taken from a security camera at the Cannon House Office Building, of Representative Jamaal Bowman pulling a fire alarm on Saturday.
Photo: Video screencap/U.S. Capitol Police
The wildest thing to happen on Capitol Hill this past weekend besides a potential shutdown of the federal government was when Representative Jamaal Bowman set off a minor panic by pulling a fire alarm in a House office building on Saturday.
In the days since, Republicans accused the Democrat from New York of deliberately trying to postpone a vote that saw Democrats effectively bail out Speaker Kevin McCarthy. Bowman's side, in turn, has issued multiple statements trying to defend why he quite deliberately tried to access a set of doors marked as an emergency exit.
The saga began on Saturday afternoon when Bryan Steil, the chair of the House Administration Committee, announced in a statement that Bowman pulled an alarm in the Cannon office building and the U.S. Capitol Police said was investigating the matter, which led officers to evacuate the building and saw DC Fire and EMS units respond.
A spokesperson for Bowman said he "did not realize he would trigger a building alarm as he was rushing to make an urgent vote. The Congressman regrets any confusion."
McCarthy then weighed in, saying it was a serious matter and calling for the House Ethics Committee to investigate Bowman. The Speaker added that he would talk to House Minority Leader Hakeem Jeffries about the situation and insisted that "this should not go without punishment." McCarthy even went so far as to compare Bowman's actions to those undertaken by rioters on January 6, 2021. The Republican pile-on included Nicole Malliotakis of Staten Island calling for Bowman to be expelled.
"When we found that an individual elected to Congress would pull a fire alarm, that's a new low," McCarthy said. "We watched how people have been treated if they have done something wrong in this Capitol. It will be interesting to see how he is treated on what he was trying to obstruct when it came to the American public."
Jeffries declined to weigh in at a press conference. "I haven't seen the video, so until I see the video, I'll have no further comment."
Bowman, speaking to reporters after he and nearly all other House Democrats voted for the stopgap spending bill, insisted, "I thought the alarm would open the door."
He then offered a much longer explanation in a statement sent out late Saturday "to personally clear up confusion" about the incident and deny that pulling the alarm was meant as a delaying tactic:
Today, as I was rushing to make a vote, I came to a door that is usually open for votes but today would not open. I am embarrassed to admit that I activated the fire alarm, mistakenly thinking it would open the door. I regret this and sincerely apologize for any confusion this caused.

But I want to be very clear, this was not me, in any way, trying to delay any vote. It was the exact opposite — I was trying urgently to get to a vote, which I ultimately did and joined my colleagues in a bipartisan effort to keep our government open. I also met after the vote with the Sergeant at Arms and the Capitol Police, at their request, and explained what had happened. My hope is that no one will make more of this than it was. I am working hard every day, including today, to do my job, to do it well, and deliver for my constituents.
On Monday, Bowman's staff began circulating a Google Doc of potential talking points on the fire-alarm incident to the offices of other House Democrats, clearly looking for backup from colleagues.
One of the suggested talking points included Democrats saying, "I believe Congressman Bowman when he says this was an accident. Republicans need to instead focus their energy on the Nazi members of their party before anything else."
Bowman then apologized later Monday for what he said was the "inappropriate use of the term Nazi without my consent" in the document.
This post has been updated.