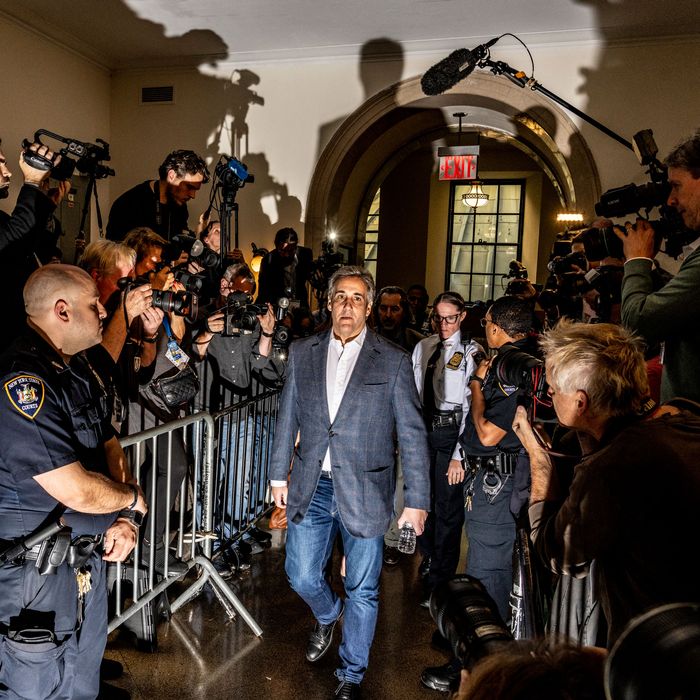 Michael Cohen on Tuesday to testify against Donald Trump in New York's fraud trial against his former boss.
Photo: Mark Peterson
Michael Cohen doesn't sleep that much anymore. He woke up at 3:30 a.m. Tuesday inside the apartment he still owns inside Trump Park Avenue, named after the man he would testify against in a few hours. Downstairs, he popped a few novelty "Indict-Mint" breath mints, then climbed into the back of a black SUV and took off to see his old boss for the first time since Donald Trump was president and he was his loyal fixer.
Walking into the imposing Manhattan courthouse hosting the New York attorney general's civil lawsuit against Donald Trump and his business empire, Cohen puffed his chest — it's Trump who should be nervous to see him. "I'm not the one in the defendant's seat this time," Cohen said.
"Being a witness is easy when you're telling the truth," Cohen said, though he's self-aware enough as a former attorney to add, "The truth here is backed up by both documentary evidence and testimony, including the defendant's own admissions."
Cohen, who was a senior executive at the Trump Organization before he became an anti-Trump #resistance hero, was likely to testify after he handed authorities documents supposedly proving Trump broke the law by falsely inflating the value of his properties. After decades of shrugging off such legal nuisances, Trump finally cared enough about this case — which threatens to strip his control of jewels such as Trump Tower — to sit in the defendant's seat.
As he arrived, Trump addressed a scrum of reporters gathered outside the courtroom and accused Cohen of testifying in order to get a better deal. What deal? Cohen wondered. He hadn't even been able to get his probation reduced for cooperating with prosecutors after pleading guilty in 2018 to lying to Congress for Trump, breaking the law to silence Stormy Daniels, and a variety of financial crimes including tax evasion. Instead, he was sentenced to three years in prison, spending about half that time confined at home.
He would have to wait for his star turn though. The first witness of the day was the general counsel of the Mazars accounting firm. Court officers locked Cohen inside a jury room with peeling wallpaper and an ensuite bathroom stocked with one-ply toilet paper. His attorneys, Danya Perry, a former federal prosecutor, and Jeffrey K. Levine, who specializes in personal-injury law, gathered around him at a large wooden table, but Cohen was barred by the court from discussing his testimony with them.
Instead, he filled the next two hours by talking. There was the war in Israel and Gaza. There was the time this son of a Holocaust survivor and his Zeta Beta Tau fraternity brothers had once beaten up a group of Nazis. There was also his unorthodox eating habits (he doesn't eat lunch and has never tried chicken before). Finally, inevitably, there was Trump, who held a campaign rally the night before where the quadruple-indicted former president compared himself to Nelson Mandela.
"I find it comical. He said when Mandela passed away that he was not a competent leader," Cohen said. According to Cohen's first book, Disloyal, what Trump actually said was, "Mandela fucked the whole country up. Now it's a shithole … Fuck Mandela. He was no leader."
Around noon, a reporter friend in the courtroom texted Cohen to let him know the first witness was wrapping up and he was up next. The jury room went quiet as Cohen, dressed in a white collared shirt with Hermes cufflinks, blue jeans, and a blue sports coat, started to gather himself for the historic moment. A few seconds later, a court officer broke the tension with an update that the testimony was actually still ongoing. Cohen, returning to his seat at the table, joked that he'd considered wearing a blue suit and comically large pink tie but didn't want to upstage Trump in the courtroom. Instead, another 30 minutes passed before it was time for Cohen to make his way down the back staircase, past a temporarily erected magnetometer, and down a long hallway lined with dozens of photographers calling out his name as their flashes exploded.
Inside the third-floor courtroom, the largest in the building, Trump sat waiting at the defendant's table, slumped in a white chair with his blue suit jacket pulled tight across his back. His comically large tie that day was blue, not pink — maybe Cohen didn't know his former boss all as well as he thought anymore. It was the first time he had seen Trump in five years, and all he could think was how pathetic Trump looked sitting in court like this.
Outside of the courtroom, the two had adopted the posture of heavyweights jawing about their epic fight. Once they met inside though, they barely acknowledged each other's existence. Sitting about ten feet from one another for the entire afternoon, the pair made eye contact just a handful of times, even then mostly by accident. Trump, bizarrely, angled his body Cohen's way but appeared to have his eyes shut for much of Cohen's testimony for the state. His only real reaction was slight and came after Cohen testified that Trump had "arbitrarily elected" a net worth that Cohen then had to reverse engineer by inflating the worth of Trump's assets. "I could tell he was angry," Cohen said.
Midway through the afternoon, Trump took a break from glowering in Cohen's direction and fiddling with his cell phone to throw both hands in the air in frustration after an email linked to Ivanka Trump was admitted into evidence over his team's objection.
After the attorney general's side finished for the day, Trump's lawyer Alina Habba began her cross-examination, reminding Cohen repeatedly that he was not on one of his podcasts and characterizing him as a proven liar. At one point, she asked whether he lied to his wife about their taxes. "Trump knows my family is my weak spot," Cohen predicted before the attack.
Growing agitated by the personal broadsides, and tired of waiting for the attorney general's team to stop her, Cohen himself objected to Habba's line of questioning about his wife. Judge Arthur Engoron sustained it on the grounds of spousal privilege. "They failed and failed miserably because this tactic is an old play out of the Trump playbook," Cohen would later boast.
Still, the exchange grew so antagonistic that another one of Trump's lawyers, Chris Kise, stood up and declared, "The witness is out of control," prompting laughter from the room.
After the day ended, Cohen taped a podcast and woke up early to testify again. The blow to Trump on Wednesday did not come from Cohen, but from Judge Engoron who fined Trump $10,000 for violating a gag order when he said there is "a very partisan judge, with a person who's very partisan sitting alongside of him, perhaps even much more partisan than he is."
Trump's team claimed he was talking about Cohen, but Engoron took it to mean the law clerk Trump had previously attacked, leading to the gag order in the first place. Either way, Cohen claimed a sort of victory.
"It's interesting that for two days, the same group called me a liar over and over as they lied to Judge Engoron about the person being attacked in his post, making the false claim that it was, in fact, me. Defense counsel were eager to throw out the term perjury at me. It might be time for them to look in the mirror."