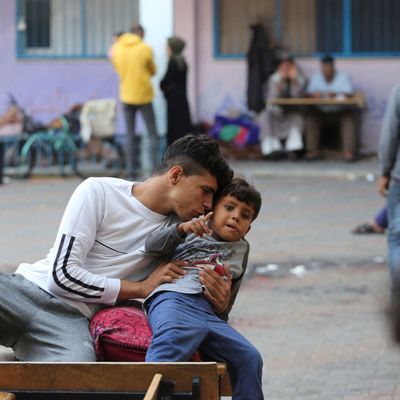 Photo: AHMED ZAKOT/REUTERS
As Israel threatens a ground invasion of Gaza, U.S. officials have reportedly begun to urge restraint, at least in private. It comes too late for the more than 3,000 Palestinians in Gaza who have already been killed by Israeli air strikes and the roughly 1 million who have been displaced. On Monday, a human-rights organization estimated that Israeli forces have killed more than a thousand children in Gaza since October 7. Israeli air strikes in Gaza and southern Lebanon have killed aid workers, medical personnel, and journalists like Reuters videographer Issam Abdallah. On Tuesday night, an explosion rocked a hospital in Gaza City, which is said to have killed hundreds of people seeking care and refuge. Hamas blames the Israel Defense Forces, which recently ordered Gazan hospitals to evacuate and have attacked hospitals there in the past. The IDF and the United States say it was caused by an errant militant rocket.
Without some kind of cease-fire between Israel and Hamas, many more Palestinians will die, and the vast majority of them will lose their lives and limbs to bombs and bullets supplied by the U.S. Whatever U.S. officials tell their Israeli counterparts about restraint in private, the public message has hardly changed. In a 60 Minutes interview on Sunday, President Biden said the U.S. would, as usual, provide Israel with "everything they need."
"Israel is going after a group of people who have engaged in barbarism that is as consequential as the Holocaust," he added, and Israel must respond. "The Israelis are gonna do everything in their power to avoid the killing of innocent civilians," he asserted. If that's true, Israel's mighty military is either powerless or its leaders don't believe civilians in Gaza are innocent. The thousands killed by Israeli air strikes did not bear collective responsibility for Hamas or its slaughter. The dead are not served by lies. Israelis and Palestinians alike deserve more than platitudes, more than U.S. policy as usual. But Biden's statements are in keeping with overwhelming American support for an apartheid state. Today, the U.S. supports Benjamin Netanyahu's incompetent far-right government, which seems to have no strategy but to answer indiscriminate brutality with even more indiscriminate brutality.
There is no justification for the October 7 slaughter of Israeli civilians by Hamas and other militants. Officials are still identifying the bodies; some are burned, while others bear signs of torture. Yet the butchery of Hamas cannot justify Israel's relentless bombardment of 2.2 million Palestinians trapped behind the fence in Gaza. Israel has cut off food, fuel, electricity, medical supplies, and water, creating a humanitarian crisis. The IDF urged civilians to evacuate northern Gaza, but with all border crossings sealed, Palestinians can't leave the territory. Even if they could, there's no guarantee they will ever be able to return home. For many Palestinians, the evacuation order is a precursor to the same sort of ethnic cleansing that happened in 1948. (Nor does fleeing guarantee safety: Israel has continued conducting air strikes in southern Gaza, where, Hamas-controlled authorities have said, an Israeli air strike killed around 70 Palestinian evacuees.)
Thousands, if not tens of thousands, more innocents will die if Israel carries out its planned ground invasion, a prospect that would indict the U.S. as much as Israel. To speak out about this reality is somehow still a radical act that invites backlash. Even before this war, people lost jobs and were smeared as antisemites for criticizing the Israeli government and expressing support for Palestine. Since October 7, Palestinian Americans and American Muslims have once again become objects of suspicion, and federal law-enforcement agents have visited U.S. mosques and "detained Palestinian nationals," according to civil-rights activists who spoke with The Intercept. Suspicion can turn violent. When the mother of 6-year-old Wadea Alfayoumi asked her landlord in Illinois to "pray for peace," according to authorities, the landlord stabbed her son 26 times in what prosecutors say was a hate crime prompted by the news in Israel.
Most members of the American political class, including the vast majority of Democratic lawmakers, are now in lockstep with the Biden administration. Senate Majority Leader Chuck Schumer has led a bipartisan trip to Israel "to show the United States' unwavering support" for the country, a spokesperson said. Governor Kathy Hochul of New York went there too, explaining that it was "more important than ever for New York to show up in support of Israel."
Biden went to Israel on Wednesday, and though he has pledged $100 million in aid to Palestinians, that won't go far. Biden has also announced that Israel will allow some humanitarian aid to go to Gaza from Egypt. Although this is a welcome development, it's unclear when this will begin or how long the arrangement will last, as it is dependent on the goodwill of the same state that has been bombing Gaza to bits. At the United Nations on Wednesday, the U.S. vetoed a Security Council resolution that would have allowed "humanitarian pauses" to get aid to Gaza.
We must still acknowledge that American complicity in the yearslong occupation, blockade, and siege of Gaza has produced nothing but widespread suffering and wave after wave of death. The U.S. has already backed this collective punishment as Israel has transformed Gaza into an open-air prison camp with direct U.S. assistance. The U.S. holds Palestinian life so cheaply that it has largely stood by as Israel acts with impunity on the world stage. For Palestinians, the consequences are bloody. Last year, an Israeli sniper killed Palestinian journalist Shireen Abu Akleh, a U.S. citizen, in what looked like a targeted attack that Israel tried to blame on militants. There has been no justice for her. In 2018, during a Palestinian protest against the Israeli blockade of Gaza, the IDF killed over 200 people, including a paramedic and a 12-year-old boy. During the 2014 Gaza conflict, Israeli forces killed 2,251 Palestinians, including 1,462 civilians and over 550 children, according to the UNRWA. By contrast, 74 Israelis were killed, including six civilians. In 2008, during another war against Hamas, Israeli forces killed 1,398 Palestinians, according to B'Tselem, while Palestinian militants killed three Israeli civilians. Nine members of Israel's security forces were killed, four by friendly fire.
To be complicit in all of this killing is to participate in the relentless dehumanization and destruction of Palestinians. Some in the U.S. are cheering for this. Senator Lindsey Graham of South Carolina has said that "we're in a religious war" and that Israel should "level" Gaza. Senator Tom Cotton of Arkansas posted on X that "Israel can bounce the rubble in Gaza" and that "anything that happens in Gaza is the responsibility of Hamas." Florida governor and GOP presidential candidate Ron DeSantis has conflated all Palestinians in Gaza with Hamas and called for a refugee ban.
There are a brave few standing up for decency and common sense: On Monday, Democratic representatives including Cori Bush, Rashida Tlaib, and André Carson introduced a resolution calling for an "immediate cease-fire," which is further than Biden has been willing to go. An Israeli invasion of Gaza would be "a big mistake," he told 60 Minutes, but the president seems reluctant to reconsider his otherwise unflinching support for the Israeli state. On Wednesday, as he spoke of his desire "to help the Palestinians who are innocent," he said the U.S. would have Israel's back as "you work to defend your people," the Associated Press reported.
Millions of civilians are trapped inside Gaza, and their bodies are piling up. America's hands are already bloody. There may be no way to wash them clean, but the U.S. has the power to prevent tragedy from multiplying. To do so, however, officials would have to embrace the radical idea that Palestinians are human beings too. Their families are being wiped out, their children erased. There is no contest in grief. The woe of Palestinians is not worth less than that of Israelis. Yet by supporting Israel almost without question, the U.S. makes Palestinian life dispensable.
The dead cry out for justice in Israel and Gaza and the West Bank, too. But there is no justice in brutality. If peace is to be anything more than a slogan, the U.S. must demand an end to the killing, by Israel as well as Hamas. There are too many bodies and still no end in sight.