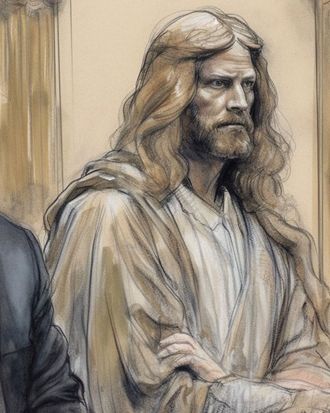 Jesus Christ, as depicted in the fake courtroom sketch Trump reposted.
Photo: @dom_lucre/X
While Donald Trump is responsible for unhinged, incoherent content on Truth Social every single day, an image he posted on Monday evening stood out for being especially offensive and delusional. Tucked between video clips of Trump's remarks hours earlier outside a Manhattan courtroom, where he is being tried for fraud in a civil lawsuit brought by New York attorney general Letitia James, was a screenshot of a tweet from user Dom Lucre showing a fake courtroom sketch of Jesus by Trump's side.
The image is ridiculous, blasphemous, and confusing. Is Jesus supposed to be Trump's co-defendant or his attorney? Does the caption "nobody could have made it this far alone" mean Trump being hauled before the court for his decades of alleged business fraud is part of some divine plan? And who is this "Dom Lucre" anyway?
Well, you're going to be sorry you asked!
The X (formerly Twitter) account where the post originated belongs to Dominick McGee, a right-wing influencer and QAnon conspiracy theorist who made headlines in July when his account was quickly reinstated after he posted child sex-abuse imagery. The notorious image was made by Peter Gerard Scully, an Australian who was sentenced to life in prison plus 129 years last year for rape, human trafficking, and the sexual abuse of children as young as 18 months. After some of McGee's more than half a million followers complained that he was banned over his politics, X owner Elon Musk stepped in to reinstate him. As the Washington Post reported, Musk claimed that only X's content moderators had seen the material, though that doesn't appear to be the case:
"Only people on our CSE team have seen those pictures," Musk tweeted, referring to the company's child sexual exploitation staff. "For now, we will delete those posts and reinstate the account."




In fact, the image in question had drawn more than 3 million views and 8,000 retweets, according to Twitter statistics on a cached version of the tweet from Tuesday.
Once his account was restored, McGee claimed he was banned "over Obama" and that he hadn't even put up the widely viewed post containing child-abuse content.
It's unclear if Trump knows about this incident or just saw McGee's post and thought, You know what, I am just like Jesus. But the episode serves as an important reminder: While it's fun to laugh at Trump's outrageous antics, they're often far more sinister upon closer examination. That's why I won't be doing any further Googling about Trump's recent mid-speech tirade about possibly being eaten by a shark. Let's just enjoy it.