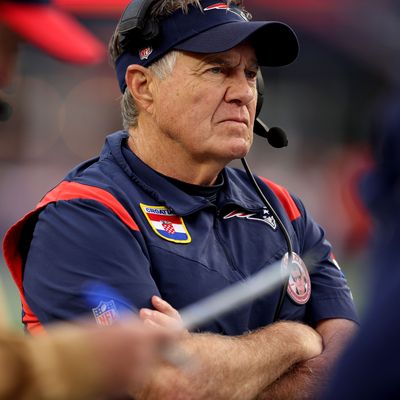 Photo: Maddie Meyer/Getty Images
On November 7, 2016, the night before Election Day, Donald Trump, the surprise Republican nominee for U.S. president, spoke before an audience in Manchester, New Hampshire. It was his last chance to make his pitch to voters, the final opportunity to sell himself after one of the most intense and combative presidential campaigns in American history. As he stood on that stage, what person did he pull out as his last surprise endorsement, as the closing argument for himself? Who, at the end, did he want everyone to know was supporting him?
The answer: New England Patriots coach Bill Belichick.
The letter, which Trump said had just been written to him two hours ago, was penned in such Trump-speak — "You have dealt with an unbelievable and slanted negative media and you have come out beautifully" — that it was difficult to believe Belichick, considered the greatest football coach of all time and a genius-level tactician, one who was three months away from winning his fourth Super Bowl, possibly could have written it. But a week later — after Trump won that election — Belichick admitted he had. While Tom Brady has (unfairly) been labeled a Trump supporter, it's Belichick who gave him the official endorsement at the most important possible time. Trump would reward Belichick with the Presidential Medal of Freedom four years later, though by that time Belichick felt obliged to turn it down; after all, Trump had just fomented an insurrection a few days earlier.
I bring all this up because whereas in 2016 Belichick was one of the biggest names Trump could pull from his holster at the last minute, in 2023 — with Trump back out there putting us all through this again — Belichick is … about to be unceremoniously fired. You thought the country has had a rough several years? Belichick has gone from the Greatest Football Coach of All Time to being actively booed by Patriots fans, who desperately want to run him out of town. Writing Trump another letter probably won't help either one of them now.
After the Patriots' depressing 10-6 loss to the Indianapolis Colts on Sunday — in Frankfurt, Germany, no less — Belichick's team is 2-8, the worst record in the AFC, on pace for (by far) the worst record of Belichick's 24-year Patriots coaching career. His team has had a losing record three of the last four seasons, hasn't won a playoff game since winning Super Bowl LIII in 2019, and, particularly noteworthy, is 27-33 since Brady left New England for Tampa Bay (where he would win another Super Bowl). The terrific NFL writer Bill Barnwell has made a deep-dive argument for keeping Belichick around, but Sports Illustrated NFL insider Albert Breer, a Boston native who is as tapped into the local vox populi (for better or worse) as much as anyone in that area, wrote Monday morning that "the curtain is dropping" on Belichick. This sure feels like the end.
Firing a legend like this — and Belichick is much of an active legend as you will find in any sport; he has won more Super Bowls than any other coach and is third on the all-time wins list — is essentially unprecedented in American sports outside some sort of scandal. (Also known as "the Bobby Knight Corollary.") It's unusual in the first place that an NFL coach would even have the opportunity to coach 24 years in the same city: Only four other coaches in the league have even made it ten years, and the closest to Belichick (Pittsburgh's Mike Tomlin) is seven years behind him. The first overall pick of the NFL draft the year Belichick started with the Patriots was a man named Courtney Brown, who has not suited up for an NFL game in nearly 20 years. It's an absurdly long time.
Only three men have ever been with their own team longer than Belichick, and only one of them, Dallas's Tom Landry, was ever fired — and that led to a national uproar that even famously unapologetic Cowboys owner Jerry Jones says he regrets today. But one suspects there will be no such uproar, in Boston or anywhere, if Belichick is tossed, whether it's this week or, as many suspect, at the end of the season. Belichick has always been seen less as a revered elder statesman like Landry and more as the Dark Lord of the NFL, a man who dealt with his own spying scandal a full decade and a half before Jim Harbaugh and Michigan did. Belichick has had so many competition-related scandals in New England that it is difficult not to lose track of them, though it is worth remembering now just how bad his 2007 Spygate scandal was: It makes what Harbaugh is accused of doing in Ann Arbor downright farcical. Belichick ultimately skated on any serious punishment and won three more Super Bowls afterward, but the league, its players, and especially its fans have never given Belichick any quarter since. He may have been the league's best coach, but he was also, easily, its most hated.
And now that he's no longer the best — now that his teams are terrible — he has no constituency left. It's a reminder that coaches like Belichick, and Bobby Knight, and even baseball's Tony La Russa, who left after his own meltdown (and health issues) last year — those sort of old-school my-way-or-the-highway mean tough-guy coaches who treat their teams like their own dictatorial fiefdoms never end up finishing their careers happily. Either they're run out by scandal, the game passes them by, or people just get so sick of them that they run them out of town. No matter what happens, they don't end up with any of the reverence set aside for coaches like Landry, or Bill Walsh, or Bruce Bochy, or even Tomlin in Pittsburgh. They end up much like Knight did at the end of his career and his life: angry, embittered, covered in controversy, and alone. That's the thing about being so self-aggrandizingly "old-school": Eventually, you get relegated to that very past you claim to be so proud of. They don't make them like Bill Belichick anymore. Good.