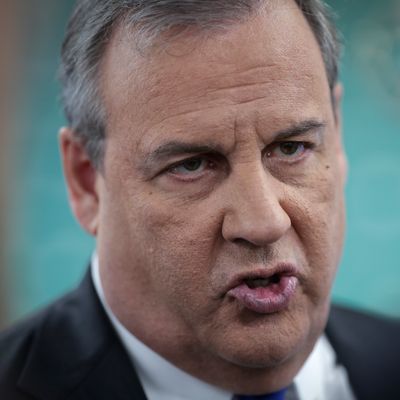 Christie's path beyond New Hampshire is probably going nowhere fast.
Photo: Win McNamee/Getty Images
The main drama of the Republican presidential primary right now is the battle between Ron DeSantis and Nikki Haley for the right to offer a long-shot challenge to likely three-time nominee Donald Trump. There's one sideshow involving nuisance candidate Vivek Ramaswamy, whose wealth and ability to needle and troll his remaining rivals get him attention (mostly negative) at debates. But there's another sideshow featuring a very different survivor: Chris Christie, who is exploiting one early state's peculiar political culture to give himself one sunny spot in an otherwise bleak landscape of abject defeat.
Christie has focused his campaign on New Hampshire all along. He's benefited from a past campaign presence there in 2016 (he finished sixth and got credit or blame for damaging Marco Rubio's promising candidacy by mocking his robotic manner in a debate). But more important, he's found the rare state where anti-Trump Republicans (led by their very popular governor, Chris Sununu) are thick on the ground, augmented by the independents who participate in Granite State presidential primaries very actively. As the most openly anti-Trump of the remaining candidates, Christie is naturally doing pretty well in New Hampshire: Three new polls there this week show him in third place, ahead of Ron DeSantis but substantially trailing Nikki Haley — and, of course, Donald Trump. Christie's campaign is spreading this good news to donors in an effort to convince them not to write him off amid all the interest in Haley, Axios reports:
Chris Christie's presidential campaign sent a lengthy memo to donors on Friday, arguing that he has a path to the GOP nomination and signaling Christie will stay in the race through the Jan. 23 primary in New Hampshire — and potentially well afterward …




In the memo, Christie senior adviser Maria Comella compared his effort to Sen. John McCain's comeback campaign in 2008, noting that the late Arizona senator was "in a distant 3rd place in New Hampshire and would spend most of November and December in 4th place nationally."
Nice try, but the analogy is very weak. In 2008, McCain was, at that stage of his career, an almost universally admired politician who had simply run a bad early campaign that regained its footing as other candidates tore one another down. Christie has had the worst favorability numbers in the Republican field from the get-go. The most recent surveys show Republicans (who give most of their presidential candidates positive ratings to varying degrees) continuing to give him a decisive thumbs-down (the latest Economist-YouGov national poll gives him a favorability ratio of 25 percent approval to 60 percent disapproval among Republicans). Indeed, the Axios piece on his upbeat pitch notes that is true even in New Hampshire, according to a new CNN-UNH poll that showed him in third place:
The poll also found that 47% of GOP primary voters in New Hampshire say they would "never" back Christie, a reflection of how his attacks on Trump have increased Christie's negative ratings.




Still, the campaign noted that this week's CNN poll was an improvement from one in September, when 60% of the likely primary voters said they'd never back Christie.
Now that's some positive spin: Only about half of Republican voters in Christie's best state loathe the very thought of him! Worse yet, the path beyond New Hampshire looks pretty blurry:
Christie's plan after New Hampshire is less clear. The campaign memo says that "independents still make up a significant portion of the primary electorate in South Carolina" and "there are several state primaries where independents can participate."
Anyone who thinks the independents of New Hampshire are very much like the independents of South Carolina — Nikki Haley's home state, by the way — probably hasn't traveled much.
The truth is Christie is nowheresville outside New Hampshire. In the RealClearPolitics polling averages, he's tied for a distant fifth place with Ramaswamy in South Carolina (the latest poll, from Winthrop College, gave him one percent there). He hasn't even pretended to compete in Iowa, where he regularly polls sixth, just ahead of Doug Burgum. And nationally, he's firmly in fifth place (still trailing the withdrawn Tim Scott in the RCP averages). And despite his boasts of leaping into a strong position via his debating abilities, other candidates have done as well as or better than Christie in the first three.
So New Hampshire is likely to be the high point and perhaps the end point of Christie 2024. But his continued presence in the race has to be driving Haley crazy. Right now, she's running 27 points behind Trump in the RCP averages for New Hampshire. If Christie threw in the towel, she would be the obvious beneficiary for the 11 percent of the vote he's attracting there at present. With another post-Iowa withdrawal or two, she might make an actual race of it in the Granite State. So from her perspective (and perhaps that of anti-Trump Republicans more generally), Christie needs to ask himself if he wants his 2024 legacy to be helping grease the skids for an easy Trump win in the state where the former president is most vulnerable to an upset.