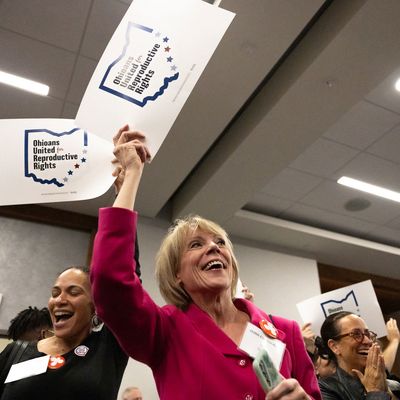 Photo: Megan Jelinger/AFP via Getty Images
Continuing a pattern evident in Democrat overperformance in the 2022 midterms and 2023 special elections, the Donkey Party posted solid wins in Tuesday's elections thanks in large part to the continued backlash to the end of Roe v. Wade.
Democrats held on to an improbable Kentucky governorship, defeated a heavily financed bid by Virginia Republican governor Glenn Youngkin to win GOP control of the legislature, and won an expensive and potentially important Pennsylvania State Supreme Court race. And in the contest that most exemplified the day, Ohio became the seventh consecutive state where voters have confirmed abortion rights since the Supreme Court reversed Roe. The lone disappointment was in deep-red Mississippi, where, as generally expected, Republican governor Tate Reeves overcame scandals and a spirited challenge from Democrat Brandon Presley, cousin of Elvis.
Kentucky's Democrat governor Andy Beshear handily defeated Daniel Cameron, the Republican attorney general and Mitch McConnell protégé, despite the state's strong red tint (Donald Trump carried the state by 25 points in 2020) and some evidence that Cameron was gaining on Beshear as the campaign reached its climax. While the incumbent's general popularity and his handling of the pandemic were front and center in the campaign, the abortion issue was major. The candidates were on opposite sides of a failed 2022 ballot initiative that would have overruled state-court recognition of reproductive rights.
The Ohio pro-choice win was no surprise, after Republicans spectacularly failed to sneak through a preemptive ballot measure during a special election in August that sought to make it harder to pass constitutional amendments like Tuesday's reinstating Roe. The abortion-rights measure won by double digits in a state where Republicans who control the governorship and the legislature have tried to impose a six-week abortion ban. (That now looks impossible.) The partisan nature of the battle was underlined by the very visible role of Governor Mike DeWine and secretary of State (and 2024 Senate candidate) Frank LaRose in fighting (and lying about) the initiative. But without question, Republican voters contributed strongly to the abortion-rights victory; as the New York Times reported, 18 Ohio counties that voted for Donald Trump in 2020 gave a win to Issue 1.
Abortion policy also played a key role in the Virginia legislative races. Youngkin talked Republicans out of the defensive crouch on the issue they had assumed after the reversal of Roe and convinced them (and a lot of big donors) to loudly promote a "compromise" position backing a 15-week abortion ban with exceptions for rape and incest (in contrast to the six-week or total bans many red states were enacting) and seeking to depict Democrats as the extremists on abortion. It didn't work, as Democrats repelled Youngkin's bid to take over the state senate and create a Republican trifecta. Democrats also flipped the GOP-controlled House of Delegates.
Since Youngkin and his fans clearly advertised his abortion gambit as an experiment with vast national implications, the legislative defeat was a major blow to his status as the kind of non-Trumpy but still MAGA-friendly conservative that Republican elites longed for, as Politico noted:
Youngkin's loss will likely stretch beyond the commonwealth. Some Republican donors have been publicly pining for the Virginia governor to jump into the presidential race as a last-minute challenger to Trump …




Youngkin pointedly never ruled out a presidential run, only saying he was focused on these legislative races when asked. But Tuesday's results will likely put an end to that talk.
No question about that. But more importantly, Republicans in Virginia and elsewhere will very likely resume their defensive position on abortion, which will remain a Democratic priority everywhere. More oddly, the redundant demonstration that abortion is a loser of an issue for Republicans will likely benefit the front-running primary campaign of Donald Trump, who has been telling Republicans exactly that since the 2022 midterms, notwithstanding his own central role in making the reversal of Roe happen by installing three of the six justices who voted to overturn it.
All in all, the 2023 election was a tonic for Democratic troops recently dispirited by poor showings in the polls for President Joe Biden and jittery feelings about the incredible survival skills of his heavily indicted predecessor and likely future opponent. Off-year elections aren't always harbingers of what will happen in the immediate future, but the evidence grows that the GOP will continue to pay a heavy price for its bad marriage with the anti-abortion movement.