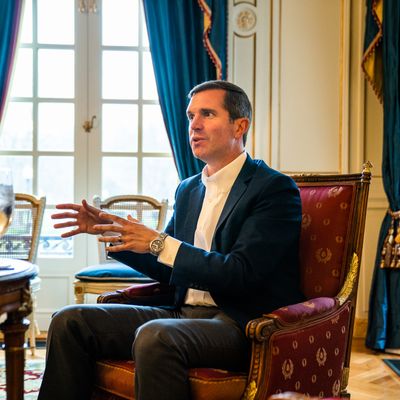 Governor Andy Beshear of Kentucky is popular, but partisan polarization could deny him a second term.
Photo: Demetrius Freemanages/The Washington Post via Getty Im
Off-year elections matter deeply to the people directly affected by them, but usually only a few draw national attention as signs of which way the political winds are blowing. The search for entrails to examine may be particularly intense this year with a close and momentous presidential election on tap in 2024.
Here are four story lines — from southern governor's races to an abortion ballot measure — that are worth watching on Tuesday, November 7, even if voting options in your local district are limited.
.

The Ohio Abortion Referendum
Abortion-rights activists are very optimistic about continuing their recent winning streak on ballot measures in Ohio, though the state is controlled by Republicans and was comfortably carried twice by Donald Trump. On the ballot is a measure that essentially restores the standards set by Roe v. Wade before that decision was overturned last year, protecting pre-viability abortion and mandating life and health exceptions for late-term abortion bans. Passage of this state constitutional amendment would also prevent implementation of a six-week abortion ban (with no rape-incest exceptions), which was enacted by Republican legislators.
There was something of a trial heat for this issue in August, when voters in a special election were confronted with a Republican-sponsored ballot measure raising the threshold for citizen-initiated constitutional amendments from a simple majority to a 60 percent super-majority, a gambit clearly aimed at thwarting the upcoming abortion rights amendment. The GOP plan was defeated by a 57 percent to 43 percent margin. Polls have consistently shown the Roe restoration measure leading by a comfortable margin, despite Republican efforts, led by Governor Mike DeWine, to misleadingly claim it would eliminate all late-term abortion restrictions. Anything other than another victory for abortion rights would be an upset, although the state's political complexion and the likelihood of relatively low turnout mean the outcome is in a bit of doubt.
.

The Kentucky Governor Race
Governor Andy Beshear is the rare red-state Democrat who has managed to remain quite popular. He went into 2023 as a solid if not overwhelming favorite for reelection over Republican state attorney general Daniel Cameron, a fiery cultural conservative and protégé of Mitch McConnell. Cameron drew controversy nationally for his role in the non-prosecution of Louisville police officers implicated in the 2020 killing of Breonna Taylor. Cameron was also closely identified with the losing side in last year's fight over a ballot initiative that would have kept state courts from recognizing a constitutional right to an abortion; it was defeated by a 52 percent to 48 percent margin.
Beshear has significantly outspent Cameron on advertising and, until recently, has generally led in the very limited public polling available. But alarm bells in the Democratic camp were likely set off by a late Emerson College survey showing Cameron surging from a 16-point deficit in early October to a statistical tie in the home stretch:
Spencer Kimball, Executive Director of Emerson College Polling, said, "Cameron appears to have gained ground by consolidating Republican voters who supported former President Donald Trump in the 2020 election. In October, 54% of Trump supporters supported Cameron; now, as election day approaches, that number has jumped to 79% — a 25-point increase.
Trump carried Kentucky by 25 points in 2020. So Beshear is fighting partisan polarization in difficult territory, and the contest could go either way.
.

The Mississippi Governor Race
In another red-state off-year election, it's a Republican incumbent who has been struggling to win a second term. Mississippi governor Tate Reeves has been dogged by a scandal over alleged misuse of federal public-assistance money, some of which famously found its way into the control of less-than-needy pro-football legend Brett Favre. He's in a competitive race with Democratic public-service commissioner Brandon Presley, a cousin of Elvis (which hasn't hurt his name ID or fundraising), who's been running on a moderate-to-conservative message with a touch of populism. As always with Mississippi Democrats, Presley begins with a relatively high floor of support thanks to the state's large Black minority but with a potentially low ceiling attributable to partisan, ideological, and racial polarization.
Here's how Larry Sabato's Crystal Ball summarized the late trajectory of the race:
A Magnolia Tribune/Mason-Dixon poll from early October showed Reeves up 8, although that is a bit dated at this point. Based on what we've been able to piece together, Reeves is likely up by some modest amount — this race could end up looking like 2019, when Reeves defeated then-state Attorney General Jim Hood (D) 52%-47%. That's also close enough that one couldn't totally close the door on a Presley upset.
With Republicans having already flipped the one Deep South governorship Democrats held in Louisiana (GOP attorney general Jeff Landry will succeed term-limited Democrat John Bel Edwards after winning a majority in an October nonpartisan "jungle primary"), wins by Presley and Beshear would be very good for Democratic Party morale going into 2024.
.

The Virginia Legislative Races
The governorship of Virginia is not up this year, but seats in both houses of the state legislature are. And Republican governor Glenn Youngkin has been campaigning intensively to end a narrow Democratic majority in the Virginia senate while maintaining a narrow Republican majority in the House of Delegates. The battles for both chambers could go either way, and pundits in nearby Washington, D.C., will almost certainly exaggerate the national implications of any result.
Certainly Republicans interested in some sort of extremely unlikely Youngkin-led Stop Trump presidential bid are hoping he pulls off the trifecta and again shows he has the swing-voter appeal necessary to win purple or even blue states. But even those uninterested in any President Youngkin scenarios will be watching Virginia closely to see if Youngkin's argument that standing for a 15-week abortion ban and accusing Democrats of extremism on the subject can make restricting reproductive rights a winning issue for Republicans.