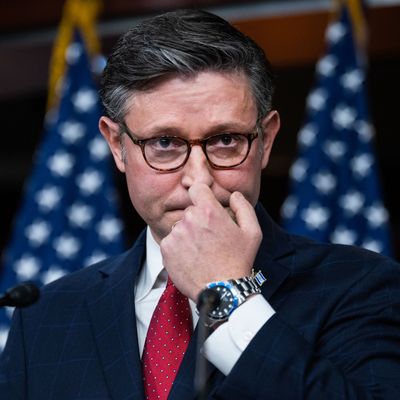 Mike Johnson angered his old friends by relying on Democratic votes.
Photo: om Williamses/CQ-Roll Call, Inc via Getty Imag
After his success in passing a two-tiered stopgap spending bill with a ton of Democratic votes and quiet concurrence from the Democrat-controlled Senate and the White House, freshly minted House Speaker Mike Johnson hastily retreated into a Thanksgiving recess with angry shouts from his erstwhile hard-core MAGA allies echoing in his ears, as Punchbowl News reports:
Rep. Chip Roy (R-Texas), policy chair for the House Freedom Caucus, went to the House floor and angrily bashed the GOP leadership after members had bolted town on Wednesday, a bitter ending to a grueling 10-week marathon for the chamber.




"I want my Republican colleagues to give me one thing — one — that I can go campaign on and say we did. One!" Roy yelled during a speech in an otherwise empty House chamber.




"Anybody sitting in the complex, you want to come down to the floor and come explain to me one material, meaningful, significant thing the Republican majority has done besides, well, I guess it's not as bad as the Democrats."
Among the "material, significant things" Roy and others among the 93 House Republicans who voted against Johnson's plan wanted were deep spending cuts in disfavored areas of the federal government and perhaps some symbolic policy shibboleths smiting abortion providers or transgender athletes or tax collectors. Such items would have been treated by Democrats and even some Republicans as poison pills, which is why Johnson's "clean" stopgap bill didn't include them. The new Speaker's support for a "clean" bill and his reliance on Democratic voters are precisely the actions that got old Speaker Kevin McCarthy tossed out on his ear. Thanks to Johnson's past record of rigorous right-wing orthodoxy (and perhaps exhaustion following the long fight over McCarthy's successor), his rebellious friends appear to have given him a mulligan. But it probably won't last.
A new government shutdown threat will likely appear once the first "tier" of the stopgap bill expires on January 19. Indeed, the hard-liners are already firing shots across Johnson's bow, as Politico reports:
Hardliners sunk any chances of passage for two additional funding bills this week — marking a major setback for Speaker Mike Johnson less than 24 hours after working with Democrats to pass a bill that would thwart a shutdown deadline Saturday …




GOP leadership then canceled the rest of the votes for the week, with Republicans predicting that Johnson's spending headache won't get any easier once they return at the end of the month.




Instead, members of the Freedom Caucus vowed to continue blocking House Republicans' remaining five funding bills. They urged Johnson to come up with a plan that would cut spending for the fiscal year that began on Oct. 1, without any accounting tricks.




"We're done with the failure theater here," said Freedom Caucus Chair Rep. Scott Perry (R-Pa.). "We're not going to pass bills that don't address the problems that America faces."
What makes this revolt even more significant is that Freedom Caucus types are really obsessed with the need to enact individual appropriations bills instead of the catchall measures they believe endemic to out-of-control federal spending. A big part of the rationale for Johnson's two-tiered stopgap was to provide enough time — and no more — for passage of these individual bills. But now HFC leaders are sabotaging that very possibility out of a fit of pique, in an exceptional example of what it means to cut off your nose to spite your face.
The thing is, Senate Democrats and the White House aren't going to bend to Chip Roy's definition of what the American people want or need between now and the time the next shutdown crisis arrives (indeed, a collision over aid to Ukraine and border policy contained in the president's supplemental spending proposal will likely come to a head before Christmas). So the shutdown threat may have simply been deferred for a bit even as House GOP hard-liners flagellate themselves for letting Johnson off the hook for the exact sins that damned McCarthy. Enjoy the holidays, federal employees. But stash away some provisions for what could be a stormy winter. Mike Johnson might try to enjoy what could be a brief time in power himself.