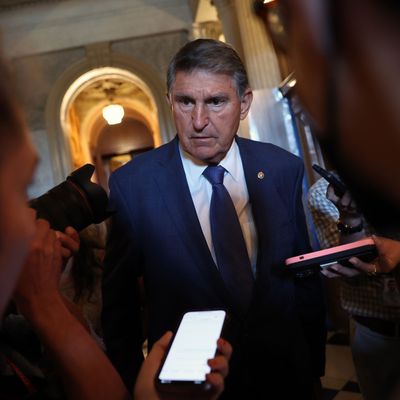 Joe Manchin, the one-time toast of DC.
Photo: Kevin Dietsch/Getty Images
In one of the less surprising developments of the 2024 election cycle, Joe Manchin, Democratic U.S. senator and former West Virginia governor, has announced he won't run for a third full Senate term. He did not announce the end of his political career, as one might expect of a 76-year-old man who has been in statewide office for the entirety of the 21st century. Instead, he made ominous noises (to his fellow Democrats) about traveling the entire country to assess "interest in a movement to mobilize the middle and bring Americans together":
Unless Manchin simply wants to become a tourist with heavy media coverage, that sure sounds like an expression of interest in becoming the presidential candidate of the allegedly post-partisan No Labels movement, with which he has been closely identified for a long while. No Labels itself has been tight-lipped about its plans as it uses its shadowy donor money to get access to 2024 ballots. But lately a deadlock-the-election strategy is being kicked around No Labels circles that could make it vastly easier to justify a candidacy than under its original plan, which was to launch a presidential campaign only if a clean win seemed plausible. At the same time, word is No Labels is leaning towards putting a Republican (maybe Jon Huntsman, maybe Larry Hogan) at the top of the ticket to reduce (though hardly eliminate) the impression they're likely to produce a Donald Trump victory. So it's unclear whether Manchin could become a presidential candidate if he wanted to or would have any interest in the second position in a long-shot and/or spoiler campaign.
It is pretty clear, though, that Manchin wasn't going to win another Senate term barring some sort of miracle. Democrats just don't win much in West Virginia any more; it's become a deep-red state that Trump carried by around 40 points twice. Manchin's last reelection was a narrow win over a weak Republican in the Democrat-friendly 2018 midterms, a time when the centrist senator was viewed as a burr in the saddles of Democratic congressional leaders. For a brief but memorable two years after 2020, when Democrats held a shaky trifecta but could still pass legislation if they had near-unanimity, Manchin was King of America, regularly shaking down his president and his party for anti-progressive policy concessions and goodies for his home state. That ended when Democrats lost the House in 2022 and the flow of legislation to hold hostage dried up. Manchin's hero status in West Virginia had already disappeared (and his job-approval ratings had collapsed) when he used some of his last days of leverage to help Biden enact the Inflation Reduction Act.
If there was any hope for a Manchin reelection bid in 2024, it likely expired when the very popular Democrat turned Republican governor Jim Justice decided to follow Manchin's path to the Senate. And the path to any Manchin upset was probably plowed under and salted when Trump endorsed Justice over MAGA stalwart and congressman Alex Mooney, ending the prospects of a vicious and divisive Republican primary. As it happens, Justice is a longtime rival of Joe Manchin. Ending his career by losing to this nemesis was probably unacceptable. So Manchin packed it in.
Now we all get to wait and see if Joe Manchin still has a nasty 2024 surprise up his sleeve before he shuffles off to life on his Potomac River houseboat or in a West Virginia rest home.