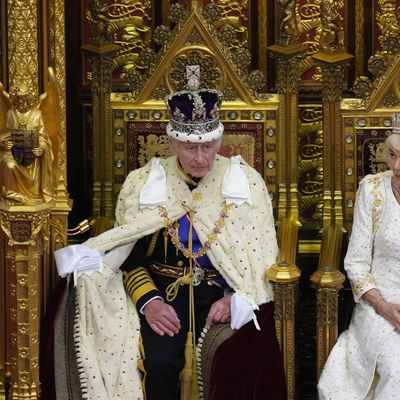 Photo: Kirsty Wigglesworth - WPA Pool/Getty Images
Is being the king of England even worth it anymore? Sure, you get to live in fancy palaces, wear clothing encrusted with ethically dubious jewels, and see yourself portrayed by Dominic West. But King Charles's reign is providing more and more proof that the saying "heavy lies the head that wears a crown" is still true today.
The Shakespearean king who delivers the line was talking about being unable to sleep due to his tremendous responsibilities. King Charles has the opposite problem: He has little actual power. On Tuesday, Charles delivered the address that is the centerpiece of the state opening of Parliament; though he filled in for his mother last year, this is the first time a true King's Speech has been delivered in more than 70 years. However, the focus wasn't on Charles's vision for Britain or the historic nature of the event, but how he was forced to announce an environmental policy he probably hates.
Despite the name, the king actually has no say in what goes into the speech; it's drafted by the prime minister and lays out the government's legislative priorities for the year. The monarch is expected to remain neutral on matters of politics. So Charles, a lifelong environmentalist, couldn't even roll his eyes as he announced that one of the top agenda items for Rishi Sunak's Conservative government is creating a new system for awarding oil and gas licenses annually, rather than periodically.
"Legislation will be introduced to strengthen the United Kingdom's energy security and reduce reliance on volatile international energy markets and hostile foreign regimes," Charles said. "This bill will support the future licensing of new oil and gas fields, helping the country to transition to net zero by 2050 without adding undue burdens on households."
Despite his deadpan delivery, it's safe to assume that Charles, who is known for his activism fighting climate change, isn't thrilled about this plan. As the New York Times explains:
Although the Conservative government argues that it will still meet its targets for Britain to become a net-zero emitter of carbon dioxide by 2050, the decision to license more fossil fuel extraction has angered campaigners against climate change — a cause close to the king's heart for decades.




King Charles made his first major speech about the environment in 1970, at age 21, and in recent years has been an increasingly vocal advocate for climate action. In a speech in France in September, he urged the world to "strive together to protect the world from our most existential challenge of all: that of global warming, climate change and the catastrophic destruction of nature."
Even after Charles fulfilled his duty as a living prop, he couldn't sit back and enjoy the perks of royalty. As Charles processed in and out of Parliament in a horse-drawn carriage, protesters booed and chanted, "Not my king."
Graham Smith, head of the anti-monarchy group Republic, told the Daily Express that the group organized the demonstration because, "Our Parliament is opened by a King wearing a crown while sitting in the Lords. It is just weird we continue with this pantomime that celebrates the worst, least democratic aspects of our political system."
Make Charles announce a few more environmentally unsound policies and maybe he'll agree.