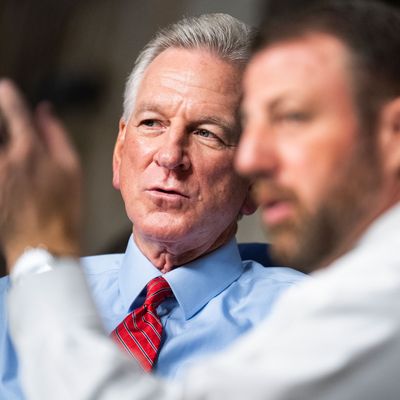 Photo: Tom Williams/CQ-Roll Call, Inc via Getty Images
Several of Senator Tommy Tuberville's Republican colleagues finally attempted to challenge his monthslong blockade on military promotions, a sign of the growing frustration against the Alabama member in the chamber.
On Wednesday evening, Senator Dan Sullivan of Alaska, who is also a colonel in the Air Force Reserve, led an effort to force a vote on hundreds of pending nominees to the nation's armed services, resulting in a tense showdown on the Senate floor as Tuberville voted down individual nominations one by one. This spectacle continued for more than four hours, finally coming to an end after 11 p.m. when Tuberville had rejected 61 nominees. As the proceedings progressed, Republican senators, many of whom had stayed largely silent on the matter for months, voiced their frustrations. Sullivan called Tuberville's block a "national-security suicide mission" and suggested that U.S. adversaries were thrilled.
"Xi Jinping is loving this. So is Putin," Sullivan said. "How dumb can we be, man?"
And Senator Lindsey Graham called out Tuberville for voting down a two-star general nominated to be a deputy commander in the Air Force, saying "You just denied this lady a promotion. You did that."
Graham also warned Tuberville that his actions are actively harming the United States military.
"No matter whether you believe it or not, Senator Tuberville, this is doing great damage to our military," he said. "I don't say that lightly; I've been trying to work with you for nine months."
Senator Joni Ernst of Iowa, who served in the U.S. Army Reserve, accused Tuberville of reneging on his promise to hear out nominees who were put forth for votes. "We have done the best that we can to honor the requests of a fellow senator, that these nominations be brought to the floor and voted on individually. And I really respect men of their word. I do not respect men who do not honor their word," Ernst said.
Tuberville has been holding up the military nominations as a form of protest against a recent change in Defense Department policy that expanded access to abortion care for servicemembers. In a letter to Defense Secretary Lloyd Austin last December, Tuberville said that the new policy was "illegal, circumvents Congress, and exceeds your authority." The backlog of military promotions has taken on a new urgency in the wake of the ongoing Israel-Hamas war as well as the recent sidelining of a top military official due to an emergency. On Sunday evening, Eric Smith, the commandant of the U.S. Marines Corps was hospitalized following a medical emergency, believed to be a cardiac arrest. Smith, who was only just confirmed to his role in September due to Tuberville's blockade, is still in the hospital and the Marines' No. 2 role has yet to be filled. Up until his own confirmation to the top role, Smith had reportedly covered both the No. 1 and No. 2 leadership positions since July, per Politico.
Tuberville has given no indication that he intends to lift his block of military nominations and said that he doesn't think the backlog will have any impact on the preparedness of the nation's military.
"I have to respectfully disagree with my colleagues about the effect of my hold on readiness. My hold is not affecting readiness," he said, as reported by CNN.