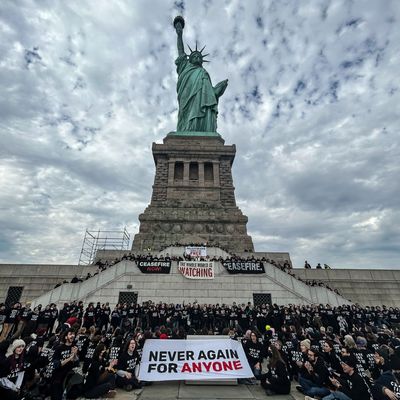 Jewish Voice for Peace protesters gather at the Statue of Liberty on Monday, November 6.
Photo: Stephanie Keith
Hundreds of activists staged a sit-in at the Statue of Liberty on Monday afternoon, demanding an immediate end to the Israel-Hamas war.
Dressed uniformly in black, the protesters with Jewish Voice for Peace gathered on the pedestal shortly before 1 p.m. when they dropped massive banners with calls for a cease-fire and other slogans, such as "The Whole World Is Watching" and "Never Again for Anyone." The group sang "Cease-fire now" and occupied the national monument for about 20 minutes before dispersing. The protest, which the group said included more than 500 people, continued on a ferry headed back to Manhattan.
"We came to the Statue of Liberty today because we are inspired by the words of our Jewish ancestor, Emma Lazarus, that are etched into the monument," said Jay Saper, an JVP organizer. "Those words compel us to take action to support the Palestinians of Gaza yearning to be free. And we will continue to take action until we bring about a cease-fire and until Palestinians are free."
Assemblymember Zohran Mamdani said he joined the protest as a "New Yorker of conscious."
"This is one of the greatest symbols of New York City and our supposed commitments to universal values of liberty and freedom and respite," he said. "And yet what we've seen is our country allowing for a genocide to take place."
Mamdani, a socialist representing Queens, has protested across the city over the past month and was arrested alongside a colleague during a similar demonstration outside the Brooklyn home of Senate Majority Leader Chuck Schumer.
"How many children have to be killed until we can finally see a position of cease-fire from our White House and federally elected officials?"
The Statue of Liberty protest is the latest high-profile action by the Jewish-led group that has long organized against Israel's treatment of Palestinians. On October 27, they led thousands to occupy Grand Central Terminal during the Friday rush hour, bringing the transit hub to a standstill.
Monday's action was planned in secret with the mostly young activists blending in with sightseers as they made their way patiently through security in time to board the 11 a.m. ferry from lower Manhattan to Liberty Island. They quickly scarfed down breakfast sandwiches and chatted among themselves with a happy, nervous excitement. "This is the most touristy thing I've ever done," one young man said to a friend as he disembarked, clutching a green foam Lady Liberty crown in his hands. On the island, more small groups convened, taking last-minute trips to the bathroom and taking headcount.
With attention-grabbing acts of civil disobedience, Jewish Voice for Peace has taken center stage in protest efforts to pressure the U.S. to stop Israel's military campaign against Hamas since the militant group massacred more than 1,400 people in Israel on October 7. Since then, more than 10,000 people have been killed in Gaza, a majority of them women and children, according to the Hamas-controlled health ministry. Israel's self-described siege of the enclave has cut off approximately 2.3 million Palestinians from supplies of water, fuel, and food. Jewish Voice for Peace describes the ongoing campaign as "unfolding genocide."
The group said it is trying to intensify pressure on the Biden administration to curb Israel's war. "We are outraged that over 10,000 Palestinians to date have been killed, over 4,000 children, with U.S. funding, with U.S. bombs, and with U.S. protection from international accountability," said Elena Stein, the director of organizing strategy.
So far, the Biden administration has pressed Israel for a "pause" to allow greater humanitarian relief to enter Gaza and to buy more time for negotiations to secure the release of 240 hostages held by Hamas. Israeli prime minister Benjamin Netanyahu rebuffed the request over the weekend as ground troops pressed deeper into Gaza.
As the death toll in Gaza has skyrocketed, New York City in particular has become a crucible for both sides of the fight with numerous protests across the five boroughs by pro-Palestinian and pro-Israeli activists, as well as bitter exchanges on college campuses and in Times Square.
Protests at the Statue of Liberty are relatively rare given the high security at the site, but the monument has drawn dissenters since its unveiling in 1886, beginning with women's suffragists. The statue continued to draw small groups of protesters, including a three-day occupation by antiwar Vietnam vets in 1971 and a sit-in at the statue's crown in 1979 by 40 Muslim students against the shah of Iran. (A year later, Croatian nationalists set off a bomb after hours in a museum.) The most recent protest until now was on July 4, 2018, when an activist scaled the base of the monument to protest the Trump administration's family-separation policies at the border. Eight people were arrested after a four-hour standoff and the evacuation of thousands of tourists.
When asked if the protest took them by surprise, one U.S. Park Police officer said with a chuckle, "To put it mildly, yes."