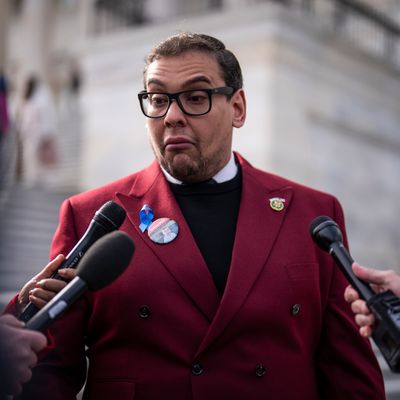 Photo: Jabin Botsfordages/The Washington Post via Getty Im
The House Ethics Committee report on George Santos's alleged corruption, full of salacious details like the representative using campaign money for Botox and OnlyFans, was so bad for him that he announced on Thursday that he would not seek reelection next year.
But Santos might not make it even that far. On Friday, the day after the report was released, House Ethics Committee Chair Michael Guest filed a resolution to expel him for what the motion describes as his "egregious violations" of federal law.
House Republicans have tried all this before. Just two weeks ago, fellow New York Republicans led an effort to expel Santos, which ended in a failed 179 to 213 vote — with 24 Republicans voting to remove him from office. But the report claiming that Santos "sought to fraudulently exploit every aspect" of his campaign may cause some of those nay votes to go the other way. By Politico's count, close to 60 Republican House members have said they would vote to remove him from office. With around 20 more Democrats who voted against his ouster switching sides as well, the effort is edging closer to the 290-vote supermajority needed to expel him. "I did not vote in the past to expel George because I didn't believe there was due process," Republican Ken Buck explained on MSNBC. "I think he's been given the fair due process now."
Despite all the evidence against Santos, there is still a slight possible that Republican leadership will urge the caucus to keep him around, given their small majority and divided ranks. "We have no margin for error," Speaker Mike Johnson said in October. "And so, George Santos is due due process, right?" Following the report this week, the Speaker, who has a few of his own financial irregularities, hedged a bit, issuing a statement encouraging "all involved to consider the best interests of the institution as this matter is addressed further." With the House in recess, the earliest date for the vote would be November 28, the Tuesday after Thanksgiving.
Might Santos make it easier for Republicans and just quit? Late on Thursday night, he tweeted self-pityingly about his "year from hell" and announced that he would hold a press conference on November 30 on the Capitol steps. The setting suggests a grand statement, but given his history, he's more likely to go on the attack than to go at least somewhat quietly.