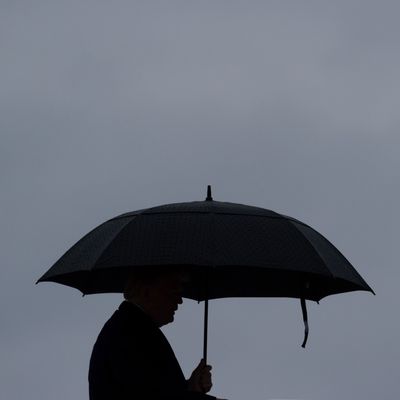 Photo: SAUL LOEB/AFP via Getty Images
The past few years have given us a lot to ponder, from the lingering effects of the pandemic to the possibility that artificial intelligence will kill us all to the question of whether Taylor Swift and Travis Kelce's relationship is real or PR. So I'm willing to bet that you don't spend much time thinking about a rumor from the discredited 2016 Steele dossier that Donald Trump paid sex workers to perform a "golden showers" show in order to defile a bed President Obama had once slept in with the Russians recording the whole thing. I devoted several years of my life to covering the Mueller investigation, and even I'd forgotten the alleged motivation for this rumored debauchery.
But you know who's still thinking about it a lot? Donald Trump. And he's not about to let any of us forget about it.
Every time the pee-tape story is about to slip out of my mind, Trump brings it up in a public forum. In 2021, he announced, "I'm not into golden showers," while addressing the National Republican Senatorial Committee retreat, though no one had asked. He brought it up during at least two separate speeches he delivered in Ohio last fall. And he mentioned it again on Saturday during a campaign rally in Fort Dodge, Iowa.
This time, golden showers came up when Trump cast his New York fraud trial as the latest installment in the "greatest witch hunt of all time."
"It started with Russia, Russia, Russia, remember that?" Trump said. "He was with four hookers. You think that was good that night to go up and tell my wife, 'It's not true, darling, I love you very much. It's not true!' Actually, that one she didn't believe, 'cause she said, 'He's a germophobe; he's not into that.' He's not into golden showers, as they say they called it, he's not."
Trump has repeated cited Melania's immediate dismissal of the rumor as proof that it's false — though he may have been more stressed about her reaction than he's letting on. Former FBI director James Comey wrote in his book that during his first private dinner with the former president, Trump "brought up what he called the 'golden showers thing' … adding that it bothered him if there was 'even a 1 percent chance' his wife, Melania, thought it was true."
But in 2023, the biggest question isn't whether the rumor is true; it's why Trump keeps reminding us that he's been accused of doing some pretty depraved stuff. On the surface, it seems he thinks the story is so ridiculous that it discredits all of his political opponents. He could be dropping references to Melania so her absence from the campaign trail isn't quite so noticeable. Perhaps he's still worried that people believe the story and doesn't realize that obsessively talking about it comes off as a tad suspicious.
Or maybe Trump knows that the more time we spend talking about golden showers, the less time we're thinking about all the horrifying things he's plotting for his second term!
Okay, it probably isn't that last one; Trump's been pretty open about his unhinged plans. But "It's a distraction!" does fit the vibe of this throwback to the early days of the Trump administration.