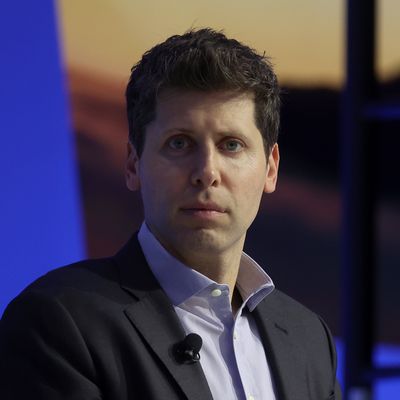 Sam Altman at the APEC CEO Summit in San Francisco on Thursday.
Photo: Justin Sullivan/Getty Images
Sam Altman is going back to OpenAI after he was fired last week, the company announced late Tuesday. His four days of his exile were nothing short of whiplash-inducing: deposed as CEO for mysterious reasons, then almost rehired over the weekend, then poached by Microsoft to run a new artificial intelligence effort following a second leadership shakeup at OpenAI that cleared a path for him to return. Below is what we know about this still-developing situation and why it all went down.
The return of the king
Altman posted on X early Wednesday morning that he is returning to the company he co-founded, after the board of directors that booted him was replaced.
While the old board represented OpenAI's non-profit beginnings, the new board will include major names in the world of business and tech — guys like former Treasury Secretary Larry Summers, Quora CEO Adam D'Angelo, and former Salesforce co-CEO Bret Taylor, who chaired the Twitter board prior to Elon Musk's leveraged buyout.
In his statement, Altman said that he was going back to OpenAI with the support of Microsoft CEO Satya Nadella, who hired him on Sunday to lead an AI research wing at the computing giant. "We are encouraged by the changes to the OpenAI board," Nadella tweeted early Wednesday morning. "We believe this is a first essential step on a path to more stable, well-informed, and effective governance." Stable board leadership is certainly important to Microsoft, which has invested some $13 billion in OpenAI.
A shocking power-struggle roller coaster
Altman's dismissal on Friday followed what OpenAI said was a "deliberative review process by the board, which concluded that he was not consistently candid in his communications with them, hindering its ability to exercise its responsibilities." As a result, the company said at the time, "the board no longer has confidence in his ability to continue leading OpenAI." Soon after, president and Altman ally Greg Brockman — whom the board had removed as chairman — resigned, as did three senior researchers. All were set to join Altman at Microsoft, as were as many as hundreds of other employees.
But the drama wasn't over. On Tuesday, the latest interim CEO, Emmett Shear, reportedly told the board that he will step down if they do not provide a clear explanation and evidence for why Altman was fired.
On Monday, the Verge reported that Altman and Brockman were still willing to come back through those OpenAI doors, if the remaining board members who axed Altman stepped down:
The promised mass exodus of virtually every OpenAI employee — including board member and chief scientist Ilya Sutskever, who led the initial move to depose Altman! — means that there is more pressure on the board than ever, with only two of the three remaining members needing to flip. Altman posted on X that "we are all going to work together some way or other," which we are told is meant to indicate that the fight continues.




Altman, former president Brockman, and the company's investors are still trying to find a graceful exit for the board, say multiple sources with direct knowledge of the situation. The sources characterized the hiring announcement by Microsoft, which needed to have a resolution to the crisis before the stock market opened on Monday, as a "holding pattern."
During a pair of television interviews on Monday night, Microsoft CEO Satya Nadella said that whether or not Altman and OpenAI staffers would become Microsoft employees was "for the OpenAI board and management and employees to choose." He added that his company expected governance changes at OpenAI, and that the partnership between the two companies "depends on the people at OpenAI staying there or coming to Microsoft, so I'm open to both options." Nadella also spoke with Kara Swisher about the future of his partnership with Altman and OpenAI, which Microsoft is heavily invested in.
Soon after Altman was fired, OpenAI investors had launched an effort to get Altman reinstated and the board began talking to Altman about bringing him back, though he was reportedly "ambivalent" about returning and would expect significant governance changes if that happened.
Altman — backed by leading shareholders in OpenAI, including Microsoft and Thrive Capital — wanted the entire board replaced and had already started making plans to start a new company with other newly departed OpenAI employees. In-person talks between OpenAI's board and Altman continued through Sunday, and there were signs the board would agree to Altman's terms. The board balked, instead, and OpenAI announced that Shear, formerly of Twitch, would replace the interim CEO. Not long after, Nadella announced that the company had hired Altman and Brockman to launch a new advanced-AI research team with Altman as leader.
Altman responded to Nadella's announcement on X/Twitter.
On Monday, more than 500 of OpenAI's 700 employees sent an open letter to the three remaining board members who had voted to oust Altman and threatened to jump ship if they didn't resign and reinstate him. The signatories included many senior executives, including Sutskever, the chief scientist who reportedly pushed the effort to replace Altman, and CTO Mira Murati, whom the board had originally named interim CEO.
Altman subsequently published tweets heaping praise on the remaining OpenAI leaders and said he looked forward to continuing to work together "some way or other":
Altman then insisted that he and Nadella's "top priority remains to ensure OpenAI continues to thrive" — which would have been hard if more than 72 percent of the company's workforce is about to walk.
The coup
The upheaval at OpenAI has shocked the tech world given what Altman, 38, had accomplished in a few short years. While tech giants such as Google have been working for years to developing artificial intelligence, OpenAI catapulted in front of them when it unveiled ChatGPT last November. The chatbot demonstrated abilities never before released to the general public — like being capable of writing a lot more like a human. Immediately gaining 100 million users, ChatGPT helped OpenAI raise billions of dollars, sent Google reeling, and put AI at the center of the tech industry. It also made Altman an overnight celebrity, and he was happy to play the role, presenting himself as a visionary if slightly weary face of what AI might mean for humanity.
On Friday, the company initially announced that co-founder Greg Brockman would step down as chairman of the board but remain in his role as president of the company. Not long after, Brockman announced that he was quitting and tweeted that the board fired Altman minutes before announcing the leadership "transition" to the world.
There may have been other factors, but Altman's firing blindsided everyone, and the OpenAI board has not provided any additional details to curb the confusion. As Platformer's Casey Newton aptly noted on Monday night, the information vacuum clearly benefited the media savvy Altman:
In their silence, the board ensured that Altman became the protagonist and hero of this story. Altman's strategic X posts, cleverly coordinated with his many allies at the company, gave him the appearance of a deposed elected official about to be swept back into power by the sheer force of his popularity.
So why did the board turn on Altman?
Kara Swisher dug into the situation on Friday night, reporting out what she was hearing from inside the company along with her own analysis, via a series of threads on X/Twitter:
[A]s I understand it, it was a "misalignment" of the profit versus nonprofit adherents at the company. The developer day was an issue. Sources tell me that the profit direction of the company under Altman and the speed of development, which could be seen as too risky, and the nonprofit side dedicated to more safety and caution were at odds. One person on the Sam side called it a "coup," while another said it was the the right move. This seems more plausible, but the tech community is also rife with rumors of all kinds, some really out there. A lot of questionable incoming, for sure …




Sources tell me chief scientist Ilya Sutskever was at the center of this. Increasing tensions with Sam Altman and Greg Brockman over role and influence and he got the board on his side. The developer day and how the store was introduced was in inflection moment of Altman pushing too far, too fast. My bet: He'll have a new company up by Monday …




The board members who voted against Altman felt he was manipulative and headstrong and wanted to do what he wanted to do. That sounds like a typical Silicon Valley CEO to me, but this might not be a typical Silicon Valley company. They certainly have a lot of explaining to do. Would be eager to hear actual specifics of their concerns and also evidence that they tried to inform him if they had problems and gave him a chance to respond and change. If not, it looks cloddish.
The Verge's Alex Heath heard the same about Sutskever's role and reports that Altman has been exploring outside business endeavors for some time:
And on Tuesday, the Wall Street Journal reported that Sutskever was the person who told Altman that he'd been fired. The Information reports that Sutskever faced blowback from employees during an all-hands meeting after the news came out on Friday, and that he acknowledged how his actions could be interpreted as a coup, though he didn't see it that way. On Monday morning, Sutskever publicly apologized for his role in the upheaval:
On Saturday morning, OpenAI chief operating officer Brad Lightcap sent a memo to employees letting them know that the company was still talking to the board to try to understand why it axed Altman. "We can say definitively that the board's decision was not made in response to malfeasance or anything related to our financial, business, safety, or security/privacy practices," he wrote. "This was a breakdown in communication between Sam and the board."
Shear announced in a statement on Sunday night that he would, in the next 30 days, "hire an independent investigator to dig into the entire process leading up to this point and generate a full report." (He apparently hasn't been able to obtain written documentation of why the board dismissed Altman.) Per the Verge, employees are giving Shear the cold shoulder regardless:
Employees at the company's San Francisco headquarters refused to attend an emergency all-hands scheduled on Sunday with new CEO Emmett Shear, according to a person familiar with the matter, who added that they responded to the announcement in OpenAI's Slack with a "fuck you" emoji.
The New York Times' Kevin Roose notes several specific factors that played a role in the drama, including how Altman didn't have the same protections that other tech founders have enjoyed:
The ouster was only possible because of OpenAI's unusual corporate governance structure. OpenAI started in 2015 as a nonprofit and in 2019 created a capped-profit subsidiary — a novel arrangement in which investors' returns are limited to a certain amount above their initial investment. But it retained the nonprofit's mission and it gave the nonprofit's board the power to govern the activities of the capped-profit entity, including firing the chief executive. Unlike some other tech founders, who keep control of their companies via dual-class stock structures, Mr. Altman doesn't directly own any shares in OpenAI.
Roose also explains why OpenAI's board is unique:
It's small (six members before Friday, and four without Mr. Altman and Mr. Brockman) and includes several A.I. experts who hold no shares in the company. Its directors do not have the responsibility of maximizing value for shareholders, as most corporate boards do, but are instead bound to a fiduciary duty to create "safe A.G.I." — artificial general intelligence — "that is broadly beneficial." At least two of the board members, Tasha McCauley and Helen Toner, have ties to the Effective Altruism movement, a utilitarian-inspired group that has pushed for A.I. safety research and raised alarms that a powerful A.I. system could one day lead to human extinction. 
How Altman initially responded
Altman, in a tweet soon after he was fired, said he "loved" his time at the company, which he called "transformative." He also praised his former colleagues:
Then later, Altman tweeted that "if i start going off, the OpenAI board should go after me for the full value of my shares." (Altman had no equity in the company.) On Saturday, the Information reported that Altman has been telling investors he intends to launch a new AI venture with Brockman expected to join him:
[Altman] has been in discussions with semiconductor executives, including chip designer Arm, on Friday morning about early efforts to design new chips that would lower costs for large-language model companies like OpenAI, a person familiar with the talks said. That effort would likely take years. It couldn't be learned whether Altman was representing OpenAI or a separate venture in the discussions … In the past, Altman has also talked to investors about the importance of building a "full-stack" AI startup that's also involved in chip development, another person familiar with the matter said.
What others are saying
There has been plenty of speculation and commentary about what happened at OpenAI:
And of course somebody asked OpenAI's chatbot, ChatGPT, what it thought had happened — and it guessed there was likely "more to the story":
In September, New York's Elizabeth Weil profiled Altman and highlighted the numerous anxieties about him and his role in the AI revolution:
By Altman's own assessment — discernible in his many blog posts, podcasts, and video events — we should feel good but not great about him as our AI leader. As he understands himself, he's a plenty-smart-but-not-genius "technology brother" with an Icarus streak and a few outlier traits. First, he possesses, he has said, "an absolutely delusional level of self-confidence." Second, he commands a prophetic grasp of "the arc of technology and societal change on a long time horizon." Third, as a Jew, he is both optimistic and expecting the worst. Fourth, he's superb at assessing risk because his brain doesn't get caught up in what other people think.




On the downside: He's neither emotionally nor demographically suited for the role into which he's been thrust. "There could be someone who enjoyed it more," he admitted on the Lex Fridman Podcast in March. "There could be someone who's much more charismatic." He's aware that he's "pretty disconnected from the reality of life for most people." He is also, on occasion, tone-deaf. For instance, like many in the tech bubble, Altman uses the phrase "median human," as in, "For me, AGI" — artificial general intelligence — "is the equivalent of a median human that you could hire as a co-worker."
In addition, she wrote:
[I]t can be hard to parse who Altman is, really; how much we should trust him; and the extent to which he's integrating others' concerns, even when he's on a stage with the intention of quelling them. Altman said he would try to slow the revolution down as much as he could. Still, he told the assembled, he believed that it would be okay. Or likely be okay. We — a tiny word with royal overtones that was doing a lot of work in his rhetoric — should just "decide what we want, decide we're going to enforce it, and accept the fact that the future is going to be very different and probably wonderfully better."
This post has been updated to include additional reporting and commentary.