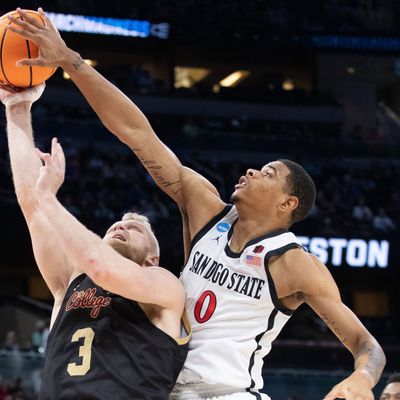 Go…Aztecs?
Photo: Getty/ TNS/ Orlando Sentinel
The NCAA tournament has made its name as the most underdog-driven event in sports. It has topped itself in 2023. Right out of the gate, North Jersey obscurity Fairleigh Dickinson beat Purdue, becoming only the second-ever No. 16 seed to defeat a No. 1 in what may have been the biggest upset in college-basketball history. And the wackiness didn't stop there. For the first time in tournament history, not a single No. 1 seed made it to the Elite Eight. Your bracket was very likely in tatters by the time you even remembered to check it. It has been the wildest NCAA tournament I can remember. March Madness has lived up to the moniker.
But here's the thing about madness: Deep down, we all secretly want a little bit of order. And this weekend at the men's Final Four, I think we'll all understand why. That is, if we're even watching.
After two weekends of lunacy, the last four teams standing are four-time champion Connecticut (a No. 4 seed in their region and now the overwhelming favorite to win the whole thing) and three teams that have never gotten this far before. One is the University of Miami, which, while talented, lacks the flash of its historically wild football counterpart. The other two are San Diego State and Florida Atlantic, two schools you may have heard of before this tournament. Quick: Name their mascots. Sorry, that's wrong, they're the Captains and the Tennilles. (They're actually the Aztecs and the Owls, but I think I had you for a second.)
In theory, this is what we all claim we want from the NCAA tournament: unsung programs coming out of nowhere and excelling on the biggest stage. The best tournament stories from years past mostly involve tiny schools, from VCU to Butler to Loyola (Chicago) to Maryland-Eastern Shore to George Mason, briefly busting through the barricades and taking out the big boys of the sport. But TV ratings tell us that while we may love this stuff at the beginning of the tournament, we want the brand names by the end. Sure, one unlikely team in Final Four weekend is fun. But four? No, thanks. We want Duke, Kentucky, North Carolina, UCLA, Kansas. And if we don't see them, we tune out.
Thus this year's men's Final Four will probably be a much lower-profile affair than usual. ("I think we are looking at the least-watched title game ever," wrote The Athletic media reporter Richard Deitsch.) Anecdotally, this checks out. Are you planning on watching this weekend? Can you name a single player on any of the four teams? The average sports fan generally stops paying attention to the tournament when their bracket implodes (generally the first weekend, though sometimes longer). The only thing that brings them back are those big brand names or a signature star who's definitely heading to the NBA. Neither is happening this year. NBA Draft guru Sam Vecenie recently listed his top 100 draft prospects, and there are only two, No. 15 Jordan Hawkins and No. 53 Andre Jackson (both of Connecticut), playing on Saturday. No offense to Jordan Hawkins, but nobody's tuning into the Final Four to watch him.
Which is why this year, there's little question that the true juice is in the women's bracket. There have been some upsets there, including Mississippi stunning Stanford in an early round. But on the whole, the Final Four is high-caliber: There's No. 1 seed Virginia Tech, No. 3 seed LSU (coached by Kim Mulkey, a three-time national champion who sports truly incredible outfits and has some off-court issues), No. 1 overall seed South Carolina, the defending champs and this year's favorite (coached by Dawn Staley, who may be the most dominant figure in any sport right now), and No. 2 seed Iowa. That team has attracted particular attention thanks to Caitlin Clark, who is the most purely thrilling and entertaining women's-college-basketball player since Cheryl Miller, or maybe Maya Moore, whom Clark modeled her game after. Clark is the closest thing women's hoops has had to Pete Maravich or Larry Bird or Stephen Curry.
Seriously, look at Caitlin Clark:
She is the biggest star in college basketball — men's or women's — at the moment and the surefire top overall pick in the WNBA in 2024. And now she's on the NCAA's biggest stage along with the sport's other superstars. If you tune into the women's Final Four, you'll get to see the best of what women's college basketball has to offer. If you tune into the men's Final Four, you'll get to see a bunch of random guys who will never cross your mind again.
This is not meant to diminish the accomplishments of Connecticut, Miami, Florida Atlantic, or (my personal rooting interest) San Diego State. What they have done to reach this point is remarkable, and they deserve every plaudit they've received. I can't wait to watch them in the Final Four. But I'm not the target audience; I already love college basketball. The average normie went right back to the NBA — or to video games or TikTok — a while ago. Yep, the men's tournament has been wild this year. Probably too wild.