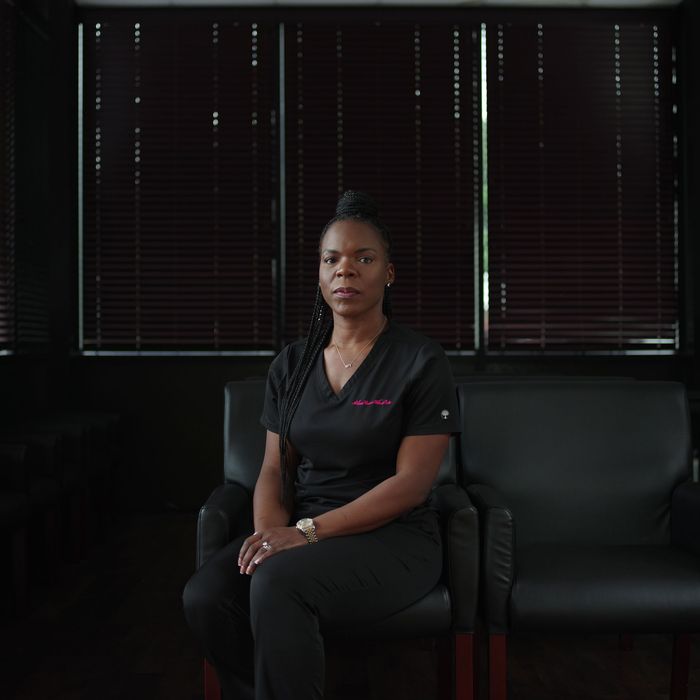 Dr. Yashica Robinson in the now-empty waiting room inside Alabama Women's Center in Huntsville, one of the few remaining abortion clinics in Alabama prior to
Roe v. Wade
being overturned.
Photo: Maisie Crow
This article was featured in One Great Story, New York's reading recommendation newsletter. Sign up here to get it nightly.
A year ago, the patients in the waiting area at the Alabama Women's Center on Sparkman Drive in Huntsville were separated into two rooms. In one, the staff put people whose abortion procedures had already begun through taking a dose of misoprostol. In the other were the ten or 15 who had come for their mandatory counseling or to start their abortions. These patients were unlucky by hours, because the Supreme Court had just ruled they had to stay pregnant, at least if the state of Alabama had anything to do with it.
Dr. Yashica Robinson, 47, doesn't really want to talk about that day. Was she emotional? "I probably cried like a baby for ten minutes and then I cleaned my tears up and we came up with a plan," she finally answers. By the end, she had been providing the majority of abortion procedures in the state, and most of the second-trimester ones, and in those last months, the clinic had been seeing people who were driving 12 hours — from Texas, from Mississippi — for their abortions. Robinson could tell by how their bodies sank which patients weren't going to be able to get in their cars and keep driving to the closest state where abortion was still available.
And the ones who were left behind? Some of them remain Robinson's patients in her OB/GYN office on Madison Street with the glass-brick façade, where we now sit on a Wednesday night in May. She took care of Alabamians — mostly pregnant ones — before Roe was overturned, and she's still doing it, or as much as she can. She likes to say her patients are ages 9 to 99. In the 48 hours, give or take, I spend by her side, she sees 20 women for office visits — 11 of them pregnant, two for minor gynecological procedures, seven for routine gynecological or postpartum care — performs one endometrial surgery and a newborn circumcision, and attends three births, two of which she wasn't even on call for, but she had promised she would be there. What she cannot do is end their pregnancies. Had the Supreme Court not ruled the way it did in Dobbs, a new report from the Society of Family Planning estimates, there would have been at least 6,000 abortions in Alabama alone between July 2022 and this past March. Staying pregnant in Alabama means you're more than twice as likely to die compared to the national rate. Staying pregnant in Alabama when you're Black means you're twice as likely to die than your white neighbor.
Today, in Robinson's office, I met the 26-year-old mother of a toddler. In March, she drove with her mother to North Carolina, a 14-hour round trip in a single day, for an abortion. Another woman, pregnant, tells Robinson, "Well, I've met you before, but at the other office." Abortion charts were kept separate, just like the buildings, so it takes some checking to confirm that Robinson had seen her for two abortions. This pregnancy, Robinson notices, started after the 24th of June. Robinson is curious about whether she would have aborted if given a chance, but the patient is really far along in the pregnancy and Robinson doesn't want her to think her doctor is second-guessing her, so she just asks her how she feels. The woman says, "Well, I'm comfortable with it now."
Robinson tells me it's just one of those things where you're in a situation and you just figure it out. You do what you have to do to make it work.
"That's kind of what you did, right?" I say.
Robinson agrees. She was the mother of two by high-school-graduation day and still graduated second in her class. Both of her sons are working at Madison Street that day; they're polite young men who, like the rest of the team, are wearing neatly fitted black scrubs with Alabama Women's Wellness Center embroidered on them. In medical school, when she used to fall asleep reading her textbooks, her boys would spread a blanket over her.
For years, Robinson kept her head down and gave few interviews. In her early days of providing abortions, it even took the protesters a while to realize she was the doctor. She knows her life is the stuff of mythmaking: the teen mom who overcame the odds, the heroic doctor in the underserved South putting herself on the line to serve her patients. These happen to be true descriptions of Robinson, but they don't get you far with the people calling the shots in Alabama, and eventually the national attention span wanes. This is where she lives. This is her life, and these are still her patients.
At what used to be the abortion clinic on Sparkman, the phone still rings with people asking for help. One morning, I sit with Dalton Johnson, Robinson's husband and business partner, to check the voice-mail: "Currently, I'm in my six weeks. What is the charge, and what is the procedure? Can you give me some details? And when can I get an appointment? Thank you." Johnson ran the clinic for 22 years and still owns this building. There's only so much he feels he can tell these patients. The state attorney general declared that anybody aiding and abetting abortions would be prosecuted; having been one of only a few Black abortion-clinic owners nationwide, Johnson won't be taking his chances.
Outside, a cluster of protesters has come for its weekly vigil. "We're closed," Johnson, 50, mutters from inside. "Y'all have won." One of the women tells me they're praying for the kids who were aborted before and for the other states that haven't stopped abortion. "Stop the abortions — period," she says. Johnson says, "They're protesting an empty building instead of helping people."
It took Robinson a long time to understand what providing abortions would cost her. She isn't interested in holding forth on the reasons why she chose to do so. "To me, what's more odd is an obstetrician who does not provide abortion care," she says. "I mean, it's just part of obstetrics." It's the evening of the first day I spend with them, and we're dining at a hotel downtown where they lightly tease me for staying: "Ooh, hoity-toity. You staying nice."
She trained in providing abortions as a resident at the University of Alabama at Birmingham, whose hospital scheduled termination procedures every week. A lot has changed since then in Alabama. When Johnson began running the abortion clinic out of Madison Street with Dr. Carl Palmer back in 2001, there were over a dozen abortion clinics in the state, two others in Huntsville alone, and you could still do procedures in a doctor's office: a prenatal appointment in one room, a pap smear in another, an abortion recovery a few doors down. The book of regulations on abortion grew thicker and thicker, clinics closed, and by the time Palmer died in 2004, providing abortions had been divorced from all other reproductive care.
After Palmer's death, Johnson invited Robinson to rotate in at the clinic in Huntsville. Once they figured out who she was, the protesters started showing up outside her other offices, where she wasn't even allowed to provide abortions, to shout at women coming in for Pap smears or prenatal checkups, "Don't you deserve better than an abortion provider? She murders babies all week." More than one patient pulling out of the narrow driveway at Madison Street into traffic became so flustered by the protesters that she got into a fender bender.
One day in 2013, Johnson says, he and Robinson were standing and looking at patient charts, and he realized they had the potential to become more than just colleagues in the trenches. ("Y'all would have to have some really understanding spouses," his sister said, given their intensity about their work.) It took them a while to find the time to actually marry, but they'll celebrate their second wedding anniversary this month. They complement each other: She's guarded but propulsive; he's easygoing and chatty. She's got the big ideas and the racing brain, and he's the practical one — the numbers guy whose official title is now CFO of everything they have going.
He's also the one who drives their Escalade between all the different locations where she provides care — two hospitals, two OB/GYN offices on opposite sides of town, and, when it was still open, the abortion clinic on Sparkman — as she tracks patient and fetal heartbeats on an app on her phone. He sits in the hospital parking lot as she does another surgery or delivers another baby, wedging a laptop between himself and the wheel, flipping through medical-supply catalogs and comparing prices on specula and forceps. "Just know I'm down here in the car at night when the nurses are not being supportive or people are giving you a hard time," he tells her.
Growing up in and around Atlanta, Robinson moved constantly. One summer, when she was 14, she kept delaying her return from Alabama, where her grandmother lived. Her mother called and said, "What's going on, Chi-Chi? Are you pregnant?" A doctor confirmed it. Her mother said, "We're here for you. You're going to be fine. We'll get through this together." "The thing about it — the way I grew up, everything was hard," she says to me. "So it's not like you miss a beat. This is the way we're built. This is what we're accustomed to."
I choose my words carefully. Did she consider abortion herself? She says she did. And, I continue, that was — sorry, stop me if this is too personal. She says it's fine. So I go on: Was it both times that she considered that?
"Yeah, both times I did," Robinson says. She thinks a bit: "But when you don't talk to people about what's going on — and, as a young person, you're running around trying to figure it out yourself — sometimes you end up in a situation where it's a little bit too late to make another decision." She adds, "I feel like my life turned out exactly the way it was supposed to."
Because having her boys put her on the path to becoming a doctor, she says. "Had I not had them, I probably would've worked at a grocery store or I would've been doing housekeeping at a hotel like the other people in my family," she says. "Not that there's anything wrong with it. That's the work that they did." But she wanted something different for her sons. She had gone to five high schools in four years. They would grow up with their mother buying and holding on to property in every place she had ever lived.
For her pregnancies, Robinson went to Grady Memorial Hospital in Atlanta at a time when it had so many girls like her that it opened up a clinic just for teen pregnancies. Grady was a place for poor people where you could plan to be all day, waiting on line for the pharmacy in the basement for hours and hours or waiting to be seen at the ER, but it was also the place where the doctors treated her kindly when other people told her they'd thought she was so smart — until she got pregnant. It was the place she went back to when her mother started having seizures from alcohol withdrawal, when the money ran out. One of the nights Robinson had to call an ambulance, an EMT waited with her. "He gave me this cheap blue stethoscope. He put it around my neck," she tells me. That's the moment she says she decided she could be a doctor.
When her mother died, she moved into her grandmother's home in a public-housing complex reserved for senior citizens that made an exception for a teen and two babies to sleep in the living room. Robinson's grandmother, who had never been taught to read or write, watched the boys during the day so her granddaughter could finish school. Her sons' grandparents took her to scholarship banquets and later drove her to medical-school interviews.
With all of their help, she went beyond what anyone had expected of her, and in exchange she tried to give the patients she served — so many of them Black women on Medicaid — more than the system had given them to expect. Above all, she gave them the respect of assuming they knew what they needed to do with their own lives. If they wanted to have a baby, she would help them do that. If they didn't, she would help them do that, too.
But the abortion side of the work kept getting harder. In 2013, Alabama passed new regulations on abortion clinics that everyone understood were meant to shut them down. First, that abortion providers have admitting privileges at local hospitals. For a time, Robinson was the only abortion doctor in the state who had them thanks to the rest of her OB/GYN practice. At the trial challenging the law, out-of-town doctors who flew into Alabama clinics pointed out, accurately, that abortion is so safe that it would be hard for a provider who only did terminations to meet the required minimum number of patients admitted each month. They also testified that they couldn't live in Alabama because of fear of harassment. Robinson was held up in the federal judge's opinion as a cautionary tale.
No matter her credentials, Robinson was a pariah before she even arrived. Of the roughly 50 doctors she called and asked to serve as her required emergency backup, some didn't even bother to call back. There was the one who told her she would back her up until the day of Robinson's orientation. A hospital official intercepted Robinson on her tour and told her she lacked the proper coverage after all.
The other part of the law required that abortions take place in ambulatory surgical centers, essentially mini-hospitals. Everyone had to become experts in building codes that were, by design, arbitrary and unrelated to the actual practice of abortion. The plans Johnson had an architect draw up and a fire marshal approve to stay at Madison Street were rejected by the state health department, so they refinanced that building to buy the clinic on Sparkman and the lot next door so the protesters wouldn't buy it as a staging ground. Retrofitting a supply closet to be fireproof, despite containing no combustible objects, cost $18,000; soon, they were out $750,000. This was the point: to bleed them financially and emotionally.
Johnson and Robinson had succeeded in complying with the impossible law, so the anti-abortion activists came up with more novel strategies to try to shut them down anyway: claiming they were targeting the Black community; arguing before the zoning authorities that the clinic couldn't operate because it was designated as a medical facility and abortion wasn't medicine; getting a state law passed that treated the clinic, which was now across from a school, like a sex offender that couldn't be within 2,000 feet of a school. An ex-boyfriend sued the clinic for wrongful death because his ex had had an abortion there against his wishes. Sure, the clinic prevailed each time, but it cost time and money.
Worst of all, just before Johnson was about to testify in the challenge to the abortion restrictions with which they'd already reluctantly complied, Robinson was slapped with a federal indictment for Medicaid fraud that even in the press release sounded flimsy: "introducing misbranded drugs into interstate commerce." She'd ordered IUDs from a New York supplier who turned out to be fraudulently importing them from overseas. The Feds noted that over 1,000 doctors had ordered from this supplier, but somehow only Robinson got indicted, a fact that helped her in her countersuit arguing selective prosecution. The charges were eventually dismissed, but some of her patients stopped showing up to appointments, telling her they thought she was in jail, and anti-abortion colleagues were only too happy to spread the word.
Just after 8 p.m., the cell phone Robinson has kept on the table of the hoity-toity restaurant buzzes. The nurse wants her to know that the patient whose mother Robinson had promised she'd deliver is ready to push. We all three run out into the Escalade in the driving rain for the second birth of the day, baby Elijah. The mother's family asks "the famous Dr. Robinson" for a group photo by the hospital bed. Johnson waits patiently in the car.
When Johnson picks me up in the Escalade the next morning, he tells me Robinson has delivered another baby while I slept. The hospital had been calling her with patient updates every few hours overnight and then eventually she'd been called in to do a Cesarean section. The patient, who had a previous C-section, was six centimeters dilated and the baby was low in the pelvis, and Robinson thought that, maybe with a little time, she could have a vaginal delivery, which could be easier on someone who was also in recovery at the methadone clinic. Robinson was right, but it cost her four hours of waiting for the patient to progress when another doctor probably would have just done another, quicker surgery and then gone home to sleep.
The funny thing is that as hard as it was to be an abortion provider in town, taking care of pregnant patients through delivery in Alabama can feel even harder. An abortion has a beginning and an end, a predictable timeline. Above all, Robinson could feel like she had helped in a concrete way. "Their biggest concern at the time was that they had a pregnancy that it just wasn't the time for. And that was something that I always could do something about," she tells me later. And because abortion had always been hard, Robinson says, an entire infrastructure had sprung up around supporting ending a pregnancy. If a patient couldn't pay for travel or child care or the procedure itself, the clinic could connect them to abortion funds in Alabama and beyond. There were local escorts outside in pinnies to help patients walk through the protesters or even pick them up from the airport and take them to their hotels. "We kind of became our own solution," she says. "We had to."
But what is she supposed to do when Alabama Medicaid, which covers the majority of births in the state, will cover only 15 inpatient days during a pregnancy, no matter how sick or high risk a patient is, and the patients are getting sicker and sicker? The reimbursement rates are pitifully low — $1,694 for an entire pregnancy, from the earliest prenatal appointment to delivery — and though doctors are reimbursed the same no matter how the baby comes out, they won't get paid at all if they aren't there for the delivery, which can incentivize doctors to quickly cycle patients through. Every day, she and her colleagues are seeing more premature labors, more stillbirths, more growth-restricted fetuses, part of a disturbing national trend that some experts think is linked to, or exacerbated by, COVID. And yet Dobbs has made it even harder to care for these patients, according to over two-thirds of OB/GYNs surveyed nationally, while worsening existing racial disparities.
Outside the abortion clinic, protesters warned of lifelong trauma from an abortion, but that wasn't the reason women were bursting into tears during their first visits to Robinson's office. It was the routine pregnancy and birth care they'd gotten before: nonconsensual episiotomies — incisions made from vagina to anus during delivery — C-sections they'd felt bullied into, general disrespect.
Up against that culture, Robinson has struggled to fight even for her own patients. She's still upset about the treatment of the teenager who went into labor well before viability. The fetus had no chance of survival, but because it was breech — a more difficult position for a vaginal delivery — a specialist at the hospital said either Robinson should do a C-section or they would. Doing so that early in pregnancy would consign the teen to future, riskier surgeries, but her mother consented. "You got this little Black person telling me one thing and then you had this whole team of white people that came in and said that you need a C-section," Robinson says bitterly. The patient was Black, but "even Black people feel like white people have more authority and more knowledge than Black people," she says. She wouldn't abandon her. After doing the surgery, Robinson left the hospital in tears.
Robinson doesn't consider herself a woo-woo birth person, but she thought there had to be a better way. Although her training had never covered it, she started asking patients if she could touch them before performing vaginal exams. Other local doctors were suspicious of the presence of doulas; she welcomed them. When a woman was terrified to go to the hospital at the beginning of COVID, threatening to give birth alone with her husband instead, Robinson did something few of her colleagues would agree to: attended her at home, with home-birth midwives at her side. Her face lights up when she tells me she thought it was beautiful.
She was working alongside midwives who had only been allowed to practice in Alabama starting in 2019. Once, Black "granny midwives" provided most of the care to the families formally shut out of the white health system, but after 1976, Alabama effectively banned the practice, and today Alabama's midwives are overwhelmingly white. Alabama Medicaid still won't cover an out-of-hospital birth, which costs thousands of dollars out of pocket.
Robinson can't fix Medicaid or make her patients rich or bring abortion back to Alabama, but there's something else she wants to do for those who have been left behind by the existing system: a birth center. A place where you can give birth on your own terms, something that still doesn't exist in Alabama despite multiple attempts across the state. The low-risk patients who wanted to could go there and be attended by midwives unless they needed a doctor. That would free Robinson up to focus on the high-risk pregnancies. They could even copy the abortion-fund model for people who couldn't afford to pay out of pocket.
A birth-center expert told Robinson and Johnson it was all about the funding mix: making a facility nice enough that private paying patients would flock there to help subsidize the rest. They found a building in a tonier part of town, and Robinson herself spent weekends outfitting it to her tastes with gleaming gold-trimmed coffee tables and purple velvet couches.
The state has had other ideas. A couple of months after the Dobbs decision, Johnson and Robinson were sitting in a hearing, listening to the proposed rules for future birth centers. Damn, they thought. Hallways and elevators wide enough for a couple of stretchers? Transfer agreements with a hospital? The new building, where they hoped to build the birthing suites on the second floor, would never qualify.
It sounded onerous and impossible and … exactly like what they'd already been forced to do with the Sparkman clinic. Which is sitting empty right now as Johnson and I drive up. It's slowly decaying. The building has a leaky roof even after $50,000 in repairs shortly before my arrival. The lights have started to flicker. It's a money pit: They still have to pay what's left on a $50,000 abortion-malpractice insurance policy, because that didn't disappear when Roe did, and another $50,000 for the OB malpractice. And, of course, there's no abortion revenue. Johnson and Robinson are taking money out of life-insurance policies and maxing out credit cards and raiding their retirement funds. Some months, somebody doesn't get a paycheck. "Often that is us," says Johnson.
But there is possibility here, too: a birth center, where abortions can no longer happen, for the people Alabama has given so few options. Standing in the parking lot, Johnson points out an uninspiring strip of grass that abuts the clinic, the one they bought as a buffer to the protesters. It could be a garden, he says, a labyrinth of hedgerows that women can pace through when in labor. So they can have all the time and space they need.
That night, Robinson and I sit on the second floor of the Madison Street clinic. Everyone but the cleaner has gone home for the day. Numerals 1-9-7-3, for the year Roe was decided, dangle from a chain around Robinson's neck. I ask her about what it was like to testify before Congress last year, when she had to correct the Republican congressman who called her "Miss Robinson," answer another who ridiculed her for using gender-neutral abortion language, asking her to define a woman ("I am a woman," she said with cold control), and respond to the one who asked if she would perform an abortion "seconds" before birth. How was she supposed to live in the world of outlandish hypotheticals when she was busy living in the mess politicians like them had helped make? Honestly, she tells me, she could have told them about what she did see. That at least five times a week, people would come into Sparkman and hop on that exam table and say, "I don't believe in abortion," or "I didn't think I would ever do this. I was always against abortion." They still want to feel better than the kind of person who would get an abortion.
It was her against them, and going up against them increasingly feels like a waste of time. "I'm, like, nobody," she says wearily. "Nobody cares that I showed up for Alabama. It didn't change anybody's mind or didn't change the minds of the people that really matter.
"I was telling somebody — we went to a conference just last week, and I was like, 'We did all of this for nothing. We do all of these interviews. We're speaking up.' You got to do things that are completely uncomfortable, like going to testify before Congress. I'm thinking, I need to go and do it. I need to speak up. It may make a difference. Then you feel like it didn't make a difference. We did all this for nothing. We are in a worse position now than we were in 2013 and '14. We're not moving the needle at all. You realize that you've sacrificed a lot. In eight years of being able to provide care, we have been able to help a lot of people, but I think we've hurt ourselves a lot too, to be honest."
She has endured humiliations. The most painful was the indictment. Johnson drove her to the arraignment, where their lawyer met them. They'd been led to believe this would be a quick in-and-out. She remembers two men at the counter, one white and one Black. The Black man told her to come back later that day to see the judge, to go get lunch. As she remembers it, the white man insisted she wasn't going anywhere, that she would actually be held in a cell, and the Black man stared at him in shock, as if this were a departure from routine. They handcuffed her and chained her around the waist, and they took her heels. Robinson could tell herself that it was political, that at the time she was the only provider in Alabama with the required hospital admitting privileges, that putting a felony on her record would cost her that and effectively end abortion in Alabama before the Supreme Court was willing to do it.
She even felt like she could keep it together as the armed guards led her to the courtroom. But when she saw Johnson, tears started streaming down her face. They are streaming down her face now.
"I don't even know why, after all this time, that bothers me so much," she says.
"Well," I say, "they treated you in a demeaning way."
"It's over," she says. "It doesn't matter. It's over. It's also, I guess, how much we have no control over our life. People who want to make things happen, they can make things happen."
Her lawyers had told her to plead guilty to some misdemeanor charges, but Robinson still had some fight left in her and refused. If she was going to lose the ability to practice medicine, she wanted to know that she'd done everything that she could do. Her lawyers warned her she was gambling with prison time.
It was one of the former clinic escorts, an accountant turned amateur legal researcher, who suggested she file a countersuit for selective prosecution. Her lawyers reluctantly agreed. The charges were dropped.
Some days, she says, she's optimistic. The birth center represents new possibilities, and after months of legal limbo, word is the state will soon release the actual requirements so they can get moving. But they haven't entirely given up on abortion in Alabama. You can see, she says, they haven't sold any of the abortion equipment at Sparkman to any of those clinics opening up now as blue-state havens because in the back of their minds, they still think there's a chance. But sometimes she doesn't really believe it. At that same national conference of abortion providers, last week, she told her colleagues, "You really don't want me talking to anybody. I can't lift anybody up." She's angry with the doctors here in Huntsville who quietly referred patients to her — and the ones who refused to — or who apologized too late for not standing with her. And she's angry at some of her former patients, too. The ones who drove up in cars with Trump flags on them, had their abortions, then left.
I ask her what keeps her going.
"I'm too tired to start over or try to do something else, even though it probably would be a lot easier. Then, for so long, I kept telling myself that this is the work that I was called to do or work that I loved and was passionate about, but the truth about it is I feel like this work hasn't loved me back." She's sobbing now. Because she's not a symbol or superhuman or a savior. Just a person who has been doing what she can with few people willing to do much to help.
"When you ask me questions like that, I realize I'm upset with myself, too," she says. "Because it seems like it is just crazy to keep knocking your head against the wall, doing the same thing over and over again. It's like you must be a glutton for punishment, because why would you keep doing it?
"But when you just do it and you don't think about it, then it doesn't bother me. It's just what I do."